NCPCCI Reciprocity Program for Plubming Subcode Officials and Inspectors
The International Code Council (ICC) offers several ICC plumbing certifications that are similar to those offered by NCPCCI. ICC will grant certifications to NCPCCI certification holders in comparable exams.
Act now during this limited time offer to receive ICC Certification(s)
at no cost to you!

Requirements for Reciprocity:
Show proof of NCPCCI Certification
-or-
A copy of a valid New Jersey Plumbing Subcode or Inspector License
Complete and submit the application
Get More with an ICC Certification:
• Widely recognized - Most jurisdictions throughout the United States recognize or require ICC certification; giving you more opportunities in your career.
• Industry respected – When you hold an ICC certification, you are recognized as holding the premier certification for your profession.
• Highly credible – ICC certifications have for decades proven competency for holding positions in industry.
• Trust in a certification from the organization that develops the code!
Share Your Accomplishment with an ICC Digital Badge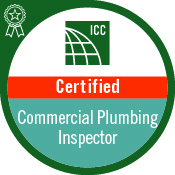 The Code Council is offering a new and innovative way to share your credentials. A Digital Badge represents an authenticated accomplishment, skill, or participation. The badge is housed and managed online. Much like a traditional physical badge or certificate, the digital badge is used as a display to validate your credential and engage conversation among peers and employers.