International Code Council – Oceania Office
The International Code Council (ICC) is the leading global source of building safety solutions that include model building codes and standards, product evaluation, testing, inspection, certification, accreditation and technology. ICC's solutions are used to ensure safe, affordable and sustainable communities and buildings worldwide.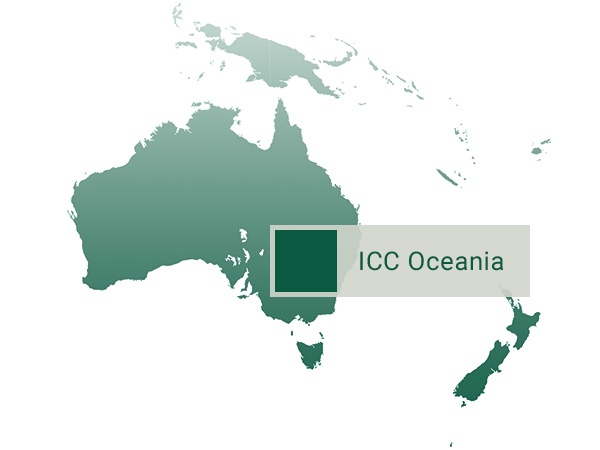 About ICC Oceania
The ICC is bringing its diverse services, skills and experience to Australia and New Zealand to help promote building safety, provide practical solutions for practitioners who work in the building sector and collaborate with local authorities in looking to address issues that are common to the sector internationally.
The ICC Oceania office, based in Canberra, helps broaden the awareness, understanding of and access to the ICC Family of Solutions, which are valuable tools for use by designers, building officials, manufacturers, and regulators.
The ICC solutions are used to ensure safe, affordable, and sustainable community and buildings worldwide. Our experts can assist you with your building safety initiatives. This advice takes into account local building requirements and our experts make the effort needed to understand the unique needs of each partner, user or client.
Product Certification
Trust ICC to provide the product certification services your building or plumbing products need to demonstrate they meet the evidence of suitability requirements of the Australian National Construction Code (NCC) or New Zealand Building Code (NZBC). ICC Evaluation Service (ICC-ES) maintains accreditation for product approval to Australian and New Zealand building codes in its scope of services. Whether for prescriptive standards or new and innovative products, Evaluation Service Appraisal reports (ESAs) issued by ICC-ES can be used as evidence of compliance with the NCC and NZBC.
ICC-ES is also a JASANZ accredited Conformity Assessment Body for the WaterMark scheme for plumbing products requiring WaterMark certification in Australia.
Performance/Alternative Solutions
While the Product Certification process and issuance of ESRs and ESAs can be instrumental in performance-based design under the NCC and NZBC, sometimes innovative designs require separate consideration. In these cases, the International Codes and ICC standards may be used to help develop unique solutions to meet the performance requirements of the NCC or NZBC.
Through its Family of Solutions, ICC can offer peer review or expert evaluation of Performance Solutions (NCC) and Alternative Solutions (NZBC) to I-Code content that may be used to demonstrate equivalence of the designs to the requirements of the NCC or NZBC.
Offsite Solutions
In North America and other global locations, ICC NTA provides manufacturing site inspection by certified inspectors, design review and evaluation for off-site/prefabricated construction pods, systems and components. The experience and expertise ICC NTA has in this field is able to be deployed in Australia and New Zealand as demand for this form of construction increases.
ICC Evaluation Service has also created a number of criteria for product evaluation for offsite components and assemblies (e.g. office pods, volumetric modular, 3D printing, mass timber, shipping containers, etc).
Accreditation
The ICC Family of Solutions includes the International Accreditation Service, an ILAC-MRA signatory and member of IAF, APAC, and IAAC, that provides accreditations and related services in compliance with ISO/IEC 17011, national and international conformity assessment requirements, and the needs and requirements of its customers.
Its accreditation services include building department and third-party service provider accreditation, special inspection agencies, metal building assemblers and metal building systems, among others.
Technology/ Digitization
Local government officials, practitioners and constituents need easy access to planning ordinances. We offer building code solutions that make it possible to digitally link planning ordinances, land use zoning, building codes, planning and building approval documentation and other essential content with local procedures and public service platforms.
Continue the Conversation with Our Team
Neil Savery, Managing Director ICC Oceania
Level 9 Nishi Building
2 Phillip Law Street
NewActon, Canberra ACT 2601
+61 417 734 749
+61 2 6243 5192 (landline)
nsavery@iccsafe.org
More Ways to Connect with the ICC Global Community
Global Membership Council
Anyone with an interest in advancing building safety around the world is invited to join the Global Membership Council. GMC members have the opportunity to network, share best practices and contribute their expertise to the International Code Council's global initiatives. Learn more
Building Safety Month
A long standing initiative, Building Safety Month was launched by the International Code Council 42 years ago to promote building safety and the important work done by building officials around the world. Participation as an international partner is free, flexible and open to any building safety organization around the world. Learn more