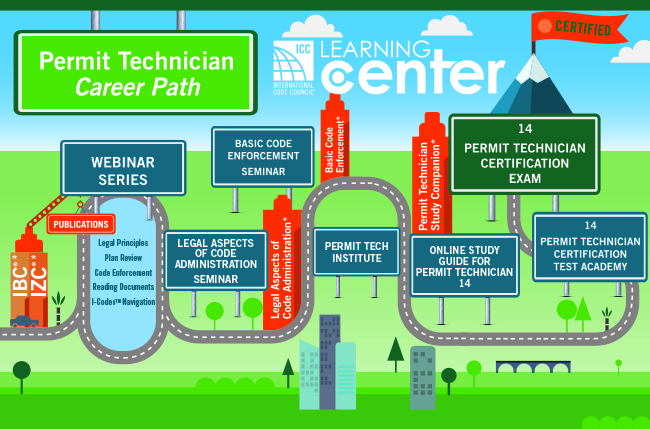 Follow Your Path to a Career as a Permit Technician
The Learning Center at ICC will be your training guide through the career path to becoming a Certified Permit Technician. Drive straight through, take the scenic route, or make stops along the way. Enjoy your journey!
Want to learn more about the role of a Permit Technician?
Are you currently a Permit Technician and wondering what's ahead?
This FREE online learning will give you all the details you need and lead you to the resources that can help get you there!
Test Preparation:
2015 Permit Technician – 14 Study Guide | Available online 24/7
2018 Permit Technician – 14 Study Guide | Available online 24/7
2015 Permit Tech Study Companion | Available at the ICC Store
2018 Permit Tech Study Companion | Available at the ICC Store
2018 Permit Technician – 14 Certification Test Academy
October 26–28 | Virtual