National ADA Symposium
June 17, 2018

-

June 20, 2018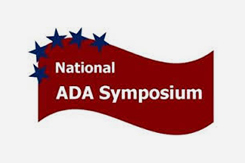 The National ADA Symposium is the premier conference on the Americans with Disabilities Act. Over the past 20 years,we have earned the reputation as the most comprehensive training event available on the ADA and disability related laws.
The National ADA Symposium provides the latest information on ADA regulations and guidelines, implementation strategies, and best practices. International Code Council staff architects Kimberly Paarlberg and Jay Woodward will be presenters at the Symposium, which offers a range of sessions to meet the diverse needs of attendees, from presentations covering basic content for novices to dynamic, interactive sessions designed specifically for attendees with years of experience and ADA expertise.
The National ADA Symposium is a project of the ADA National Network (ADANN). ADANN is made up of ten regional centers that provide information, guidance and training on how to implement the Americans with Disabilities Act (ADA) in order to support the mission of the ADA to "assure equality of opportunity, full participation, independent living, and economic self-sufficiency for individuals with disabilities."
Be sure to stop by and visit with ICC in booth 22.