National Association of State Fire Marshals
July 31, 2017

-

August 2, 2017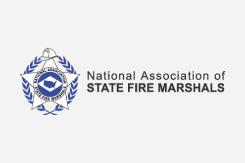 Who are State Fire Marshals?
The membership of National Association of State Fire Marshals (NASFM) comprises the most senior fire officials in the United States. State Fire Marshals' responsibilities vary from state to state, but Marshals tend to be responsible for fire safety code adoption and enforcement, fire and arson investigation, fire incident data reporting and analysis, public education and advising Governors and State Legislatures on fire protection. Some State Fire Marshals are responsible for fire fighter training, hazardous materials incident responses, wildland fires and the regulation of natural gas and other pipelines.
The 2017 NASFM Annual Conference will be held at the Francis Marion Hotel in Charleston, SC.
Be sure to visit with ICC while attending the NASFM event.