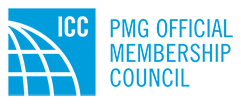 The PMG Official Membership Council is open to all ICC Members and will serve the needs of PMG officials and industry professionals. You'll have an opportunity to discuss issues that you face as a community, and how ICC might best serve you.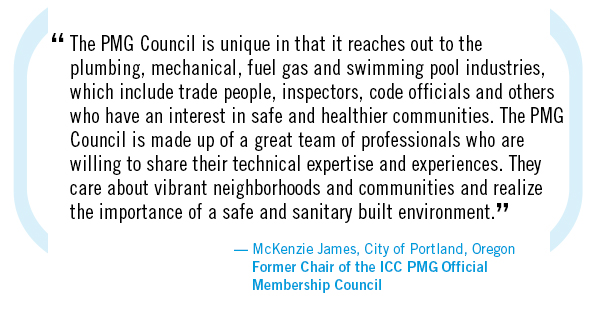 If you're looking to get more involved in the plumbing, mechanical, fuel gas, and swimming pool community and influence the direction of ICC, enroll in the PMG Official Membership Council today. Simply fill out the enrollment form, and ICC will be in touch with more details. The Governing Committee serves to actively engage Members in discussions about priorities and opportunities for the direction of the Council.
CodeNotes
Get your free copies of CodeNotes, sponsored by the PMG Official Membership Council, today!

PMG Videos
The PMG Official Membership Council is providing access to informative videos related to PMG activities.

High School Technical Training Program Toolkit
The High School Technical Training Program (HSTTP) is a flexible educational program that allows high schools or technical colleges to integrate trade curricula into its current curriculum to better provide students with a comprehensive knowledge of construction trades.  Learn more about the HSTTP toolkit.
PMG Membership Council Partners
ABPA
ABPA is an organization whose members have a common interest in protecting drinking water from contamination through cross-connections and is a partner of the PMG Membership Council.
ACCA
ACCA helps contractors comply with building codes and is a partner of the PMG Membership Council.
APSP
Dedicated to the safety of pools, spas and hot tubs to consumers.  Partner of the PMG Membership Council.
PMI
Plumbing Manufacturers International (PMI) advocates for water-efficient products meeting high safety and performance standards.
SMACNA
To make a Technical Inquiry regarding a SMACNA Standard, please visit our PMG Membership Council partner website.
Governing Committee of the PMG Official Membership Council
McKenzie James, Chair, City of Portland, OR
Ron Anderson, Vice Chair, Georgia Plumbers' Trade Association for Continuing Education, Inc.
Richard Clark, City of Hurst, TX
Carvin DiGiovanni, The Association of Pool & Spa Professionals (APSP)
Michael Fasel, Viega LLC, Indianapolis, IN
Michael Fink, City of Philadelphia, PA
William Funk, Cecil County, MD
Eli Howard, Sheet Metal and Air Conditioning Contractors' National Association (SMACNA)
Kenneth Kerr, American Backflow Prevention Association (ABPA)
Randy Lee, City of Decatur, AL
John Sedine, Air Conditioning Contractors of America, Cedar Springs, MI
James Tinner, City of Bellingham, WA
Staff Liaison
Lee Clifton, Director of PMG Resources Government Relations
Board Liaison
Donny Phipps, ICC Board of Directors
Questions on the Council? Contact Karla Higgs.