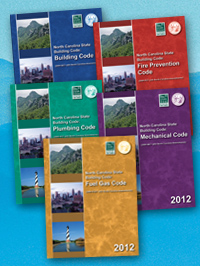 Based on the 2009 International Codes®, these new and improved regulations lead the way to safe and efficient construction in North Carolina.
NORTH CAROLINA STATE BUILDING CODE: BUILDING CODE
NORTH CAROLINA STATE BUILDING CODE: FIRE PREVENTION CODE
NORTH CAROLINA STATE BUILDING CODE: FUEL GAS CODE
NORTH CAROLINA STATE BUILDING CODE: MECHANICAL CODE
NORTH CAROLINA STATE BUILDING CODE: PLUMBING CODE
NORTH CAROLINA ELECTRICAL CODE®, 2011 EDITION
NORTH CAROLINA STATE BUILDING CODE: RESIDENTIAL CODE
NORTH CAROLINA STATE BUILDING CODE: ENERGY CONSERVATION CODE
NORTH CAROLINA STATE BUILDING CODE: ADMINISTRATIVE CODE AND POLICIES
Take advantage of big savings when you purchase your new codes as a collection!
2012 NORTH CAROLINA BUILDING CODE COLLECTION
2012 NORTH CAROLINA BUILDING CODE COLLECTION CD
2012 NORTH CAROLINA CODES NOW AVAILABLE ON eCODES PREMIUM
Need access to your codes anytime, anywhere?

Shop ICC's most popular 2009 I-Code references and study tools to support your new codes.
2009 INTERNATIONAL CODE AND COMMENTARIES
Read expert Commentary printed after each code section.
Learn to apply the codes effectively.
Understand the intent of the 2009 I-Codes® with help from the code publisher.
IBC Handbooks provide many application examples that work through complex issues to help you understand the intent and purpose of code provisions. In addition to historical background on the code, hundreds of full-color figures are included in each go-to resource.
Valuable resources for anyone using the International Codes! Each book offers a comprehensive yet practical analysis of the critical changes made between the 2006 and 2009 editions of the codes.
A helpful series that breaks down the code in an easy-to-read format. Each book contains:
Glossary of code and construction terms to clarify key terminology as it applies to the code.
Numerous real-world applications.
These value-packed resources provide easy access to need-to-know information. These unique guides pair comprehensive coverage with supreme readability to highlight critical compliance points.
Helpful question-and-answer guides for the 2009 International Codes®. Each valuable Q&A compiles insightful answers to commonly asked questions that arise during design, plan review, construction, and daily code enforcement. Expert guidance from the code publisher make the Q&As essential resources for engineers, architects, inspectors, fire and building officials, and plans examiners.

2009 I-CODE INSPECTOR'S GUIDES
Ideal resources for effective, accurate, consistent, and complete inspections. The Inspector's Guides provide a comprehensive review of the requirements of the 2009 I-Codes® organized in a manner consistent with the inspection sequence for easy use on site. They help you increase inspection effectiveness and consistency by focusing on the most important provisions.
The ideal way to master the code for everyday application or prepare for exams! Each comprehensive study guide provides:
Practical learning assignments for independent study or group training.
Key points for review.
Code text and commentary.
Helpful quizzes.
An answer key listing the code section referenced in each question.
Get your new 2012 North Carolina codes and shop ICC's popular references to ensure your transition goes smoothly – GET STARTED TODAY.