Wallet Cards for ICC Members and ICC Certification Holders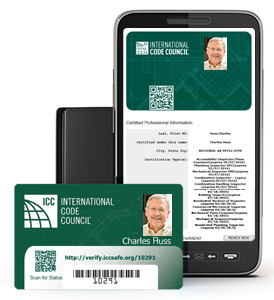 A new and more durable style wallet cards is being sent by mail to ICC Members and ICC Certification Holders. With the new card in your wallet, you will only have to carry one card to demonstrate your ICC membership and/or your ICC certifications.
To personalize your new wallet card, send a photo to walletcardphoto@iccsafe.org. If you do not submit a photo, you will receive a card without a photo.
Each card has a QR (quick response) code and website address that can be scanned or entered to reach your personal page. Your page shows current certifications held, along with expiration date, and the status of your ICC Membership, if applicable. You can print your page as a temporary card for use until your new card arrives. Every current ICC Certification Holder and/or ICC Member will receive a new wallet card; you do not have to request one. Cards are sent in batches on a regular basis.
Please Note: ICC has the right to reject any photo deemed inappropriate.
For more information, contact the Assessment Center at customersuccess@iccsafe.org or call 1-888-ICC-SAFE (422-7233), ext. 5524.