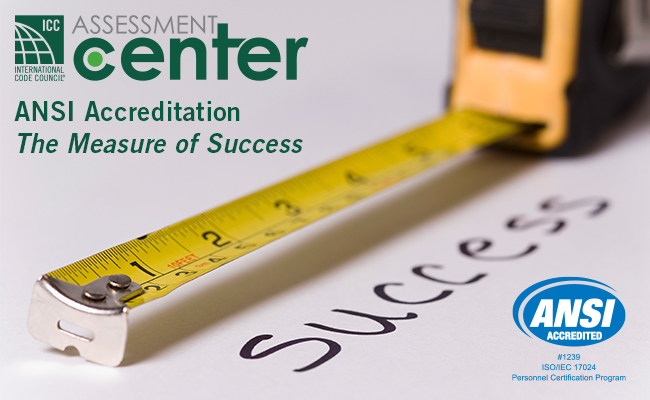 The International Code Council (ICC) is Awarded
American National Standards Institute (ANSI) Accreditation
Residential Building Inspector - B1
Commercial Building Inspector - B2
Who Accredits a Certification Organization?
The American National Standards Institute (ANSI) that's who!
ANSI administers an accreditation program for certification agencies through their accreditation program based on the 
International Standard ANSI/ISO/IEC 17024
. ANSI accreditation is recognized across borders and is the official U.S. representative to the International Organization for Standardization (ISO) and, via the U.S. National Committee, the International Electrotechnical Commission (IEC).
What is the process to receive an ANSI accreditation?
ANSI accreditation is completely voluntary. Certification agencies are not required to receive ANSI accreditation, yet, accreditation by ANSI under its consensus and due process-based system provides certification agencies with an exemplary level of credibility, integrity and trust.
The ANSI accreditation process involves both a review of a paper application and the performance of an assessment (onsite visit) to validate information provided by the applicant. The onsite assessment for accreditation of personnel certification is unique to the ANSI accreditation process. On average, the overall process to meet requirements for ANSI accreditation is 12 to 24 months.
Why is ANSI accreditation important to the ICC Assessment Center and their Certifications?
The government and regulators rely on ANSI accreditation because of the proven outcomes of accredited programs. Government entities look to ANSI to provide accreditation programs that improve industry practices and distinguish quality certification programs.
ANSI is the only accreditor for standards as American National Standards.
A report from the Organization for Economic Cooperation and Development (OECD) cites ANSI 17024 accreditation programs as a tool to make certification program more reliable and rigorous.
A report from the Corporation for a Skilled Workforce (CSW) highlights the role played by ANSI 17024 accreditation in the development of an effective workforce credentialing market in the U.S.
ANSI believes accredited certifications are critical, particularly in areas relating to public health, national security, safety, and the environment, which are all areas in alignment with ICC philosophy.
The manner in which the B1 and B2 exams are accredited is the same standard to which ICC holds all of their certification exams.
 Why is ANSI accreditation important to YOU, the Certification holder?
Receiving an ANSI accredited certification is a mark of distinction. It shows that you are not about just meeting a standard, but about going beyond to pursue excellence.
The ANSI accredited certification signals to an employer that you have undergone a valid assessment to verify that you have the necessary competencies.
It gives you assurance that an ICC certification has gone through the rigorous process of accreditation to bring to you the most reliable and adept certification.