5 Small Steps to Protect Your Home From Fire
By taking preventative measures to protect your home, you can help minimize the risk of death, injury and property damage caused by a fire.
The National Fire Protection Association's (NFPA) 2021 Home Structure Fires Report found that more than one-quarter of reported fires occur in home environments. And, during a five-year period, there were an estimated 346,800 home structure fires per year, causing an annual average of 2,260 civilian deaths, 11,070 civilian injuries and $7.3 billion in direct property damage.
By taking preventative measures to protect your home, you can help minimize the risk of death, injury and property damage caused by a fire. The International Code Council's 2023 Building Safety Month campaign focuses on how you can take the responsibility of building safety into your own hands.
Read on for five easy steps to help protect yourself, your family and your friends from a house fire.
1.

Make Sure

Y

ou

H

ave

a

Working Fire

Suppression

System
Fire suppression systems are designed to detect and extinguish fires, either automatically or manually. A fire extinguisher is one example of a manual fire suppression device you should make accessible within your house. Having a working fire extinguisher can help you to extinguish a small fire before it gets out of hand. 
Portable fire extinguishers are relatively inexpensive, easy to use and can be highly effective against small fires when used quickly. There are different types of fire extinguishers for ordinary combustibles throughout the home and for kitchen fires.  
NFPA 10, Standard for Portable Fire Extinguishers, provides requirements to ensure that portable fire extinguishers will work as intended to provide a first line of defense against fires of limited size. Manufacturers and retail stores can also help you with the proper selection and placement.
2.
Install
a
Fire
Detection and Notification
System
Having working smoke alarms in your home is crucial. They can provide you with an early warning of a fire so you and your family can take action and escape before the fire spreads.
It is recommended to review your existing smoke alarms with a licensed electrician to determine any potential or required replacement. The International Property Maintenance Code® (IPMC) requires that your current smoke alarms, required at installation, need to be replaced by the same type if they are subject to the listed conditions in Section 704.7 of the IPMC. The timing and conditions for replacement are listed in this section, with the maximum timeframe being 10 years. 
Battery-only smoke alarms can also be easily upgraded to a wireless interconnected model even if the original installation did not require hardwired units. However, this is not required by code as stated in the exceptions of Section 704.6.2 of the IPMC.
Also, battery-only powered smoke alarms can be upgraded to the current code requirements in Section 704.6.3 of the IPMC by adding new hardwired units.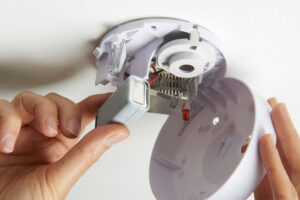 3.

Evaluate Your

Current

Electrical Systems
Evaluating the existing electrical service and circuits within your home can be a significant step toward preventing possible fires. Electrical fires can spread quickly and are often difficult to extinguish, which is why it is essential to ensure your electrical systems are properly maintained and installed.
If you have an older home, evaluate and review the existing service panel, wiring, circuits, switches and receptacles with a licensed electrician to determine any potential system or component upgrades.
This would include an assessment of the common use of electrical systems throughout your home, identifying any opportunities to update to potentially safer National Electrical Code requirements.
4.

Consider Replacing Your Garage Door
A fire in a garage can quickly spread to the rest of your house if preventative measures are not implemented. Adding or replacing your garage door leading to your house with a door that has a fire-resistant rating or construction, as mentioned in Section R302.5 of the International Residential Code® (IRC), is a significant fire prevention upgrade.
Similarly, adding or replacing separation walls between your garage and dwelling unit will comply with the fire resistance rating in Section R302.6 of the IRC.
5.

Maint

ain

Your Outdoor Space
Fire prevention strategies should extend to your home's exterior. It's beneficial to review the storage of combustibles inside and outside of your home for compliance with Section 304 of the International Fire Code® (IFC). This can be done by ensuring your portable outdoor fireplace complies with Section 307 of the IFC and any local ordinances. Also, be sure to check that the use of all open flames complies with Section 308 of the IFC.
In properties that are designated as Wildland Urban Interface hazard areas and are therefore subject to the International Wildland Urban Interface Code® (IWUIC), establish and maintain the defensible space within the property as required by Sections 603 and 604 of the IWUIC.
The Code Council is Here to Help
Protecting your home from a fire is not just about protecting your property, it is also about protecting the lives of those you love. By taking the steps above and making sure your home complies with applicable building codes and standards, you can take proactive measures to reduce the risk of a house fire occurring.
To learn more fire safety tips and how to protect your home environment, visit week one of the Code Council's Building Safety Month website.