Alaska hails building codes after quake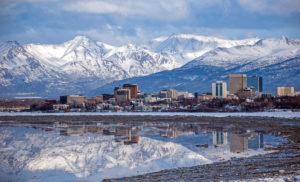 When a massive earthquake measuring 7.0 on the Richter scale struck just eight miles outside of Anchorage, Alaska, at 8:29 a.m. local time on Nov. 30, 2018, officials braced for the worst. The shaking started with a sharp jolt and lasted for a minute, yet no large buildings collapsed, only a handful of structure fires occurred, and although there was damage there was no loss of life.
In the end, it might all come down to a host of factors, including geological luck and strong building codes. Even though the quake struck in a highly populated area, the epicenter was relatively deep — about 25 to 30 miles below the ground — so that much of the energy was released before reaching the surface. In comparison, the magnitude 6.7 Northridge Quake of 1994 — which caused billions in damage and killed more than 50 people — hit directly beneath the suburban San Fernando Valley in California and was much shallower at just 11 miles underground.
However, seismic experts and leaders in Alaska are stating that the real reason the recent earthquake in Alaska was not more destructive can be attributed to one major factor: updated building requirements that properly reflect the severity of risk. In recent decades, this earthquake-prone state — which averages 40,000 earthquakes a year, with more large quakes than the 49 other states state in the U.S. combined — has taken steps to raise earthquake safety standards.
After Alaska was hit with the jaw-dropping 9.2 Great Alaska Quake of 1964 — the largest in recorded U.S. history and second largest in the world after the 9.5 Great Chilean Quake of 1960 — the state adopted the International Building Code, considered the highest seismic standard available, which mandates that buildings be designed to resist possible ground motion determined by location and earthquake histories and requires beams, columns and other structural connections be reinforced to resist damage from shaking. In addition, after the 1964 earthquake, Alaska worked to make earthquake safety part of the national conversation. Beyond revamping its building codes, rebuilding efforts also included conversations about where not to build and considering the importance of earthquake effects in urban planning and development.
Alaska Governor Bill Walker told reporters on the day the quake hit that although sometimes people, including himself, grouse about stringent building codes… he is "really glad" they were in place as he only had minor water damage at his home. "Building codes mean something," he said.
Sterling Strait, a member of the Alaska Seismic Hazards Safety Commission, added that both Alaska and California use the International Building Code to help buildings withstand earthquakes, considered the best available standard for seismic safety.
"Because of the 1964 earthquake, Anchorage has adopted a very progressive building code. I think we're seeing the benefits of that smart building philosophy because we use the International Building Code in the municipality. I think that's why, relatively speaking, there was very little damage to most homes and commercial facilities," said U.S. Geological Survey research geologist Rob Witter. "Generally speaking, a magnitude 7.0 earthquake like this in any other urban environment could cause substantially greater damage than what we experienced here in the Anchorage Mat-Su area."
As the number of major earthquakes worldwide has increased during the past decade, quakes can strike most anywhere at any time and real-time scientific data shows they do. In the United States, Alaska and California have the most earthquakes annually, but no matter the location, it's clear casualties and property damage are mitigated when people are prepared, and homes and other structures are built to the latest codes. The Code Council offers helpful resources to prepare families and communities in the event of an earthquake.
While the initial apparent performance of the majority of structures shows the effectiveness of modern building codes to save lives, the Code Council is also sending its own civil and structural engineer — Susan M. Dowty, P.E., S.E., regional manager for Government Relations — to Anchorage, Wasila and surrounding areas to assess the damage and discover how residential seismic code provisions worked. Dowty has more than 30 years of experience in the administration and development of building code provisions, and has played an active role in the development of structural provisions for the International Building Code.