ANSI celebrates 100 years of standardization
The American National Standards Institute (ANSI), coordinator of the U.S. voluntary standards and conformance system, this year celebrates 100 years of standards and conformity assessment. Celebrating this record of achievement, ANSI launched its "100 Years of ANSI" interactive gallery, 100th anniversary timeline and centennial celebration video highlighting key moments in each decade of ANSI's history on a new commemorative webpage.
ANSI will host a number of special events and activities in 2018 in recognition of its 100th anniversary, including the U.S. celebration of World Standards Day on October 18, and World Standards Week on Oct. 15–19 in Washington, D.C. The 100th Anniversary Gala was held on May 8, 2018, and several International Code Council staff attended the event.
As a sign of appreciation for all ANSI has done and a reminder of its strong partnership with the Code Council, Senior Vice President of Government Relations Sara Yerkes presented a plaque to ANSI President and Chief Executive Officer S. Joe Bhatia on May 17.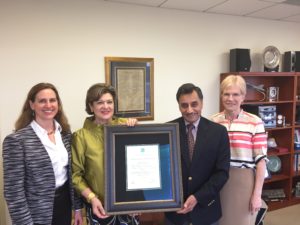 "ANSI started 100 years ago. From meager beginnings… growing bigger and better and addressing the needs of our constituencies — and that includes industry, consumers, government, standardization organizations and many others," said Bhatia upon receiving the plaque. "We're proud to be at our 100th anniversary milestone. We thank all the members and all our constituents who are the secret to our success. We look forward to another 100 years."
Click here to view photos from the 100th Anniversary Gala.
"Achieving this special milestone is a testament to ANSI and the hard work of its staff and the importance of its mission," said ICC President and Chief Executive Officer Dominic Sims, CBO.
The Code Council is proud of its work with ANSI and the commitment of U.S. experts to support international standardization activity for established fields and emerging new technologies. As an active participant in the international standards community, an institute member and an ANSI-accredited standards developer, ICC proudly supports World Standards Week and World Standards Day each year, has worked side-by-side with ANSI, and is currently engaged in many projects:
The Code Council is currently working with the Residential Energy Services Network (RESNET) on a joint RESNET/ICC American National Standards Institute candidate standard that is under development. In 2016, the associations published two ANSI-approved standards: ANSI/RESNET/ICC 301-2014, Standard for the Calculation and Labeling of the Energy Performance of Low-Rise Residential Buildings using an Energy Rating Index; and ANSI/RESNET/ICC 380-2016, Standard for Testing Airtightness of Building Enclosures, Airtightness of Heating and Cooling Air Distribution Systems, and Airflow of Mechanical Ventilation Systems.
The Code Council is the secretary of the ICC/ANSI A117.1 Accessible and Usable Buildings and Facilities — a nationally recognized standard of technical requirements for making buildings accessible developed through a public hearing and consensus process supervised by ANSI — and has been responsible for the document since 1987.
International Code Council frequently attend ANSI-sponsored events, including last year's forum on "Standards and 21st Century Infrastructure" on Capitol Hill where ICC Government Relations Senior Regional Manager Chris Ochoa spoke on ICC's efforts to focus on resilience in infrastructure.
In 2015, Dominic Sims was appointed by the ANSI Executive Committee as a member of the institute's National Policy Committee, which is responsible for broad-based policy and position decisions regarding national standards development process issues, government relations and public policy issues.
The International Code Council references almost 1,300 standards in its International Codes and has been re-accredited for its ANSI Standard Development activities under the ICC Consensus Procedures.
Ronald Lynn, a past president of the ICC Board of Directors, was honored with ANSI's Ronald H. Brown Standards Leadership Award in 2012, which honors those who dedicate themselves to the promotion of standardization as a key tool in the elimination of global trade barriers.