Building Safety Month celebrates success
Each year during the month of May, the International Code Council comes together to spread awareness about the importance of building safety through Building Safety Month. The campaign — with a theme this year of Building Codes Save Lives — reinforced the need for the adoption of modern, regularly updated building codes, a strong and efficient system of code enforcement, and a well-trained, professional workforce to maintain the system.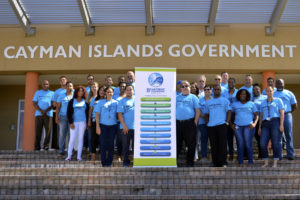 Thanks to the support of our members, chapters, jurisdictions, partners, sponsors and staff the Code Council was able to reach new milestones. In total, 37 U.S. governors and 402 local jurisdictions, International Code Council chapters and associations proclaimed May as Building Safety Month. View the proclamations.
City officials and code professionals nationwide stepped up and out into their communities to educate their residents on how building codes and standards help to keep them safe — through receptions, roadshows, roundtable forums, presentations, career fairs and training events. From coast to coast, jurisdictions planned events that offered something for everyone. View the photos.
The Code Council unveiled many resources this year to help promote and celebrate the month, including:
Building Safety Month is celebrated in a variety of ways, including building department outreach, training events, gatherings and receptions, school visits, service work days, and even poetry. David Whittaker, CBO, MCP, CFM, plan review supervisor for the town of Gilbert, Ariz., presented his original work — The Structure's Guardian — at an Arizona Building Officials Educational Institute in Prescott, Ariz.
The Structure's Guardian
Not any soul had in mind to start out in the field a structure's guardian to be,
T'was humbly the survivor's interest spoken of by Maslow's hierarchy of need,
That each day man's blood, sinew and thought strained in the making of a meager yield.
Each humble effort sharpened both muscles and mind to remember each day's routine in the field,
Tho the structure's assembly units may have been the same, the daily tally was not always gained,
T'was to provide a useful structure to shelter all its humanity,
As human kind was designed to ponder and discern the reason for completing each project's litany,
There became apparent a structure's need to provide elemental survivability.
Always for floors, doors, walls, roofs and longevity.
Such things are common to view in every type of occupancy, varying more than users of the facility.
Atoms and molecular types in all kinds of conduits and plenums too, made comfort a partner of stability.
Only a nobler few surmised for certain, ways to build that resisted instability and unrefined mediocrity.
For even in a disastrous event where stresses may cause the building elements to char, melt or wash.
It was an overseer who had such a plan to evacuate those inside and allow those who wouldn't hesitate
To enter and save those who couldn't vacate.
To all of these we owe our fate in order to celebrate
That before any nail was driven or slate comprised,
The approval seal of each building's use was overseen by A Structure's Guardian.
Our nationwide campaign was also celebrated by our regional offices in Washington, D.C.; Brea, Calif.; Chicago, Ill.; and Birmingham, Ala. and included ICC staff and board members, ICC chapter members, and industry partners all interested in celebrating and promoting building safety in our communities.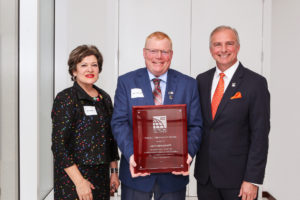 The ICC Governmental Affairs Office held its Building Safety Month celebration at the headquarters of the Laborers' International Union of North America on May 30 in Washington, D.C. Jack Applegate, a building official for Northwest Code Professionals in Eugene, Ore., received the 2018 ICC Raising the Profile Award, which recognizes an individual or organization that has increased public awareness about code professionals and the importance of safety in the built environment.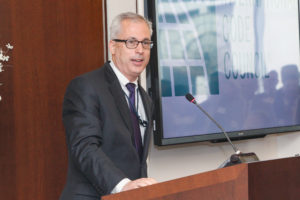 A code professional with more than 30 years of experience, Applegate is the president of ICC Region II and the vice chair of the ICC Building Code Action Committee. He is an enthusiastic proponent of building safety and passionately involved in recruiting and training a new generation of code officials.
In Brea, Calif., the ICC Western Regional Office held a networking lunch on May 16, pulling together members from the California Building Officials, Ventura Region, Los Angeles Basin, Citrus Belt, Orange Empire, and Southern California Fire Prevention Officer chapters. Former U.S. Treasurer and former California Building Standards Commission Chairwoman Rosario Marin was a special guest celebrating Building Safety Month along with Brea Building Official Gabriel Linares, Brea City Council Mayor Pro Tem Christine Marick, Brea Director of Community Development David Crabtree, and Code Council Board President Jay Elbettar and Board member Stuart Tom.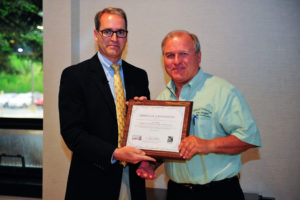 In Country Club Hills, Ill., the ICC Central Regional Office held a breakfast event on May 15 featuring ICC Government Relations National Fire Service Activities Vice President Rob Neale who presented "Active Shooter Situations and Model Codes." ICC Government Relations Senior Regional Manager Tim Schmitz presented an award to Leo Hogan, building commissioner for the village of Richton Park Ill., for the village's championing of Building Safety Month activities through the years.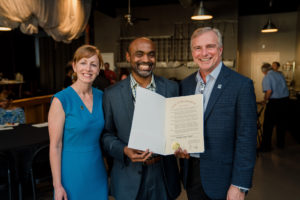 The ICC Eastern District Office in Birmingham, Ala., celebrated Building Safety Month with a reception on May 3 at the 41st Street Pub & Aircraft Sales. Edwin Revell, deputy director of the city of Birmingham Planning, Engineering and Permits Department, attended the event to personally deliver a signed proclamation of Building Safety Month on behalf of Birmingham Mayor Randall Woodfin to ICC CEO Dominic Sims during the event. A city dedicated to builders — from steel mills to startups — Mayor Woodfin is working to put Birmingham in a position to be a magnet for the next generation of innovation-driven builders and to bring improvements to neighborhood revitalization so that citizens have every opportunity to safely work, play and grow.
Building Safety Month recognizes the need for safe and sustainable structures where we live, work and play. Thank you for helping to make this year's campaign such a success!