Building Safety Month has come a long way
Building regulations are one of the oldest and most enduring of government functions, dating back 5,000 years to pre-biblical times. The concept of building safety — constructing a residence to protect its occupants — goes as far back as ancient Babylon in 2000 B.C. King Hammurabi, founder of the Babylonian Empire, is generally recognized as the first person to "publish" a code to protect people and property. The Code of Hammurabi, engraved on a seven-foot-tall black basalt stone monument, states "If a builder should build a house for someone, and does not construct it properly, and the house which he built falls in and kills its owner, then that builder shall be put to death."
The regulation of building safety has come a long way since the days of Hammurabi. While building codes continue to change and develop — influenced by new construction techniques, new materials, natural disasters and catastrophic events — the one thing that has not changed is the dedication of the code official. These vigilant guardians continue to provide the first line of defense against building disasters, to ensure the safety of the structures in which we all live, work and play. While unnoticed by many, these officials work daily to ensure safe and reliable construction practices to protect the occupants of the buildings in their community.
History of Building Safety Month
First observed in 1980, Building Safety Week raised public awareness of critical safety issues; promoted the use, enforcement and understanding of building codes to safeguard the public; and recognized professional code officials who regularly worked to keep abreast of the latest code changes and technological advances in construction. The annual event was in response to a series of preventable tragedies — including the Beverly Hills Supper Club Fire in Southgate, Ky., that killed 165 people just a few years earlier during the Memorial Day holiday weekend. The third deadliest nightclub fire in United States history, investigators surmised that the enforcement of safety codes could have prevented this tragedy. Guided by the Indiana State Building Commissioner's education and training officer, Marty Doucette, and fellow building safety proponents, Building Safety Week helped to raise awareness of building safety and fire prevention codes.
In 2010, the International Code Council Foundation extended its 30-year tradition of hosting Building Safety Week to encompass a full month-long awareness campaign — Building Safety Month — in May. As part of an expanded effort to showcase the progress made over 30 years, Building Safety Month highlighted historic milestones, current technologies and future innovations in building and fire codes, as well as construction and safety technologies. The official announcement was made at the International Code Council's Annual Conference and Code Development Hearings in Baltimore, Md.
A decade of success
The following year, the Code Council received its first Presidential Proclamation from former U.S. President Barack Obama declaring the month of May as National Building Safety Month. In the proclamation, President Obama cited building safety as "… a critical component of our homeland security, our personal and public safety, the protection of property, and our economic well-being. While disasters have had devastating and heartbreaking effects in our country and around the world, modern building safety standards and fire prevention codes help us withstand, mitigate, and rapidly recover from hurricanes, winter storms, tornadoes, earthquakes, and floods."
President Obama proclaimed May as National Building Safety Month for six consecutive years, highlighting the essential role that safe building codes and standards play in decreasing the damaging effects of disasters and breaking the cycle of human suffering associated with repeated disaster damage and injuries. In addition, Building Safety Month has been acknowledged in the U.S. Congressional Record every year since 2010 — Building Safety Week was likewise recognized from 2004 to 2008.
Building Safety Month has also had its share of celebrity ambassadors and spokespeople. In 2011, Danny Lipford, home expert and host of national television and radio programs Today's Homeowner and Homefront, publicly endorsed Building Safety Month as "…an excellent opportunity for families and businesses across the nation to learn about critical resources that will make a difference in protecting their home and workplace environments." The next year, HGTV Celebrity Mike Holmes served as the 2012 Honorary Ambassador and kicked off Building Safety Month with a satellite media tour on the first anniversary of the 2011 Tuscaloosa tornado outbreak.
---
Related:
Help to promote Building Safety Month
Take part in keeping communities safe with Building Safety Month
---
Building Safety Month today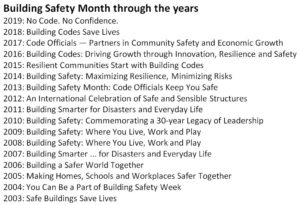 For the last 39 years the International Code Council and its members have celebrated advances in constructing safe, sustainable, affordable and resilient buildings and homes. The ongoing support of Building Safety Month and the important role code officials play in public safety in the built environment comes from the President of the United States, governors, mayors, county executives and other government officials and construction industry professionals. The international Building Safety Month campaign helps to improve public safety by increasing awareness about how building codes and code officials improve and protect the places where we live, learn, work and play.
This year's Building Safety Month theme is: No Code. No Confidence. Modern, regularly updated building codes and a strong system of code enforcement ensure that individuals and communities are safe in the buildings where they live, work and play — codes build confidence. As we face disasters on an unprecedented scale — from hurricanes and tornadoes to wildfires and earthquakes — building codes become increasingly important to the safety, health and well-being of our families and communities.
Building Safety Month highlights five areas during the month to raise public awareness of critical safety issues such as the structural soundness of buildings, reliability of fire prevention and suppression systems, plumbing and mechanical systems, and energy efficiency and sustainability. These issues affect every person, regardless of age or occupation. This year will focus on five topic areas: preparing for natural disasters; training and education; clean and abundant water; construction professionals partnering with homeowners; and innovations in building safety.
Week One, May 1–5: Preparing for Disasters: Build Strong, Build Smart
Week Two, May 6–12: Ensuring a Safer Future through Training and Education
Week Three, May 13–19: Securing Clean, Abundant Water for All Communities
Week Four, May 20–26: Construction Professionals and Homeowners: Partners in Safety
Week Five, May 27–31: Innovations in Building Safety
"Building safety is about preparing for the future. The Code Council, in partnership with our members and stakeholders, develops model codes that integrate new technologies and the latest advancements in building science," said Code Council Board President William Bryant, MCP, CBO. "Building Safety Month is a chance to celebrate the entire building safety community and to educate others about the importance of the codes to each and every one of us."
"After nearly 40 years, Building Safety Month is still the primary international campaign promoting the importance of the codes in our everyday lives," said Code Council Chief Executive Officer Dominic Sims, CBO. "Because of the enduring commitment of our members and stakeholders, the campaign reaches tens of thousands of people around the world."
Doing your part in promoting building safety
Each year, the Code Council partners with building professionals, corporations, government agencies and other advocates to shine a light on the role building codes play in making our communities safer and more resilient. Building Safety Month will be marked through official ceremonies, community outreach events, demonstration projects, and school-based programs. The ongoing support of Building Safety Month, and the importance officials play in public safety, are at the forefront of this annual event. Whether you are an architect, construction worker, or you own a construction company, there are things that you can do to contribute to Building Safety Month. These things include:
Promoting Building Safety Month through chapter activities.
Setting up informational booths at local hardware stores or building departments.
Visiting local schools and giving presentations discussing the importance of safety.
Sending news releases to customers or vendors about building codes and compliance.
Posting building codes throughout your company, and ensuring that all employees are educated on the latest codes.
The Code Council offers many resources to help you support Building Safety Month in your jurisdiction or community.
Educate your community: Use the Code Council's campaign toolkit to connect with your local community and to run your own social media campaign.
Issue a proclamation: Show your support of Building Safety Month by asking your city official to sign a proclamation.
Promotional materials: Visit the online ICC store for print copies of brochures, pencils and more.
Safety tips: Download free safety tips for the backyard, pool, electrical appliances and disasters.
Kids corner: Download fun and educational materials for elementary school-aged children.