California Design Build Competition introduces high school students to construction careers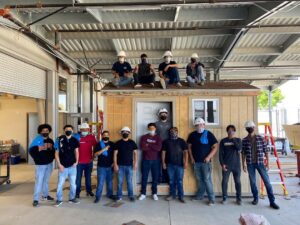 When asked to be a judge for the first time in this spring's Design Build Competition, Nick Henderson, chief building official for 4LEAF, Inc., wasn't sure what to expect. Especially since the Construction Industry Education Foundation's (CIEF) competition would be judged virtually this year. But after judging the handful of schools on his list — talking to instructors and students from elementary through high school on all aspects of their projects to build a small shed — he admittedly was hooked. "One team of eighth-graders had eight girls and four boys. How great is that?" Henderson said. "The drive those kids had was amazing, to see young people with the ability to get these projects done was really something."
Jordan Blair, CIEF executive director, shared that instructors who have had classes participate said the Design Build Competition was their favorite part of that year's spring curriculum. "The kids get a sense of working with their hands," he said. "One eighth-grade student actually changed high schools after participating so she could take advantage of their industrial arts program. One class that participated was learning manufacturing, not construction. But they wanted to be a part of this. It's all part of our mission statement, 'Where Industry Meets the Classroom.'"
Blair said CIEF was born out of the Sacramento Regional Builders Exchange, founded in 1901 and works to introduce and engage high school students and young adults to the rewarding careers available in the built environment. This year, he added, CIEF plans to serve more than 3,000 students through their programs and award $100,000 in academic scholarships and grants for students.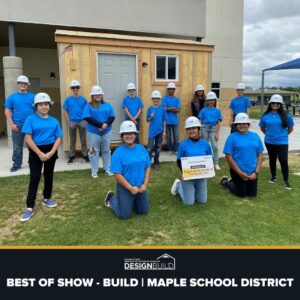 The Design Build Competition was started by CIEF in 1986 as a workforce development program and grew this past year to serve 834 students from 44 student teams and 43 schools, Blair said. The CIEF Design Build Program promotes career awareness of the construction industry among high school students. It is an effort to recognize student achievements and affords the construction industry an opportunity to support schools, students, and career technical education programs. The competition provides an opportunity for high school students to gain firsthand knowledge of the construction industry and to have hands-on experience in the construction process.
Before the COVID-19 pandemic, the competition took place over the course of the spring semester and culminate in a two-day build competition in Orange County in April and in Sacramento in May, Blair said. Sponsors would pay for the materials and students would build on-site. Each team in the design and open competitions are challenged to design and prepare construction documents according to criteria outlined by CIEF and build their structure at their school site or other designated location. Student teams are judged on the completion of design, plan review (if applicable), safety and health adherence, and construction phases of a structure.
In the spring of 2020, the entire competition was online, Blair said, with schools mostly showing pictures of their work, along with written presentations on safety protocols and other work-related issues crucial to safe construction. By last fall, he said, they could see some of the larger schools were ready to go back to in-person learning; while schools in some of the more remote areas of California were still learning from home.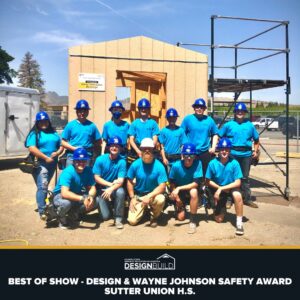 Since many jurisdictions had to use some level of virtual inspections during the height of the pandemic, Blair wondered if that would be a possibility for the competition. He reached out to Susan Dowty, the International Code Council's government relations manager for California and Nevada, to see if she had some ideas. As it turned out, the Code Council and its subsidiary, ICC Community Development Solutions, began a partnership last fall with Inspected, a virtual inspection software company founded at the beginning of the pandemic, to make remote virtual inspections accessible to code officials, homeowners and contractors.
"Our partnership with Inspected aligns with the Code Council's mission to address the diverse needs of businesses and institutions to build safe buildings and help our communities persevere in the current environment," said ICC Community Development Solutions General Manager Dan Foster. "Strong partnerships formed around our safety solutions allow the Code Council to continue elevating its current remote virtual inspection tools and driving innovation in the building industry."
Inspected had done several virtual webinars for the Code Council last year, according to Jason Smeal, director of business development at Inspected, who also wound up as a sponsor of the competition. Smeal said they were honored to participate, even more so after he judged some of the entries. "One was a group of sixth-graders," he said. "It was amazing to see what they could do. This competition is important because it gets young people thinking on this career track. We are losing many inspectors and building officials to retirement. This is our next generation. And, as a company, we hope providing a techy platform such as Inspected will help draw the younger generation already used to using virtual platforms."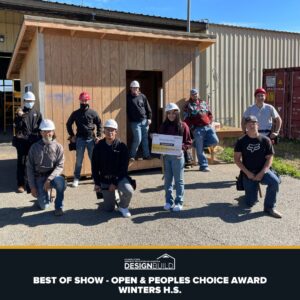 Blair was on board with the virtual judging and Dowty helped to find judges, including Henderson. They then had to get the word out to school districts about this year's new set-up. The schools would be allowed to build at their respective sites and given 16 hours — instead of the usual eight hours over two days — to complete the project. "It was tough for some because they weren't back in school full-time yet," Blair said. "But they could turn in whatever they had built by the deadline, and keep on working on it after judging at their home campuses."
As a third-year judge, Greg Anderson, chief building official with the Building and Safety Division for the city of Citrus Heights, said the virtual inspection/judging platform "was kinda neat. Most of the kids had never done anything like this before. I still got to talk to the instructors and the kids about different aspects of their construction. Unfortunately, a lot weren't able to complete their projects on time because of reduced classroom time due to COVID."
Anderson said he would definitely like to judge again, remotely or not. Henderson wants to go a step further. "One of the classes I judged, they were a math class, not even construction. The instructor said he wanted them to do the competition to practice measurements and corners and such. I want to reach out to them, in person, and offer any help I can on the building side of things; help them finish their project. I had mentors, and I want to mentor. That's how it works. You help the next generation find their passion. I want to pass on what I've learned to them."
A complete list of the 35th Annual Design Build Competition winners are below:
Best of Show, Build Competition: Maple School District
Best of Show, Design Competition: Sutter Union High School
Best of Show, Open Competition: Winters High School
Best of Show, Kitchen Sink Competition: Sundale Union Elementary School District
Craftsmanship Award: Sultana High School
People's Choice: Winters High School
Architectural Award, Open Competition: Concord High School
Architectural Award, Design Competition: Live Oak High School
Honorable Mention: Linden High School
Wayne Johnson Safety Award: Mason F. Sutter Union High School
Rookie Team Award: Galt High School
In addition to bragging rights, the winners were provided with gift cards to Harbor Freight Tools and a limited number of scholarships were awarded to participants who are seniors who graduated in the spring of 2021 and will be pursuing a career in the built environment. This includes apprenticeship programs, two- and four-year colleges or universities, and trade schools. And schools were paired with local sponsors, who delivered a total of more than $100,000 worth of supplies to the 44 student teams, so there was no cost to any of the schools.