Every step matters: Put the right foot forward with ladder safety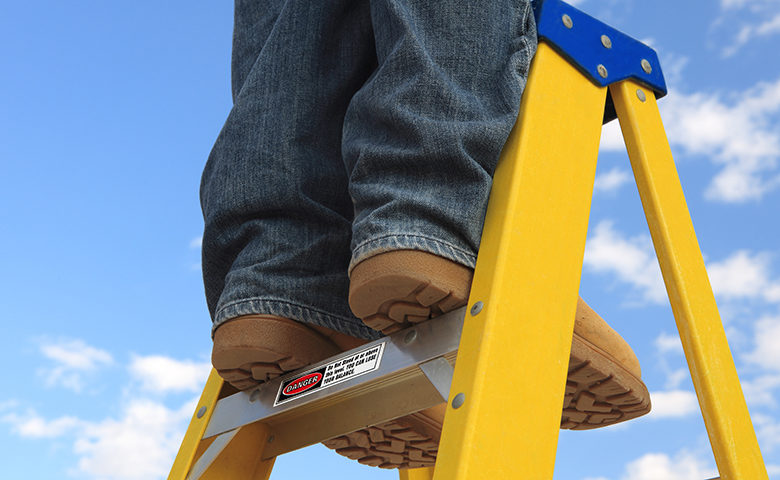 Every year, more than 300 people die in ladder-related accidents and over 500,000 suffer disabling injuries, according to the World Health Organization. National Ladder Safety Month, celebrated annually in March, is the only movement dedicated exclusively to the promotion of ladder safety and was designed to raise awareness of ladder safety and to decrease the number of ladder-related injuries and fatalities. Started in 2016 by the American Ladder Institute as a way to decrease the instances of ladder-related accidents, the month brings a heightened awareness to the importance of the safe use of ladders through resources, education, training, safety best practices and a national dialogue.
The goals of National Ladder Safety Month are to not only lower the rankings of ladder-related safety citations on the Occupational Safety and Health Administration's yearly "Top 10 Citations List" but to decrease the number of ladder-related injuries and fatalities, increase the number of in-person ladder trainings, and increase the number of companies and individuals that inspect and properly dispose of old, damaged or obsolete ladders.
While falls are a leading cause of accidents in the workplace — and ladders are involved in a high percentage of these incidents — ladder-related accidents are preventable by following three basic guidelines.
Use the right ladder for the job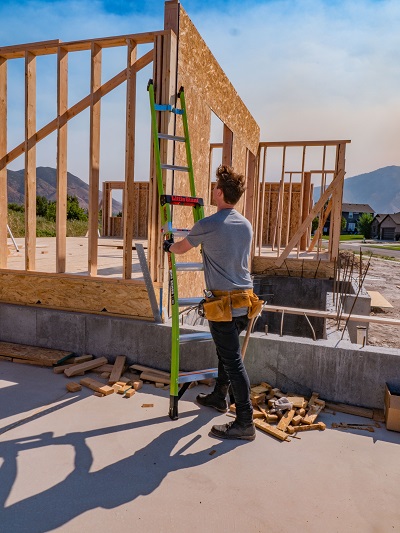 The first rule of using the right ladder is to use a ladder. Too often, people just grab the closest thing to them and end up standing on buckets or chairs instead of taking a few minutes to go get the right ladder. When choosing a ladder, make sure it is tall enough for the job. Per American National Standards Institute standards, ladders are marketed and sold by the total height, or the total section length, not the usable height.
Second, you should never stand on the top cap or use the top step of a stepladder (or A-frame). In practice, you should be four feet off the ground if you are using a six-foot ladder. You will need the top two feet of the ladder to hold onto or lean against to maintain your three points of contact.
Extension ladders are sold by the total length of the sections and only mention the three feet of overlap in small print. A 20-foot extension ladder is two 10-foot sections, but because of the overlap needed, it is only 17 feet tall. If you are using it to climb on a roof, you should have three feet of ladder above the roofline to give you something to hold onto as you transition on and off the ladder.
Given all these factors, you almost always need a taller ladder than you think. Make sure the weight rating of the ladder you choose is greater than your weight and all of the clothes, tools and equipment you will be wearing/carrying. Remember, when using any ladder, be aware of your surroundings and never use an aluminum ladder when working on or near electricity.
Inspect your ladder before each use
If the ladder has any damage, do not use it. Ladders are built with a 4-to-1 safety ratio, meaning a ladder rated for 250 pounds was tested to hold 1,000 pounds when it was made. If the rungs or side rails are bent, broken, cracked or split you don't know what that ladder is rated for with the damage, so just don't use it.
One step a lot of people miss during the ladder inspection is to check the ladder's feet. They are made of a soft material and have tread like the tires on your vehicle. If the tread is worn, they should be replaced, just like your tires.
Ladders should be staked down or tied in place before they are used, but this rarely happens. Too often, the feet of the ladder are the only thing holding the ladder in place, so they should be kept in good condition. Remember, when climbed properly, a ladder in good condition will never be the cause of the accident.
Follow basic safety guidelines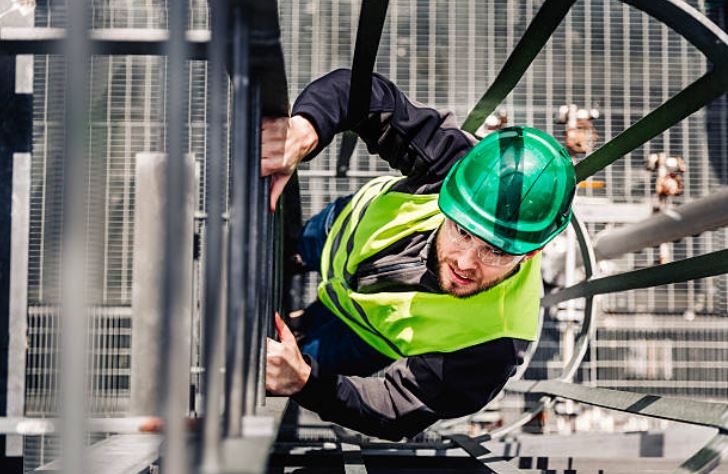 Ladders should be set on firm, level ground. Never use bricks or boards to level your ladder. Instead of building up the low side, dig out the high side for proper set-up. Aftermarket levelers can be added to ladders to help with leveling, and several manufacturers make models with integrated levelers.
Always face the ladder when using it and maintain three points of contact as you climb up and down. Never carry any tool or equipment up a ladder that might cause you to lose your balance. Heavy tools and equipment should be raised using a rope or lift. These rules are to help the climber safely ascend and descend the ladder.
If you are working at height from a ladder, make sure you lean your leg or hip into the ladder to maintain balance and contact with the ladder.
The most important rule of ladder use is to keep your body between the side rails. Never overreach. If you can't reach something without leaning outside of the side rails, climb down and move the ladder over. Losing balance while overreaching causes almost all disabling or fatal accidents.
Although National Ladder Safety Month is one month out of the year, using a ladder properly and safely is something with year-round importance and impact. No matter the season or task, keep ladder safety top of mind. Visit www.laddersafetymonth.com to learn more about safe ladder choice, set up, inspection and disposal, and play a part in reducing preventable ladder accidents through education and awareness.