Finally, backyard swimming pools and spas can now be as safe as VGB-compliant public pools
Drowning is still a leading cause of accidental death in the United States. According to the Centers for Disease Control and Prevention, drowning is the leading cause of accidental death for children ages 1–4, the second leading cause for children under 14, and remains in the top five causes of accidental death up to age 55. Drowning is reported as the fifth leading cause of accidental death in the United States overall. It is worth noting that more children ages 1–4 die from accidental drowning than motor vehicle accidents. We seem to be in a repeating circle as our drowning numbers in the United States remain nearly steady year after year. The United States Consumer Product Safety Commission (CPSC) reported that 163 children fatally drowned between Memorial Day and Labor Day in 2017; nearly 70 percent of them were children under the age of five. What can give us all hope is that drowning is a 100-percent preventable accident.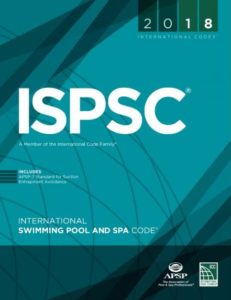 Prevention is the most important weapon against drowning and other aquatic incidents. Prevention is not a new concept when it comes to water safety. However, there is now a tool that puts prevention and safety at the forefront for both residential and commercial pools. The International Swimming Pool and Spa Code (ISPSC) is one of the most important documents ever to come out for the industry and the National Drowning Prevention Alliance (NDPA) is proud to support it. It contains everything a pool contractor needs to make the pool safe and operate efficiently. You may ask yourself why consistent codes and standards for pool and spa construction are important for the health and safety of the public. The best answer is that the ISPSC sets the minimum standard for pool and spa safety by substantially reducing the risk of child drowning through introducing or enhancing requirements for residential pools and spas. The adoption of the ISPSC can reduce drowning accidents by requiring barriers, compliant design and slopes for entry and exit, work towards the elimination of entrapment incidents once and for all, and ensure that pools and spas are built using approved and safe materials. As you can see, the ISPSC goes well beyond addressing safety.
Mandating change seems to work when dealing with pool and spa safety. Over 10 years have passed since the passage of the only federal law for pool safety in the United States. The Virginia Graeme Baker Pool and Spa Safety Act (VGB P&SS Act) has made a significant impact on the safety of commercial pools and spas. The mandating of unlockable drain covers and the installation of other anti-entrapment devices has resulted in no entrapment deaths in commercial pools and spas since the law was passed. Additionally, the access to safety information and advice for the consumer has increased substantially with the creation of the Pool Safely Campaign under the CPSC. It is important to note that when adopted, the ISPSC will mandate the same level of safety protection for residential backyard pools and spas that the VGB P&SS Act requires for public pools and spas. In addition, the CPSC has recognized the jurisdictions that have adopted the ISPSC as being eligible to apply for CPSC's pool and spa training funds.
Organizations such as the NDPA and the Pool and Hot Tub Alliance (PHTA; formerly the Association of Pool and Spa Professionals) have encouraged pool operators and owners to employ as many layers of protection as possible around swimming pools and spas. Simply put, the concept of layers of protection is a multi-faceted approach that includes a mix of supervision, barriers, alarms and safety devices to lessen the chance of a tragic incident. The more layers of protection put in place, the less chance an incident will occur. Layers of protection often include the following: fencing and barriers around water; self-closing, self-latching gates; hard-shell pool covers; door, window, gate and water alarms; ensuring the pool or spa has met all required codes; having rescue equipment near the pool or spa; learning CPR, first aid and teaching everyone to swim; always having responsible supervision around the water; and keeping the pool and spa area secure and free of toys and other attractive nuisances when not in use.
As simple as these safety steps can be to employ around a pool or spa, many unsafe pools and spas still exist. Since 2000, the fatal drowning rates in the United States have not seen a substantial drop. It is more imperative than ever that solutions are brought forward that can begin to make important and much-needed steps in the right direction. The ISPSC is an important part of the solution. The ISPSC is one of a kind as there is no other comprehensive model swimming pool and spa code available that addresses all types of pool and spas and all aspects of construction and design. Even though most states and local jurisdictions have some form of existing pool codes, most lack a comprehensive code or law that addresses all aspects of design, construction, and safety of residential pools and spas. Many jurisdictions around the country lack even minimal barrier and/or suction-fitting requirements in residential pools.
As a uniform building code that has been (as of this writing) adopted in 20 states and 171 local jurisdictions, the ISPSC is playing a vital role in changing the nature of safety in backyard pools and spas. When reviewing the ISPSC, one of the first things that comes to mind is the requirements for specific safety steps around pools and spas, including barriers and the use of alarms. As cited by national agencies and organizations, barriers and alarms are one of the most important components to reducing unsupervised pool access by children. While any type of new regulations can be a hard sell, this particular regulation is important for the pool and spa industry. We must make it our mission to make pool and spas safer to reduce both fatal and non-fatal drownings and other aquatic injuries. Creating safer pools and spas is essential to reducing the incidence of drowning. The ISPSC is a much-needed step in the right direction for both the commercial and residential industries in our goal of making water safer.
To contrast the impact of the ISPSC, there are approximately 300,000 public pools and spas currently protected by the VGB P&SS Act and in comparison, close to 13 million backyard pools and spas that are not. Adoption of the ISPSC achieves this goal. The objective must be to get the ISPSC adopted into law in order to have residential pools and spas achieve the same level of mandated safety protection that the VGB P&SS Act requires for public pools and spas. Simply put, the ISPCS, when adopted becomes the "VGB P&SS Act" for residential pools. Drowning impacts so many people each year and a promising tool is here to help. It is time to mandate change and implement the ISPSC so that our staggering statistics change for the better.
Statement of the National Drowning Prevention Alliance in Support of the International Swimming Pool & Spa Code
 The International Swimming Pool and Spa Code (ISPSC) is a model code that regulates the minimum requirements for the design, construction, alteration, repair and maintenance of new or substantially re-modeled swimming pools, spas, hot tubs and aquatic facilities. This includes public swimming pools, public spas, public exercise spas, aquatic recreation facilities, permanent in-ground residential pools and spas, and permanent residential pools and spas among other water venues. The National Drowning Prevention Alliance supports the adoption of the ISPSC in states and local jurisdictions around the country. Many states and local jurisdictions have already done just that. More should follow suit.
Developed in collaboration with the Pool and Hot Tub Alliance, (PHTA; formerly the Association of Pool & Spa Professionals, APSP), ISPSC adoption provides many benefits supporting the safety and health of water. If adopted, the code requires pools and other water facilities to: meet the requirements of the Virginia Graeme Baker Pool & Spa Safety Act; meet the APSP–7 standard for suction entrapment avoidance; require layers of protection around pools and spas that help prevent the unfettered access by children, including fencing, covers, and door and window alarms; and ensures that water quality is healthy and safe, among many other safety and health provisions.