Gone in a flash: Northern California rebuilds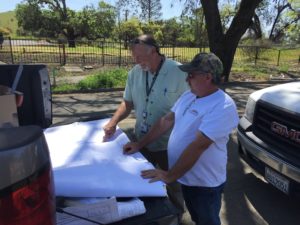 Building officials, code officials and permit techs know working "the counter" can be difficult. You never know what kind of questions you're going to get, and chances are the people on the other side of the counter may not like the answers.
But for the past several months, those officials in Northern California have had to do more than simply process permits; they have had to serve as counselors as well, listening to heartbreaking stories of victims of fires that consumed their homes and, in some cases, loved ones and pets.
For weeks in October, Northern California counties — specifically Napa, Lake, Sonoma, Mendocino, Butte and Solano — were the national media focus, as about 250 separate fires fueled by 50 to 60 mph winds, single-digit humidity, and dry wood and brush reached temperatures of up to 2,000 degrees in some areas.
In all, the fires destroyed nearly 9,000 structures and leveled more than 200,000 acres. Officials say many of the more than 40 people who died and nearly 200 injured suffered their fates during the first hours of the fires, which began late in the evening on Oct. 8, 2017.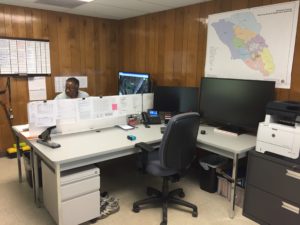 A third of those lost homes were in Sonoma County and the city of Santa Rosa. Officials in the city have been helping people get back in their homes and businesses since November. Like the county, they've set up a one-stop shop, where fire victims can find out what they need to do to rebuild.
"With the idea of a safe built environment, we do everything we can do to help these people, rather than be another burden to them," said Mike Renner, a consultant whose group, West Coast Code Consultants, Inc., was hired by Sonoma County to help with the barrage of permits.
Renner and his colleagues have been working since mid-February to help people get back into their homes. About half of the victims who originally came in just needed to know the process, he said, while others, whose homes had substantial damage, losing all records among their possessions, needed to start from scratch.
That can include having to find their original deeds and plans for their homes. Many of those homes were built in the 1970s, so homeowners wanting to rebuild on the old site — and most do — found that codes updated since then, codes that possibly could have helped mitigate some of their losses, are adding thousands of dollars to the cost of their rebuild.
The responses and demeanors are varied when victims walk in to the permit center; some hold it together pretty well, "Just tell me what I need to do."
Others are in shock; still others would do fine until one or more parts of the rebuild process became a final straw that had them shaking and sobbing.
"It's very emotional," Renner said.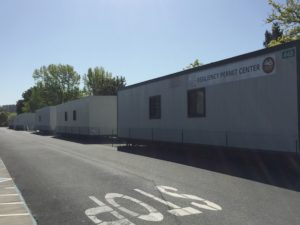 Among that first group, some were living in cars, others in motels or with family. Some rented recreational vehicles so they could camp on the land where their house once stood — once officials from the Federal Emergency Management Agency approved the soil remediation.
"People want to get back into their community," Renner said.
But there are obstacles. Some home sites lost their underground plumbing and gas lines, as back hoes dug too deeply during remediation. A lot of people still haven't settled with their insurance companies, said Renner's colleague, Marcus Johnson.
And then there is the shortage of labor and materials to rebuild, Johnson said, something that helped result in a major housing shortage in Northern California even before the fires.
Even with scores of people wanting to live in the Sonoma/Napa region due to its beauty and lower cost of living relative to the Bay Area, Johnson said housing developers have been slow to get back into the market after losing money during the recession.
Homes are beginning to go up, as a couple hundred permits have been approved, Johnson said, but those wanting to rebuild already are having a hard time finding labor and materials, "and it's only going to get worse."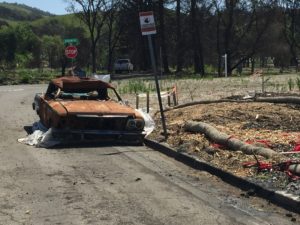 Toward mid-June, the city of Santa Rosa saw construction beginning on its first rebuild, approved back in November, said Jesse Oswald, permit intake manager for the city's building division. Initially, they — and representatives of 30 different agencies — were working 15–16 hours a day, handling questions from dazed victims.
"We spent a lot of time listening," he said. "Telling them it's going to be okay."
Oswald remembered talking to one contractor who also was a victim of the fire, literally chased from his home by rushing flames.
"He told me from the time the fire reached one window until it consumed the house was 32 seconds," Oswald said. "In some cases, nothing could have stopped this."
In some places, the wind-whipped fires got so hot fire sprinklers malfunctioned, or melted.
But in general, officials said, homes that had a 100-foot clearance of trees and other landscaping fared much better than those not adhering to that and other measures in the state's Wildland Urban Interface provisions, based on the International Code Council's International Wildland-Urban Interface Code, adopted in 2012, and Chapter 7A of the California Building Code.
Those provisions mandate sprinklers, fire-resistant construction materials for homes, as well as porches and decks that many homeowners like to build with treated redwood.
While retrofitting building materials, and even sprinklers, may have been too costly, it would have been easy for residents in homes, even those built decades ago, to clear that 100-foot radius, but, Oswald said, "homeowners want their lush surroundings."
The lives and most of the possessions lost in the wildfires during just a few days can never be recovered. For the homes and businesses, officials estimate it will take five to seven years to rebuild.
Oswald said the real effects of the labor and material shortage probably won't hit for another year as permits for even more homes are approved once homeowners settle with their insurance companies.
Assuming no other such disasters, he said, it could take five to 10 years for that full build-out.
To make things as easy as possible, Oswald said, people reviewing the permits are re-doing the way they've done things for years, being more flexible in code interpretations, while at the same time making sure rebuilding will be done safely and by reputable companies.
"We won't stand on any one precedent," he said. "We'll be flexible, without diminishing any safety. Not everything fits in one box."