ICC and RIBOA Chapter helping train and develop the future of the construction industry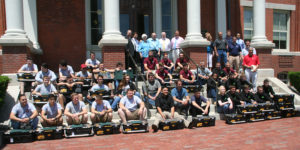 Rhode Island seniors given jump on careers with tools of the trade.
As the construction industry continues to recover from its years-long downturn, many jurisdictions and firms across the country cite the lack of available skilled craft labor among their most significant challenges. An aging workforce, laid-off construction workers who left the industry for good, and a lack of quality training programs for hourly craft professionals have added to the exodus. Without quality programs for skilled craft labor, most high school students are not even exposed to the idea that construction is a potential career path, and the few students who decide to pursue high-paying construction jobs often lack the skills needed to perform productively on a construction site.
This is where training programs — such as those offered by the Warwick Area Career Technical Center (WACTC) and the International Code Council's High School Technical Training Program (HSTTP) — step in.
The Warwick Area Career Technical Center is a three-year program, consisting of a student's sophomore, junior and senior years of high school. The ICC High School Technical Training Program is a flexible educational program divided into four parts — building, plumbing, HVAC (mechanical) and electrical — that enables a technical school to integrate one or more parts of the program into its current construction trade curricula to better provide students with a comprehensive knowledge of construction trades. Students completing all elements of a part, including a final exam, will receive a nationally recognized Certificate of Achievement from ICC. The program includes the necessary course materials, exams and certificates to ensure easy implementation.
For each WACTC construction trades student — along with students from local area schools Davies, Woonsocket and Coventry — who passed the final ICC exam and earned a nationally recognized Certificate of Achievement from ICC, the Rhode Island Building Officials Association (RIBOA) and NETCOH Sales jointly gave each student a Makita cordless impact and drill set. Stanley, Black & Decker and DeWalt partnered to provide each student with a toolbox loaded with hand and power tools worth approximately $350 each to help pursue their career paths.
WACTC student Ian Cullen finished with the program this year, found the program more meaningful than conventional high school. "I never had plans to go to college, so this worked out good for me." Mike Haynes, a carpentry instructor with WACTC, helped Cullen obtain a job at Coventry Millwork Inc.
Rhode Island Building Officials' Association President Wayne Pimental addressed construction trades seniors against a backdrop of tool boxes and tools. "You should all be extremely proud that you passed the ICC. It's a great step forward to the future," said Pimental. "The ICC is a great step forward if you ever decide to become an inspector."
Pimental, who is the East Greenwich building official, said the association wants students "to know the codes" so "they build well" and have a good relationship with municipal building officials. The ICC program is made available to all nine of the state's career and technical centers. Pimental said association members mentor students and the intent is "to bridge the gap between kids coming into the trades and inspectors out in the field."
The Rhode Island Building Officials' Association — sponsor of the WACTC event — works to cooperate in the formulation of standards for the protection of the safety, health, morals, and general welfare of those in and about buildings. It is also the purpose of this association to promote cooperation and understanding between building officials and other code enforcement officials, agencies, the building construction industry, and the general public.
To learn more about ICC's High School Technical Training Program or to get started, contact ICC HSTTP Consultant Jim Ellwood at jellwood@iccsafe.org.