ICC, its Members and Partners, Mobilize to Respond During Volatile Hurricane Season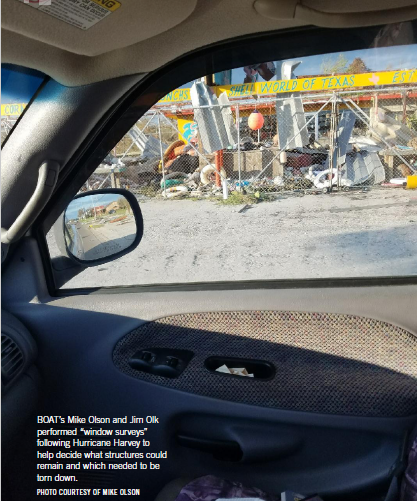 As Hurricane Harvey approached Texas in late August, state and local emergency personnel along the Gulf Coast were on high alert, waiting to see where the Category 4 storm would strike.
In the background, as is often the case, was another group of emergency responders: a network of building officials in Texas and throughout the nation also ready to "get boots on the ground" to help storm-stricken areas—especially the smaller communities with few or no resources—get back on their feet as soon as possible.
Two men were especially watchful as Harvey approached: Mike "Mo" Olson, Director of Community Development for McGregor, Texas, and president of the Building Officials Association of Texas (BOAT); and Jim Olk, building official with Garland, Texas, and a past president of BOAT, who leads the International Code Council (ICC) chapter's disaster assistance team.
While emergency responders performed triage on victims, Olson and Olk did the same for structures, evaluating which were safe and which were unsafe for occupancy.
"Harvey hit on a Friday," Olson remembered, "and Jim was in Aransas Pass that Monday. I got there Tuesday. We did 'windshield surveys,' driving around to see where the worst [structures] were and what needed to be done first. It was pretty bad."
Then, he said, it was a matter of getting the word out through BOAT and ICC. ICC's CEO Dominic Sims immediately reached out via letter to Texas Gov. Greg Abbott to offer the services of ICC's 64,000 members, including activation of a vast volunteer network of disaster response building inspectors.
The ICC Disaster Response Network (DRN) is a coordinated system of building safety professionals who volunteer to help jurisdictions that request aid with building damage assessments, building inspections and other code-related functions in disaster areas. Knowledge on available housing near the stricken areas made it tough for responders to come in to help. In response, ICC established the Hurricane Harvey Code Heroes Housing Network, collecting names of local residents who were available to house volunteers from out of town.
Leaders from all areas of ICC had weekly calls to ensure ICC was doing all it could to help communities affected by Harvey—and subsequent hurricanes that struck Florida and Puerto Rico.
ICC, along with members, partners and other stakeholders, raised more than $110,00 for American Red Cross disaster relief efforts in the wake of Hurricanes Harvey and Irma. Florida has had a statewide emergency system for more than 25 years said Tom Allen, ICC's Government Relations Regional Manager for that state as well as Georgia, Puerto Rico and the U.S. Virgin Islands.
"The way it works is a municipality calls the state for help, then the state contacts the Building Officials Association of Florida (BOAF)," Allen said. "Then we put out a call for volunteer inspectors."
No surprise the first call came in from the Florida Keys after Hurricane Irma washed over the chain-link county of Monroe.
"They asked for 20 inspectors, and we sent them down," he said. "Once the rebuilding starts, we'll need to send more down to oversee that."
Otherwise, he said, the emergency system in Florida worked as it was designed to. That could be said of the emergency system in Texas as well. After putting out that initial word, Olson said they got some 90 volunteer code officials, architects and other construction officials to leave their jurisdictions, some from as far away as Colorado, to help in Aransas Pass and a couple dozen other communities Harvey hit.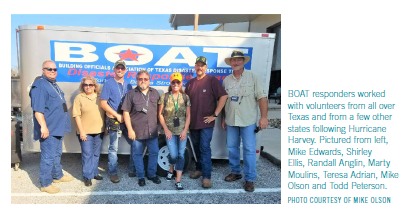 Olson said he also got a call from ICC Vice President of Membership and Certification and former ICC Board President Ron Piester asking, "Mo, how can we help?"
Without internet service, they couldn't do real-time structural assessments. They needed a bunch of color-coded assessment forms to document the structural triage work.
In no time, Olson said, ICC shipped some 3,000 red, yellow and green forms. Once they got those forms, Olson and his team faced another problem: How to upload them without internet service so they could be assessed by Federal Emergency Management Agency (FEMA) responders.
Carey Frazier, plans examiner for the City of Frisco, Texas, and Jill Stone, zoning inspector for Garland, devised the idea of scanning the assessment forms and putting them in a Dropbox, a file sharing program, where members of the ICC's Permit Tech Nation (PTN) chapter could upload them to a spreadsheet Olk created.
Olson said what followed in Harvey's wake redefined BOAT's disaster response process— formed four-and-a-half years ago following the fertilizer plant explosion in West, Texas. For example, from that time until Harvey, he said, BOAT's disaster response, working with Texas Emergency Management, had used its emergency response van following tornadoes, floods and hailstorms.
So broad was the response from ICC and its chapters, Olson said, that it followed him as he attended the Annual Conference in Columbus, Ohio, in September.
"I was sitting around and a representative of the Georgia Building Officials handed me a check for $2,500 for disaster response," Olson said, still humbled by the camaraderie.
"Then there was $1,000 from Utah and $1,000 from Anne Arundel County, Md." Adding in donations from New York and New Jersey, Olson and Olk said they received some $7,000 in donations at the Annual Conference. That helped a lot, he said, because lodging for the emergency volunteers not only was hard to find, but could be difficult to pay for, since the jurisdictions they came from had to do it on their own dime.
Speaking of investments in building, during their damage assessments Olson said they could clearly see the difference in structures built to code. And so could others. "We were walking past a liquor store one night, and the owner came out and asked what we were doing," he said. "We told him we were code officials inspecting buildings for storm damage.
"He said code officials had given him a hard time when he was building his two stores.
'Put straps here; put this there. But I didn't lose either of my stores. Thank you for giving me a hard time.'"
Following the devastation of Hurricane Irma, U.S. Sen. Bill Nelson said during a Senate nomination hearing, "The building codes do work. Where there was a new structure (built) according to new codes—the International Code standards—the structure's there. Where there was an old structure next door, it's gone."
ICC will be working with FEMA's Mitigation Assessment Team (MAT) Program, which deploys teams of investigators after disasters to evaluate the performance of buildings and related infrastructure. All the information gathered following the hurricanes may help strengthen the next set of building codes.
Olson said BOAT has a lot to share in terms of emergency response experience, something ICC, with its broad network of members and partners, could help standardize for the industry.
Kelly Sadler JD—ICC Government Relations Regional Manager for Texas, Arkansas and Oklahoma—only a few weeks into her job when Harvey hit, agreed, saying she was impressed with the response in Texas.
"BOAT's efforts and response during Harvey is a best practice that should be replicated," she said.