Make pool safety a priority
Memorial Day weekend marks the beginning of the summer season for many and the covers are coming off neighborhood, community and backyard swimming pools throughout the nation. There are an estimated 10.4 million residential and 309,000 public swimming pools — and more than 7.3 million hot tubs in operation — in the United States. In California alone, there are approximately 1.1 million swimming pools and Florida comes in second with 1,093,655 pools.
Swimming is the fourth most-popular sport or recreational activity in the U.S., with 36 percent of children and teens aged 7–17 years, and 15 percent of adults swimming at least six times annually. While swimming pools and spas are great for play, exercise and therapy, an alarming number of water-related deaths and injuries also occur in and around pools each year.
As an advocate for protecting our communities at home, at school and in the workplace, the International Code Council works hard to prevent such tragedies and ensure family and friends have a safer, more enjoyable experience when using pools and spas. To ensure safety is a priority for everyone, here are five swimming pool and spa safety tips to help ensure a safe summer ahead.
Install proper barriers, covers and alarms on and around your pool and spa. Proper fences, barriers, alarms and covers can be life-saving devices. In-ground and above-ground pools and spas should be surrounded on all sides by a fence or other barrier at least four feet in height and should not be climbable for children. Small, inflatable pools must also be protected. The International Building Code states that any pool with more than 24 inches of water has to have a four-foot fence or other barrier around it. The water should only be accessible through a self-closing, self-latching gate. Teach children to never try to climb over the gate or fence. Install a door alarm from the house to the pool area that can alert if someone enters the pool. Keep automatic or manually operated pool and spa covers in good working order, keep them covered when not in use, and never allow anyone to stand or play on a pool cover.
Ensure all pools and spas have compliant drain covers. Virginia Graeme Baker, after whom the Pool and Spa Safety Act is named, died from drowning due to a suction entrapment from a faulty drain cover. All pools and spas — both in your backyard and any public pool you may visit — should have compliant drain covers. Powerful suction from a pool or spa drain can even trap an adult. All public pools and spas must have drain grates or covers that meet safety standards.
Teach children to stay away from drains. Do not play or swim near drains or suction outlets, especially in spas and shallow pools, and never enter a pool or spa that has a loose, broken or missing drain cover. If possible, check that the suction outlet (drain) cover is marked "VGB 2008" in compliance with the Virginia Graeme Baker Pool & Safety Act and U.S. Consumer Product Safety Commission. Make sure drain covers are properly fitted and paired or have vacuum suction releases to prevent children being trapped under water. Children's hair, limbs, jewelry or bathing suits can get stuck in a drain or suction opening. When using a spa, be sure to locate the emergency vacuum shutoff before getting in the water.
Make note of life-saving devices. Pool and spa owners should reserve a spot on a nearby wall or fence for basic life-saving equipment, including a portable or mobile telephone for emergency calls and a list of local emergency numbers. A pole, rope and personal flotation devices are also recommended. When using a pool or spa, be sure to locate these emergency equipment options and know how to use it before getting in the water. Be sure to avoid having electrical devices in the pool or spa area unless they are installed, maintained and inspected by qualified professionals. Electrical devices also need to be protected by a ground fault circuit interrupter (GFCI).
Clean, clear and temperature regulated water is essential for safe pool and spa use. According to the U.S. Centers for Disease Control and Prevention, more than one in 10 routine pool inspections identified pool disinfectant level violations, and about half (56.8 percent) of spas are in violation of local environmental health ordinances. Cryptosporidium (or Crypto) is an extremely chlorine-tolerant parasite that can survive in a properly chlorinated pool for 3.5–10.6 days. While chlorine and other pool disinfectants are the primary barriers to the spread of germs in the water in which we swim, the warm chemically treated water on top does not reach the deeper parts of a pool that sit still and are an ideal breeding place for algae and bacteria. If you cannot see the bottom of the pool at its deepest point, the pool should not be used. For spas, water temperatures should be set to 104 degrees Fahrenheit or lower to avoid elevated body temperature, which could lead to drowsiness, unconsciousness, heat stroke or death.
These safety tips are crucial because every year more than 275 children under the age of five drown in swimming pools, nearly 400 children younger than 15 years old drown, and more than 4,100 children seek medical treatment for pool-related accidents (mostly in backyard pools) according to the U.S. Consumer Product Safety Commission (CPSC). In its 2018 report –– Pool or Spa Submersion: Estimated Nonfatal Drowning Injuries and Reported Drownings — the CPSC adds that while the number of reported fatal child drownings in swimming pools and spas involving children younger than five have not significantly increased, drowning continues to be the leading cause of unintentional death in children under five.
"These alarming statistics highlight just how critical the role of code officials are in the construction and operation of safe pools, spas, and waterparks," explained International Code Council Senior Director of Plumbing, Mechanical and Fuel Gas Resources Lee Clifton. "The Code Council's International Swimming Pool & Spa Code can help dramatically reduce preventable pool- and spa-related accidents and injuries and is a necessary safety code that saves lives. As more and more jurisdictions adopt and enforce the ISPSC, it will reinforce and provide the highest possible level of public safety."
ISPSC secures pool & spa safety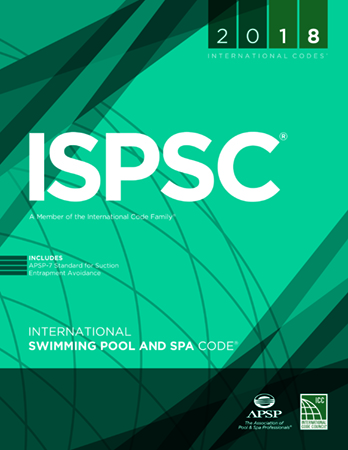 The International Code Council's International Swimming Pool & Spa Code (ISPSC) is transforming our nation's backyard pool and spa industry. The code — developed by ICC and the Association of Pool & Spa Professionals — establishes minimum regulations for public and residential pools, portable and in-ground spas and hot tubs, exercise spas, and water parks using prescriptive- and performance-related provisions. It covers a range of topics, including fencing, decks, lighting, heaters, circulation systems, pumps, accessibility, diving, sanitizing equipment, filters and suction fittings and encompasses the design, installation and inspection of aquatic facilities based on current American National Standards Institute standards technology and code provisions.
In addition to regulations for drain covers and grates, outlet configurations and fittings, and vacuum release or vented systems, the ISPSC also requires barriers to entry on all outdoor residential pools and spas that effectively prevent small children from gaining unsupervised access.The ISPSC is the first and only comprehensive model swimming pool and spa code available that meets or exceeds Virginia Graeme Baker Pool & Spa Safety Act compliance. It contains provisions coordinating with the International Building Code and International Residential Code and coordinates with the widely adopted family of International Codes for seamless integration.
In addition to the ISPSC, the Code Council offers the 2015 ISPSC Code and Commentary and various certification programs and training courses for inspectors and examiners geared specifically for the ISPSC. Two ICC committees relate specifically to the development and maintenance of the ISPSC: the International Swimming Pool and Spa Code Committee and the Pool Heating and Cooling Standard Consensus Committee.
Raising awareness of water safety
In addition to its publications and the certification, training and committees developed to support code officials as they use the ISPSC, ICC also advocates for water safety within the industry.
The Code Council is a top-tier Campaign Safety Partner of the Pool Safely national public education campaign launched by the U.S. Consumer Product Safety Commission to reduce childhood drownings, submersion injuries and entrapments. The campaign carries out the provisions of the Virginia Graeme Baker Pool & Spa Safety Act (P&SS Act), federal legislation mandating new requirements for public pools and spas, including a public information campaign. Read more.
In February, the Association of Pool & Spa Professionals appointed six members to the Code Council's 2021 International Swimming Pool & Spa Code Council, which will be instrumental in the creation of the 2021 ISPSC and will serve as an advisory body and international forum for discussion and deliberation about building design, construction methods, safety, performance requirements, technological advances and innovative products.
ICC Government Relations Senior Director of PMG Resources Charles "Lee" Clifton and Carvin DioGiovanni and Steve Getzoff of the Association of Pool & Spa Professionals participated in an April panel discussion at the National Drowning Prevention Alliance 2018 Educational Conference on the advantages of adopting the International Swimming Pool and Spa Code. Clifton spent time with Dr. Jane Katz, a World Masters Champion swimmer and aquatic safety advocate.
In its ongoing commitment to provide its members informative code support documents, the PMG Official Membership Council offers a free, downloadable copy of CodeNotes featuring the 2015 ISPSC Residential Swimming Pool and Spa Permit & Plan Guidelines.
Last year, the Association of Pool & Spa Professionals testified before a U.S. Senate Subcommittee on key aspects of the VGB Act and how APSP's relationship with the International Code Council improves residential and public pool safety through adoption of the ISPSC to protect swimming pools and spas.