New York bans non-essential construction amid coronavirus pandemic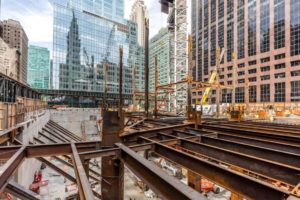 The novel coronavirus (COVID-19) has put the state of New York — like much of the nation — on pause. For now, New York construction remains among the "essential businesses" allowed to keep offices or project sites open as needed. But contractors, project owners, design firms and others must deal with new policies and procedures in order to abide by the law and ensure the health and safety of workers from the back shop to construction sites.
Initially, all construction in the state was classified as "essential" and exempt from the New York State on PAUSE executive order, which mandated that all non-essential workers stay home in response to coronavirus. After increasing concerns about exposing workers, restrictions were tightened on March 20 with Executive Order 202.6, which states:
All non-essential construction must safely shut down, except emergency construction (e.g., a project necessary to protect health and safety of the occupants, or to continue a project if it would be unsafe to allow to remain undone, but only to the point that it is safe to suspend work).
Essential construction may proceed, to the extent that:
the construction is for, or your business supports, roads, bridges, transit facilities, utilities, hospitals or healthcare facilities, homeless shelters, or public or private schools;
the construction is for affordable housing, as defined as construction work where either (i) a minimum of 20 percent of the residential units are or will be deemed affordable and are or will be subject to a regulatory agreement and/or a declaration from a local, state, or federal government agency or (ii) where the project is being undertaken by, or on behalf of, a public housing authority;
the construction is necessary to protect the health and safety of occupants of a structure;
the construction is necessary to continue a project if allowing the project to remain undone would be unsafe, provided that the construction must be shut down when it is safe to do so;
the construction is for projects in the energy industry in accordance with Question No. 14 in the FAQ at: https://esd.ny.gov/sites/default/files/ESD_EssentialEmployerFAQ_033120.pdf;
the construction is for existing (i.e. currently underway) projects of an essential business; or
the construction work is being completed by a single worker who is the sole employee/worker on the job site.
At every site, it is required that the personnel working on the site maintain an appropriate social distance, including for purposes of elevators/meals/entry and exits. Sites that cannot maintain appropriate social distancing, as well as cleaning/disinfecting protocols must close. Enforcement will be conducted by state and local governments, including fines up to $10,000 per violation.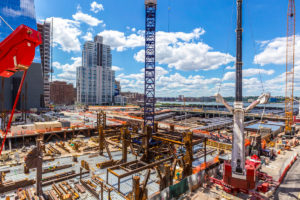 Construction may continue solely with respect to those employees that must be present at the business location/construction site in support of essential business activities. No other employees/personnel shall be permitted to work in-person at the business location/construction site. Any other business activities being completed that are not essential are still subject to the restrictions provided by Executive Order 202.
As noted above, local governments, including municipalities and school districts, are allowed to continue construction projects at this time as government entities are exempt from these essential business restrictions. However, to the greatest extent possible, local governments should postpone any non-essential projects and only proceed with essential projects when they can implement appropriate social distancing and cleaning/disinfecting protocols. Essential projects should be considered those that have a nexus to health and safety of the building occupants or to support the broader essential services that are required to fulfill the critical operations of government or the emergency response to the COVID-19 public health crisis.
On March 25, New York City Mayor Bill de Blasio signed Emergency Executive Order No. 103 that stated:
Any essential business or entity providing essential services or functions, as defined by Governor Cuomo's Executive Order 202.6 and guidance issued by the Empire State Development Corporation or designated as essential pursuant to any subsequent order issued by the Governor, shall not be subject to the in-person restrictions.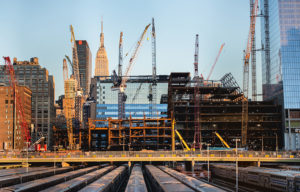 As of April 7, 2020, most residential and commercial construction statewide is suspended in response to the novel coronavirus pandemic sweeping New York. Only essential construction work is allowed in New York, and the penalty for noncompliance is up to $10,000. Essential construction work includes infrastructure like roads and bridges, socially beneficial projects like hospitals and affordable housing, and emergency repairs. Residential projects can continue if at least 30 percent of their units are below market rate, or if the project is subject to Mandatory Inclusionary Housing. This means that projects like luxury condominiums and office buildings are stopped. Non-essential projects can only continue if they have work in progress that creates risks in the unfinished state.
On March 30, the New York City Department of Buildings (NYC DOB) published Buildings Bulletin 2020-004 to provide guidance on how to suspend projects safely during the COVID-19 outbreak. The bulletin applies for both construction projects and demolition sites.
NYC DOB requirements to pause construction projects safely
The NYC DOB makes project owners responsible for securing sites and keeping them safe while the emergency lasts. All current work permits remain active until the end of their term, and they must be renewed as necessary while projects remain suspended. Also, the applicable fees for these permits remain unchanged during the emergency.
The NYC DOB Bulletin 2020-004 provides a list of 22 requirements to safeguard the public and to prevent property damage:
Conducting safety inspections at least once per week. After harsh weather like high winds or heavy rain, inspections are required on the same day and the following day.
Preparing dated inspection reports and keeping them onsite for the commissioner. Additionally, an electronic weekly certification must be submitted for projects that require a site safety manager, a site safety coordinator or a construction superintendent.
All essential utility services must be kept operational and protected from freezing.
Temporary Certificates of Occupancy must be renewed as required.
Keeping the site clean by removing garbage, construction waste, excess vegetation, standing water, etc.
Providing safe storage for all construction materials.
Protecting the site against high winds and adding more protections according to forecasts. Any materials and equipment that can be lifted or overturned by the wind must be removed or secured.
Installing proper fencing, as required by Building Code Section 3307.7.
Keeping public sidewalks and walkways safe, as required by Building Code Section 3303.4 and the Department of Transportation (DOT). This includes providing adequate lighting, while removing substances that interfere with circulation — ice, snow, grease, debris, etc.
Providing perimeter security to the extent possible, to prevent illegal dumping. Any illegal dumping must be reported to the NYC Department of Sanitation.
Removing all formwork and re-shores if concrete has already reached its design strength. If these must elements must remain at the site, they must be checked carefully during weekly inspections.
Keeping all construction signs on site, ensuring they are properly installed and secured.
Keeping and securing all protective measures at the construction site — guardrails, nets, sidewalk sheds, etc.
Keeping and securing all scaffolds. Unnecessary scaffolding can be removed.
Keeping all means of egress clear – temporary and permanent.
Keeping all exit signs and exit lighting operational — temporary and permanent.
All fire protection systems must be kept operational, and FDNY hose connections must be clearly marked and illuminated.
All structures over 75 feet must have hoists and elevators for the FDNY. In general, all hoists must be kept operational and tested monthly while the emergency lasts.
All inactive cranes that will stay on site must be properly secured. They must be stored according to manufacturer instructions and the approved Crane Notice (CN) drawings. The project owner must also continue crane inspection and maintenance according to manufacturer specifications and all local regulations. Also, the required certificates for crane operation must be kept updated, even when the crane will not be used.
Storing and securing all other construction equipment on site, according to manufacturer instructions.
Providing security personnel 24/7 in all projects where it is required by Building Code Section 3303.3.
Implementing a rodent control plan, to prevent infestation while the project is paused.
Since the coronavirus outbreak is a major emergency, the NYC DOB Commissioner may order additional measures for projects based on their specific conditions. On April 22, the NYC DOB published Buildings Bulletin 2020-006 — a list of 22 requirements to safeguard the public and to prevent property damage — that provides updated guidance to owners and contractors regarding how to secure their construction and demolition sites when operations are suspended due to the ongoing COVID-19 public health emergency.
Weekly (minimum) safety inspections shall be performed by the owner or his/her designee to ensure the construction or demolition site is safe and in continued compliance with these requirements and all other applicable laws and regulations. In addition to the minimum weekly inspection, an inspection shall be made the day of and following severe weather, such as unusually high winds or heavy rain or snow. Where the site is subject to the training provisions of Section 3321 of the Building Code, these safety inspections shall be performed by an individual who possesses a Site Safety Training (SST) Supervisor Card. The Department shall be immediately notified of any unsafe conditions.
Reports of all safety inspections described in item #1 above shall be prepared, signed, and dated by the individual who performed the inspection and shall be kept at the site available for inspection by the commissioner upon request. In addition, for a site that required a site safety manager, site safety coordinator, or construction superintendent and had not yet been released from such requirement by the Department, a weekly certification shall be made to the Department electronically in a form and manner acceptable to the Department.
All utilities essential to site maintenance shall be maintained (for example, electrical service needed to power sidewalk shed lighting). Where freezing conditions are encountered utilities shall be safeguarded against freezing conditions.
Temporary Certificates of Occupancy, if issued, shall be kept current and renewed as required. Any requirements imposed as a condition of the issuance of the Temporary Certificate of Occupancy shall continue to be met.
The site shall be kept free of garbage, construction and demolition debris, excess vegetation, and standing water.
All construction and demolition materials shall be safely stored.
The site shall be safeguarded against high wind events and additional safeguards shall be implemented as forecasts warrant. All light-weight materials susceptible to becoming windborne shall be removed from the site, tied down, or ballasted. All equipment and temporary construction installations shall be properly secured. See Buildings Bulletin 2015-029 for additional information.
Fencing shall be provided and maintained around the site as required by Section 3307.7 of the Building Code.
Public sidewalks and walkways shall be maintained in a safe condition in accordance with Section 3303.4 of the Building Code and Department of Transportation (DOT) regulations, free of ice, snow, grease, debris, tripping hazards, etc. Required illumination shall be maintained for all public sidewalk and walkways.
Perimeter security shall be maintained, to the extent feasible, so as to discourage illegal dumping. Illegal dumping on the construction site shall be promptly reported to the Department of Sanitation for enforcement action.
All formwork and re-shores shall be removed, provided concrete has reached its design strength. If re-shores are to remain, they shall be periodically checked during weekly safety inspections to make certain they are snug. Perimeter re-shores shall be tied back as required by Section 3305.3.6.1.2 of the Building Code.
All required construction signs shall be maintained at the site.
All protective measures on site, including but not limited to guardrails, netting systems, cocoon systems, adjoining property protection, floor and safety openings, and sidewalk sheds shall be safely secured and maintained at the site.
Scaffolding shall be safely secured and maintained at the site. Loose scaffold planking shall be removed or properly fastened. Scaffold tiebacks shall be maintained and inspected for signs failure.
All required temporary or permanent egress shall be maintained clear and unobstructed.
All required temporary or permanent exit signs and exit illumination shall be maintained.
All required fire suppression (standpipe, sprinkler) and fire detection equipment (smoke, carbon monoxide, fire) shall be maintained. Fire Department hose connections shall be illuminated and identified, as required under Section 3303.8 of the Building Code.
Required hoists or elevators for use of the Fire Department shall be maintained for structures in excess of 75 feet and readily accessible to Fire Department personnel. Any hoist, whether required as an "elevator-in-readiness" or not, shall be properly maintained and tested every month to ensure it is operational.
Any crane that is inactive and that will remain onsite shall be stored in accordance with the manufacturer's recommendations and the approved CN drawings. Periodic inspections and maintenance of cranes shall be performed in accordance with 1 RCNY 3319-01(k)(3)&(4), 1 RCNY 3319-01(l), and manufacturer specifications. In addition, the certificate of operation and certificate of on-site inspection shall be maintained in a valid and current status while the crane is on-site. Where a crane is inactive for a period greater than 30 days and the contractor/equipment user is non-responsive, the crane's owner shall be responsible for maintaining the crane and keeping all crane permits valid. All maintenance performed shall be documented in the crane maintenance logbook.
All other construction equipment shall be safely stored and maintained in accordance with manufacturer recommendations.
Required watchpersons shall be maintained at all times where required by Section 3303.3 of the Building Code.
Rodent control plan shall be implemented.
Mapping essential and emergency construction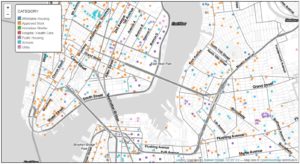 The also Department of Buildings launched a new interactive map tool to identify construction sites that are considered emergency or essential work during the COVID-19 pandemic, and therefore allowed to continue working. The map presents constantly updated data from multiple sources to create an evolving database of essential and emergency construction projects throughout the city as defined by the Governor's Order and guidance from the Empire State Development Corporation (ESDC) and the DOB.
The real-time map identifies essential and emergency construction work involving affordable housing, hospitals, health care facilities and utilities. It also includes emergency work to protect the safety or health of building occupants, restore essential service like heat and electricity, or projects where stopping the work would create an unsafe condition. It does not include construction sites not under DOB jurisdiction – for example, sites in NYC under the jurisdiction of Port Authority, the Metropolitan Transportation Authority (MTA) or the Federal government. The map is updated daily as new information comes in through inspections, requests for projects to be deemed essential, notifications of projects through sister agencies, or as work is completed on different sites.
Staying safe on-site
The NYC DOB also released the Industry Best Practices for Physical Distancing Guidelines for Construction Sites notice, which covers physical distancing on-site, operations and physical distancing, suggested safety measures, and ways to reduce the spread of germs based on the latest COVID-19 guidance from the CDC, OSHA and other publications. Permit holders are responsible for enforcing physical distancing and safety measures on their job sites and the guidelines are meant to help develop and manage appropriate measures for job sites.
Click here to visit the the NYC DOB COVID-19 Response Updates & Operations Information page.