Not Your Mama's Wood Screw
The International Code Council Evaluation Service (ICC-ES) is experienced in evaluating proprietary screw designs for use in structural applications.
It is hard to imagine a building being constructed today without the use of screws. A screw can come in a myriad of different shapes, sizes and materials. In fact, a recent search on Home Depot's website for "screws" returned nearly 6,000 results! While there are standards for some of these screws, many are uniquely designed to ease installation and improve performance.
Evaluating Wood Screw Designs
The International Code Council Evaluation Service (ICC-ES) is experienced in evaluating proprietary screw designs for use in structural applications. Lately, there has been a dramatic increase in the variety of proprietary screw designs, particularly amongst those intended for use in wood materials.
Requirements for standard wood screws are addressed in ASME Standard B18.6.1, and requirements for standard lag screws are addressed in ASME Standard B18.2.1. The American Wood Council (AWC) National Design Specification for Wood Construction® (NDS) includes provisions for connections made with both of these screw types but does not address any other screws. These proprietary wood screws, which deviate from the ASME standards, are evaluated by ICC-ES in accordance with the ICC-ES Acceptance Criteria for Dowel-type Threaded Fasteners Used in Wood (AC233). ICC-ES has developed AC233 and continues to expand and refine AC233 to address the needs of manufacturers of proprietary wood screws.
This article will highlight some of the recent challenges presented to ICC-ES when evaluating proprietary wood screws and the ways that these challenges are being met.
Screw Variations
Proprietary wood screws are typically formed from steel material; have a head, a threaded shank and a point; and are intended to be self-drilling. Beyond that, there are many variations in design, including the following:
Material: Screw material is typically carbon steel or stainless steel and may be heat-treated. Carbon steel screws require corrosion-resistant coatings, many of which are proprietary.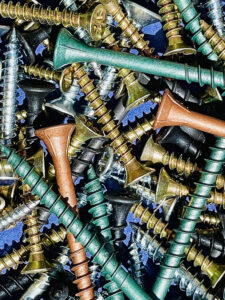 Head Design: Many unique head designs are available, such as hex washer heads, countersinking heads and small cylindrical heads. The underside of the head can be smooth, ribbed or have other features. There are even a variety of driving recesses, such as phillips, star drive and proprietary recesses.
Shanks: Screw shanks can be fully threaded or partially threaded. Partially threaded screws often have a reamer knurl feature between the smooth portion of the shank and the threads. The reamer knurl is intended to ease the installation of the screw. Many different reamer knurl designs are available.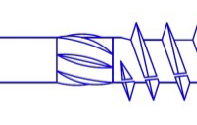 Threads: Screw threads are typically defined by the outside thread diameter (largest diameter), the root diameter (minor diameter) and the thread pitch. Some threads are further shaped to have serrations along the outside edge of the thread or other features. Most screws have a single continuous thread, but some have two threads, which can be of different dimensions.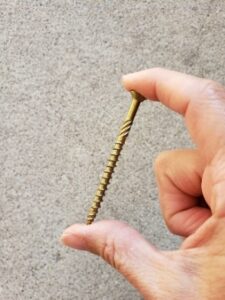 Points (Tips): Many screws have sharp points, while others have tips shaped like drill bits. More elaborate designs are also available.
Size and Length: On the small end, screws intended for use in structural applications have a nominal diameter of less than 3/16 inches. At the opposite end of the spectrum, proprietary wood screws have nominal diameters up to 14 mm (over 1/2 inch). Screws used to fasten steel connectors to wood can be as short as 11/2 inches, while screws used in mass timber applications can be several feet long.
Screw Applications
Screws are most often evaluated for use in wood-to-wood connections. The wood material can be sawn lumber, wood structural panel sheathing, structural glued laminated timber, structural composite lumber (such as LVL) and more. A common application for relatively small screws is the fastening of deck boards to framing; medium-length screws can be used in log construction to fasten the logs together; and long screws are intended for use with large members and mass timber panels.
Screws are sometimes evaluated for use in steel-to-wood connections. The steel can be relatively thin, such as for joist hanger-type products, or can be heavier steel plates. Steel-to-wood connections typically transfer lateral loads, such as when splicing truss chord members together, but may also be used to fasten steel plates to wood for use in tension applications. One example of this is when the plates are part of a lifting mechanism for mass timber panels. One challenge presented by the many available head designs for screws is to give adequate information regarding the requirements for the holes in the steel to ensure proper interaction with the screw head.
Evaluations of screws intended to attach materials other than wood or steel to wood are also available under AC233. For instance, eye-lag screws have been evaluated for use in attaching ceiling wire to wood.
Evaluation of proprietary wood screws
Under AC233, the capacity of a single screw in a connection is evaluated. Group action is not considered. Evaluated limit states typically include the following: strength of the screw, withdrawal capacity, head pull-through capacity and lateral capacity. Connection capacity depends on several factors in addition to the characteristics of the screw. These factors include the wood species and density, the moisture content of the wood, the angle of screw installation, the direction of loading relative to the grain of the wood and connection geometry. Each of these factors requires careful consideration.
Some examples of how these factors are addressed by ICC-ES are described below.
Screw Geometry: Screws are available with highly complex geometries. Of particular concern are screws that do not have a circular cross-section at the root of the threads. NDS provisions for determining lateral connection strength are based in part on the root diameter of the screw and the bending yield strength, which itself depends on the root diameter. Without a consistent cross-section, it is not clear that the NDS provisions apply. Therefore, the qualification of these complex screw designs is limited to tested conditions only.
Connection Geometry: The combination of screw spacing, edge distance and end distance is referred to as connection geometry. For some fastener types, the NDS gives clear guidance regarding the required connection geometry. However, this guidance is not clear or complete when it comes to proprietary wood screws. ICC-ES has developed comprehensive connection geometry guidance, which is based on Table C12.1.5.7 of the NDS commentary and Eurocode 5 (DIN EN 1995-1-1). ICC-ES is also working to standardize connection geometry terms and figures used in evaluation reports since they are not uniform amongst the standards.
Inclined Fastening: In Europe, a common approach for high-capacity lateral connections is to use screws installed at an angle to the grain of the wood. This allows the screw to resist the load through tension strength and withdrawal capacity, rather than through bending capacity. Since the NDS does not yet address design rules for this type of fastening, ICC-ES is working with international consultants to provide sound technical guidance regarding this type of fastening.
Mass Timber: The development of mass timber has created a need for high-quality, high-strength screws. The size of mass timber panels, associated glued laminated beams and other large members have led to the development of large, long screws. Laboratory testing of lateral connections made with these long screws is not feasible. This has led to the development of a detailed qualification approach that relies on minimal lateral testing for a defined class of screws (screws that have the same design, but variable sizes and lengths). The results from this testing are compared to what is predicted by calculation in accordance with the NDS, to confirm that the NDS provisions can be applied to the design of connections using the proprietary wood screws.
End Grain Installation: The NDS provisions for standard wood screws do not allow for fastening into the end grain of wood members. However, manufacturers are looking at applications where screws are installed into end grain. For instance, top and bottom plates can be fastened to studs with screws installed through the plate into the end of the stud. Fastening into the edge of a CLT panel can require fastening into end grain, due to the alternating direction of the laminated wood plies. AC233 has been expanded to allow manufacturers to qualify design values for screws installed into the end grain of sawn lumber and for screws installed into the edge of CLT panels.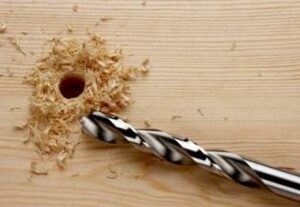 Pilot Holes/Predrilling: Most screws evaluated under AC233 are intended to be self-drilling. However, for large screws, manufacturers sometimes recommend predrilling to facilitate installation while avoiding damage to the screw. ICC-ES has participated in the development of ASTM D1761-20, to remove the requirement for predrilled holes in test members when this is not the intended method of installation. Conversely, guidance regarding pilot holes/predrilling is being included in evaluation reports, as recommended by the screw manufacturer.
Global Influences
Until recently, nearly all ICC-ES evaluation reports under AC233 had been issued to American companies. Now, ICC-ES customers include many fastener companies which are based outside of the United States, including European, Asian and Canadian companies. This has led to work on new AC233 provisions to allow for consistent application of requirements, consistent information in evaluation reports and equal qualification opportunities for manufacturers from all around the world. Another goal has been to minimize the testing burden on applicants, particularly when they have already obtained a European Technical Assessment (ETA).
In order to qualify for an ETA, the proprietary wood screws are tested for withdrawal and head pull-through in a manner that is comparable to what has historically been required by AC233. To avoid unnecessary retesting, guidance has been added to AC233 regarding how to analyze existing European test data for use in accordance with the IBC and NDS.
European product assessment rules do not require any lateral testing of proprietary wood screws in order to obtain an ETA. This is due to the prescriptive requirements for the screws which ensure they can be designed in accordance with European design rules. However, AC233 does not prescribe any particular material requirements or geometry, so some lateral testing is required for all proprietary wood screw qualifications.
Customers that already hold an ETA have come to ICC-ES with preconceived expectations regarding what their ICC-ES evaluation report can and should say, and what justification is needed, based on their experience in obtaining their ETA. Reconciling the differences between common practices in Europe and the U.S. has led ICC-ES to conclude that ICC-ES evaluation reports can only address limit states and connection applications that are determined from testing and/or in accordance with the NDS. Until guidelines for specific applications are added to standards referenced in the code, evaluation of proprietary wood screws for use in applications that may be common in Europe, but which are not addressed in the NDS, will remain outside the scope of ICC-ES evaluations, unless supported by test data. It will be up to the registered design professionals to justify innovative design approaches to the code official.
Criteria Development
ICC-ES is continuously working to update AC233 to expand opportunities for evaluation and to maintain a level playing field for manufacturers from all over the world. The process for revising AC233 involves seeking public input and obtaining approval from the ICC-ES Evaluation Committee, which is comprised of code officials. To facilitate this process, ICC-ES has worked with AWC to establish an industry task group that includes screw manufacturers and testing laboratories in addition to AWC and ICC-ES staff. This group is providing meaningful input so that there is consensus on revisions to AC233.
Expanded Certification Opportunities
In addition to providing evaluation reports which address the International Building Code® (IBC) and International Residential Code® (IRC), an expanding suite of report supplements is offered, which address jurisdiction-specific codes such as the City of Los Angeles Building Code (LABC). Recently, ICC-ES began offering report supplements that address compliance with the Building Code of Australia (BCA) and the New Zealand Building Code (NZBC).
ICC-ES is accredited to certify proprietary wood screws for use in Canada. This qualification is based on evaluation under AC233, as indicated in the Commentary to CSA O86. Once a manufacturer has an ICC-ES evaluation report under AC233, they are eligible to apply for a Canadian Listing report (ELC-XXXX). New analysis of the data supporting the ESR is required, to address the Canadian design rules and to present information in metric units. Refer to ELC-3046 for an example.
Leading certification efforts for proprietary wood screws
ICC-ES maintains over 20 active evaluation reports on proprietary wood screws, addressing dozens of unique screw designs from around the world. These evaluations consider many factors, including screw strength and interaction with connected building materials. To address the growing popularity and variety of proprietary wood screws and associated applications, ICC-ES has developed qualification requirements, which are embodied in ICC-ES AC233. Updates to AC233 are continuously developed to match building industry developments. A task group of industry professionals has been created to assist with this objective.
ICC-ES is proud to be leading technical discourse regarding the qualification of proprietary wood screws used in building construction. While challenging, this is an important contribution to building safety.
If you have any questions regarding the evaluation of proprietary wood screws and other fasteners, please contact ICC-ES.