Oroville Update: Catastrophic spillway destruction revealed by ICC Member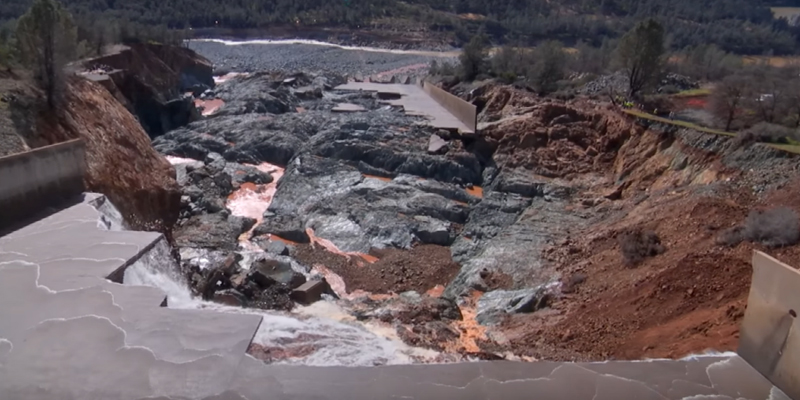 Last month, the main and emergency spillways of the Oroville Dam in Oroville, Calif., failed, leading to the evacuation of 188,000 people near the dam. After deterioration of the main spillway largely stabilized and the water level of the dam's reservoir dropped below the top of the emergency spillway, the evacuation order was lifted.
Code Council Member Nancy Springer, Building Division Manager at Butte County — Department of Development Services, recently reported the on-the-ground developments resulting from the Oroville Dam emergency flood warning and evacuations.
"I wanted to say thank you to the many of you … who reached out via emails, text, Facebook and phone. Many of you felt you did not want to bother me during the incident. However, for me, you all provided support and a sense of calm for me when I really needed it. Personally, I find it helpful to know we are experiencing similar situations and are available to talk if need be. Many of us are going through localized flooding issues from the top to the bottom of California, and it is nice to know if we need to reach out you are there to help. Many of us County Building Officials Association of California members are small jurisdictions and can use each other should the need arise.
Let's continue to help and support each other as we go through these continued wet months…as WE ARE ALL being affected. Thanks so much for checking in it. For me, it makes things bearable and provides a sense of comfort knowing you are just a call, text or email away (including my buddy Dan Kavarian who also checked in).
I thought I would share my experience with you. I think it is important that we include some of this in possible future roundtables at ABM's. I know I will add it to my Disaster class. There are so many components to working disasters that we as building officials need to be prepared for, whether fast or slow moving. So, here is my share…
As many of you know, I work here in Butte County. Myself and family live in Browns Valley (Yuba County) on five acres, which is higher ground. My daughter, her husband and my grandkids were all evacuated. They live in Yuba City — Sutter County downstream of Butte County. The Feather River, which is fed by Oroville Dam is five blocks down the road from their home.
This incident (Oroville Spillway Incident) had been quite the experience with emotions running high. The week preceding the evacuations, my staff and Butte County community were on edge as we monitored the emergency spillway being used then — the auxiliary spillway. Extreme amounts of water and mud rushing down hatchery and river levels made for tense moments at work. Our Building Department is 10 minutes down the road from the dam. We were not receiving much information from DWR. So it was a stressed week as we all left on Friday. I had actually reached out that morning to several building officials in Los Angeles thinking they had experience/training for huge EQ's and might have some advice/process/handouts for me should this turn into a huge incident like Katrina. I wanted to be prepared. Unfortunately, most must have been off on their 9/80 days as I had not heard back until after the evacuation.
For me, I was called into the Emergency Operations Center — I fill Plans Intel Chief and occasionally Situation Status during emergencies — on Sunday, Feb. 12 around 4:15 p.m., Pacific. While driving the back farm roads into the Emergency Operations Center they called the evacuation, which I drove straight into. Needless to say, I witnessed chaos first-hand in traffic and what I call "disaster reaction stupidity" in people who were terrorized trying to get out of town. Lots of accidents, drivers going off roads, not following rules, running lights, gridlock, (no traffic control in play at this time) etc. Hearing the notification come over my phone and radio with a message basically saying get out now… the dam was going… a very ominous report. The evacuation order came out some time after 4:00 p.m. while I was on road. I had left my home around 4:20 and hit town about 10 minutes into the evacuation announcement. I recall my own heart pounding wondering if I would make it to the Emergency Operations Center without drowning. I laugh now when I recall how in those initial moments of hearing the message and realizing I was below the dam within blocks of it and trying to do the math as the announcements were saying things like you have 55 minutes before a 30-foot wall of water is coming. Given I was on back roads for about 30 minutes, I was not sure how much time I had. I experienced a few moments of terror when I called my hubby and favorite sister to say I loved them and if they heard the dam went and they did not hear from me in 30 minutes… I was probably a goner. I probably scared them more than myself. I did snap out of it and focused on the road and getting through traffic calmly. I thank the Lord I had made it through and up to the Emergency Operations Center.
I arrived at the Emergency Operations Center at 5:30 p.m. on Sunday, Feb. 12 and worked through until 12:30 p.m. Monday afternoon, Feb. 13 (19 hours). I was able to get three hours sleep, then reported back on Monday, Feb. 13 (same day though it felt like a week) at 7:30 p.m. to work through until Tuesday about 8:30 a.m., putting in about 13 hours. I was able to head home that morning. The remainder of the week was rough in that staff did not want to report back to work as emotions were high. However, we made it through. The dam is currently stable, levels low and they continue to work on it. The problem now is the rivers and streams overflowing due to too much water and rain. The levees are saturated. Crazy stuff.
I have had meetings with staff to discuss their feelings, what is happening and how we can prepare for localize flooding should it happen. I will be off for possibly three months effective March 3 so I have my Supervising Building Inspector filling in. I want to thank those of you who have agreed to be available by telephone/email/text in my absence for my Supervising Building Inspector should he have questions or my Director. I can't thank you enough and may call on others with similar requests.
On a good note, it is so awesome having so many of you (fellow building officials across the country and here in California, ICC staff, ICC Board of Directors, County Building Officials Association of California, Sacramento Valley Association of Building Officials and California Building Officials members) reach out to me along with fellow ICC committee members and my fellow CSLB Board members) checking in on me. I am humbled by the outpour of support and affection I received from you all.
Closing thought… are you ready should this happen in your back yard?"
Oroville Dam is an earthfill embankment dam on the Feather River east of the city of Oroville, Calif., in the Sierra Nevada foothills east of the Sacramento Valley. At 770 feet (235 m) high, it is the tallest dam in the United States and serves mainly for water supply, hydroelectricity generation and flood control. The dam impounds Lake Oroville, the second largest man-made lake in the state of California, capable of storing more than 3.5 million acre-feet (4.4 km3).
Built by the California Department of Water Resources, Oroville Dam is one of the key features of the California State Water Project, one of two major projects passed that set up California's statewide water system. Since its completion in 1968, the Oroville Dam has allocated the flow of the Feather River from the Sacramento/San Joaquin Delta into the State Water Project's California Aqueduct, which provides a major supply of water for irrigation in the San Joaquin Valley as well as municipal and industrial water supplies to coastal Southern California.