Today in history: The Great New England Hurricane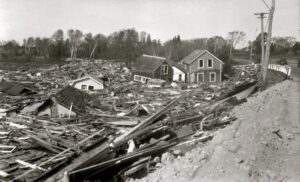 On Sept. 21, 1938, one of the most destructive and powerful hurricanes in recorded history struck Long Island, New York and Southern New England. The 1938 New England Hurricane (also referred to as the Great New England Hurricane and the Long Island Express Hurricane) was a powerful Category 3 hurricane that 682 people, damaged or destroyed more than 57,000 homes, and caused property losses estimated at $306 million ($4.7 billion in 2017). Damaged trees and buildings were still seen in the affected areas as late as 1951. It remains the most powerful and deadliest hurricane in recorded New England history, perhaps eclipsed in landfall intensity only by the Great Colonial Hurricane of 1635.
At the time, roughly half of the 1938 New England hurricane's existence went unnoticed. The Atlantic hurricane reanalysis in 2012 concluded that the storm formed near the Cape Verde Islands off the coast of West Africa on September 9, but the United States Weather Bureau was unaware that a tropical cyclone existed until September 16. By then, it was already a well-developed hurricane and had tracked westward toward the Sargasso Sea. It reached hurricane strength on September 15 and continued to strengthen to a peak intensity of 160 mph near the Bahamas four days later, making it a Category 5 hurricane on the Saffir–Simpson hurricane scale. The storm continued northward up the Eastern Seaboard before making landfalls on Long Island and Southern Connecticut as a Category 3 hurricane moving at a forward speed of 47 mph on September 21. Sustained hurricane-force winds were felt across central and eastern Long Island and southeastern Connecticut. The hurricane produced a destructive storm surge flooding coastal communities as well as producing three to seven inches of rainfall. After moving inland, it transitioned into an extratropical cyclone and dissipated over Ontario on September 23.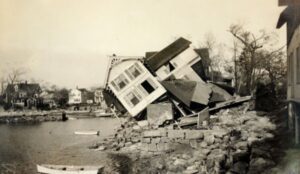 The unnamed hurricane was originally sighted by the captain of a Brazilian freighter northeast of Puerto Rico who radioed a warning to the U.S. Weather Bureau (now the National Weather Service). It was expected that the storm would make landfall in south Florida, and hurricane-experienced coastal citizens stocked up on supplies and boarded up their homes. Charlie Pierce, a junior forecaster in the U.S. Weather Bureau, was sure that the hurricane was heading for the Northeast, but the chief forecaster overruled him. It had been well over a century since New England had been hit by a substantial hurricane, and few believed it could happen again. Hurricanes rarely persist after encountering the cold waters of the North Atlantic. However, this hurricane was moving north at an unusually rapid pace–more than 60 mph–and was following a track over the warm waters of the Gulf Stream.
With Europe on the brink of war over the worsening Sudetenland crisis, little media attention was given to the powerful hurricane at sea. There was no advanced meteorological technology — such as radar, radio buoys or satellite imagery — to warn of the hurricane's approach. By the time the U.S. Weather Bureau learned that the Category 3 storm was on a collision course with Long Island on the afternoon of September 21, it was too late for a warning.
Along the south shore of Long Island, the sky began to darken and the wind picked up. Fishermen and boaters were at sea, and summer residents enjoying the end of the season were in their beachfront homes. Around 2:30 p.m., the full force of the hurricane made landfall, unfortunately around high tide. Surges of ocean water and waves 40 feet tall swallowed up coastal homes. At Westhampton, which lay directly in the path of the storm, 150 beach homes were destroyed, about a third of which were pulled into the swelling ocean. Winds exceeded 100 mph. Inland, people were drowned in flooding, killed by uprooted trees and falling debris, and electrocuted by downed electrical lines.
At 4:00 p.m., the center of the hurricane crossed the Long Island Sound and reached Connecticut. Rivers swollen by a week of steady rain spilled over and washed away roadways. In New London, a short circuit in a flooded building started a fire that was fanned by the 100 mph winds into an inferno. Much of the business district was consumed.
The hurricane gained intensity as it passed into Rhode Island. Winds in excess of 120 mph caused a storm surge of 12 to 15 feet in Narragansett Bay, destroying coastal homes and entire fleets of boats at yacht clubs and marinas. The waters of the bay surged into Providence harbor around 5:00 p.m., rapidly submerging the downtown area of Rhode Island's capital under more than 13 feet of water. Many people were swept away.
The hurricane then raced northward across Massachusetts, gaining speed again and causing great flooding. In Milton, south of Boston, the Blue Hill Observatory recorded one of the highest wind gusts in history, an astounding 186 mph. Boston was hit hard, and "Old Ironsides" — the historic ship U.S.S. Constitution — was torn from its moorings in Boston Navy Yard and suffered damage along with hundreds of other ships.
The hurricane lost intensity as it passed over northern New England, but by the time the storm reached Canada around 11:00 p.m. it was still powerful enough to cause widespread damage. Overall, nearly 3,000 ships were sunk or wrecked. Power lines were downed across the region, causing widespread blackouts. Innumerable trees were felled, and 12 new inlets were created on Long Island. Railroads were destroyed and farms were obliterated.