Hurricane Barry takes aim at Louisiana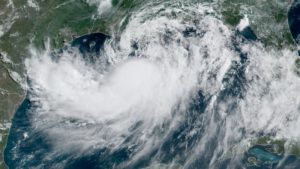 Louisiana and the Gulf Coast braced for Tropical Storm Barry, which intensified into a Category 1 hurricane before it made landfall in Louisiana on Saturday, July 13. The storm took a toll on the central Gulf Coast, bringing high winds and heavy rain to parts of southeastern Louisiana. Residents prepared to cope with life-threatening flooding, storm surge, punishing rains, wind and power outages and nearly 10,000 people were initially ordered to evacuate.
Many central Gulf Coast residents were mainly concerned about life-threatening flood risks from storm surge and heavy rain. The National Hurricane Center reported that storm surge could bring three to six feet of water inland. The most dangerous aspect of a hurricane is usually the storm surge, when wind pushes water ashore several feet above the normal tide. Storm surge can trap people in their homes, obliterate entire houses, and make rescue missions risky and slow. Surge-related flooding depends on the relative timing of the surge and the tidal cycle and can vary greatly over short distances.
Officials are still closely monitoring river levels, concerned that heavy rains could bring deadly flooding. At least six regional rivers were expected to have moderate to major flooding, according to the National Weather Service. Water levels also rose along the coast, with peak inundation occurring on Saturday. Images from Grand Isle, La., show streets and yards covered with water near the coast — where most of the houses are perched on pilings.
Barry also brought a huge amount of rain to an already soaked region as it slowed to a crawl after landfall. The storm crept along at five miles per hour, increasing concerns that it would slowly but steadily drench low-lying areas that have already been saturated with water in recent weeks. The storm was expected to produce total rain accumulations of 10 to 20 inches over south-central and southeast Louisiana and southwest Mississippi, with isolated maximum amounts of 25 inches, according to the National Hurricane Center. These rains led to dangerous, life-threatening flooding over portions of the central Gulf Coast into the Lower Mississippi Valley.
Last year's hurricane season was especially destructive, resulting in more than $1 billion in estimated damages. Organizations like the Federal Emergency Management Agency (FEMA) and the International Code Council are partnering to ensure that home and business owners have the information they need to minimize damage if strong storms hit their regions. Last month, the Code Council released its Natural Disaster Preparedness Guide to help communities plan ahead for hurricane season. With severe weather occurrences becoming more frequent, preparation is key to protecting the safety of buildings and communities in storm-prone areas. The guide also provides tips for staying safe during and after a hurricane or severe weather.
The Code Council also offers Flood Safety & Recovery resources to help communities prepare for floods and stay safe during cleanup as well as Hurricane Safety & Recovery resources to help people prepare for — and deal with — the devastation of hurricanes.
"While we cannot stop natural disasters from happening, we can help ensure that our communities are prepared with the resources, training and support needed to best protect our homes, schools and businesses from severe weather," said Code Council Chief Executive Officer Dominic Sims, CBO. "Advance preparation, including adopting and enforcing up-to-date building codes, is one of the ways communities can mitigate the resulting human and financial toll of natural disasters."
Once the wind, rain, fire or flooding has passed, communities are left devastated. The workforce needed to rapidly assess the safety of structures after a crisis are often in short supply. The U.S. has a number of skilled code officials, engineers and others across the country willing to step in to help with post-disaster safety assessments, building damage assessments, inspections and other code-related functions. In 2018, the Code Council and the National Council of Structural Engineers Associations (NCSEA) joined forces to create a single national, digital database of code officials, engineers and other volunteers to assist local, state or federal entities who need skilled, trained and certified building safety professionals in the aftermath of a disaster. The Disaster Response Alliance brings these skilled volunteers together for easy access and quick mobilization. This alliance combines the Code Council's Disaster Response Network and NCSEA's Second Responder Roster.
"Tropical Storm Barry signals the start of an active hurricane season and we are prepared to support our members as needed," Sims continued. "The Code Council and its 64,000 members have long been active in the aftermath of disasters to help communities in their times of greatest need. We now stand ready to help through our Disaster Response Alliance, comprised of building safety professionals who volunteer to help jurisdictions that request aid with building damage assessment, building inspections and other code-related functions in disaster areas."
As a member of the Resilient National Partnership Network, the Code Council and FEMA share a commitment to making communities safer, more resilient and better able to withstand damage caused by hurricanes and other natural disasters. No one should take this storm lightly and the public should continue monitoring local media for weather developments and to follow the directions of local officials. The Code Council is in constant communication with industry partners, will continue to provide updates as necessary and stands ready to assist our members, chapters and jurisdictions with all available resources.