Update on Hurricane Delta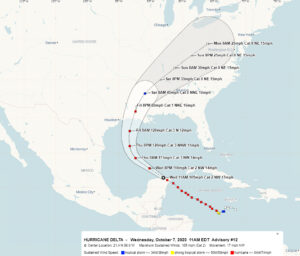 The International Code Council is keeping a watchful eye on Hurricane Delta as it moves through the northern Yucatan Peninsula of Mexico and takes aim at Louisiana and Mississippi. Delta is forecasted to come ashore on Friday, Oct. 9, 2020, as a Category 3 hurricane bringing maximum sustained winds of up to 115 mph or more. During a Category 3 hurricane, it is possible for devastating damage to occur. Well-built framed homes may incur major damage or removal of roof decking and gable ends. Trees may be snapped or uprooted, creating hazards to homes and blocking roads. Utilities, including electricity and water, could be unavailable for several days to weeks after the storm passes. There is an increasing likelihood of life-threatening storm surge and dangerous hurricane-force winds, especially along the coasts of Louisiana and Mississippi, beginning on Friday. Residents in these areas should ensure they have their hurricane plan in place and follow the advice given by local officials.
Managing your flood risk
With Hurricane Delta in the headlines as the 26th tropical cyclone of the 2020 Atlantic hurricane season, the Code Council and its partners at the Federal Emergency Management Agency (FEMA) remind everyone that floods can happen anywhere, not just during or after a hurricane. Most homeowner's insurance does not cover flood damage. Flood insurance is a separate policy that can cover buildings, the contents in a building, or both, so it is important to protect your most important financial assets, including your home, your business and your possessions.
Pew Charitable Trusts analysis of repetitive losses due to flood
In a recent Pew Charitable Trusts analysis, Repeatedly Flooded Properties Will Continue to Cost Taxpayers Billions of Dollars it was reported that the growth of repetitive loss properties (RLPs) from 2009 to 2018 far exceeded flood mitigation efforts. According to Pew, since 1989, more than 57,000 properties have been acquired, elevated, relocated or otherwise flood-proofed using FEMA Hazard Mitigation Assistance funding that can help states and localities reduce flood risk. And although this funding, as well as other mitigation actions by government at all levels, is helping to decrease RLPs, the problem is growing. From 2009 to 2018, FEMA documented three new RLPs for every RLP property that was mitigated. Even with increased federal resources soon to be made available through FEMA's new Building Resilient Infrastructure and Communities (BRIC) program and nearly $16 billion in Community Development Block Grant funding allocated for mitigation efforts, money alone is not solving the problem. We must do more.
FEMA BRIC building code-related hazard mitigation opportunities
The Code Council and FEMA support community-based mitigation strategies that decrease risk and repetitive loss while increasing a community's resilience to disasters. As part of those strategies, the adoption and enforcement of building codes have been identified as one of the four priorities of FEMA's FY2020 BRIC program. Eligible building code adoption and enforcement activities for the proposed BRIC program are those that:
Evaluate adoption and/or implementation of codes that reduce risk
Enhance existing adopted codes to incorporate more current requirements or higher standards
Develop professional workforce capabilities through technical assistance and training
The BRIC program application period opened on Sept. 30, 2020, and will close on Jan. 29, 2021. For more information on the disaster-resistant provisions of the International Codes or the FEMA BRIC program, contact your Code Council Government Relations Regional Manager or Karl Fippinger, vice president of government relations for fire and disaster mitigation at the Code Council.
Disaster Response Alliance
With Hurricane Delta in the headlines, the Code Council and the National Council of Structural Engineers Associations would like to take this opportunity to remind you that the Disaster Response Alliance (DRA) maintains a national database of skilled, trained and certified building safety professionals who are standing by and ready to assist communities in need.
The DRA has assembled a cadre of skilled code officials, engineers and others from across the country who are willing to assist with post-disaster safety assessments, building damage assessments, inspections and surge support for other code-related functions. The DRA brings together skilled, volunteer second responders in one place for easy access and quick mobilization. Federal, state, local, tribal and territorial entities may request assistance directly through the DRA website.
Interested in becoming a DRA resource?
The DRA is always looking for volunteers. If you or someone you know is interested in becoming a DRA second responder resource, please visit the Volunteer Now link on the DRA website. Architects, engineers and building safety professionals willing to make a difference during times of disaster are encouraged to apply. The DRA is also looking for individuals with specialized skills, knowledge or abilities such as plans examiners, permit technicians and building inspectors.