Visual cues: Inside ICC NTA's first all-virtual modular plant inspection

Off-site construction is one of the fastest-growing construction methods in the industry. And while the modular and prefabrication techniques are ideal for facilitating tight timelines, improving quality and ensuring safer construction, few could have predicted the challenges to the approach in 2020.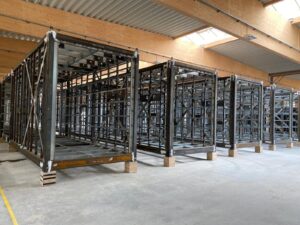 As part of its expansion in the United States, award-winning Dutch lifestyle and hotel brand citizenM is building a 296-room, 105-foot-tall modular hotel in Washington, D.C., the brand's second in that city. When the global pandemic threatened to slow construction, the hotel chain sought new possibilities.
Eric Barnum, project manager with citizenM, said, "We had planned to have NTA inspectors on-site in Poland. However, the international travel restrictions began in March and threatened to delay production. We had started testing video platforms on other projects for internal review purposes."
He, along with local Development Manager Altus Realty, LLC, approached the Department of Consumer and Regulatory Affairs (DCRA), the building code authority in Washington, D.C., about the possibility of virtual inspections. DCRA, long reliant on the International Code Council's family of model codes (the International Codes), looked to ICC NTA for help. As a member of the Code Council's family of solutions, and provider of code evaluation, product certification, inspection, engineering, plan review and testing services, as well as independent quality and standards compliance verification for building product manufacturers, ICC NTA serves residential and commercial builders, code officials, manufacturers and suppliers throughout the building industry.
Two of NTA's top inspectors participated in a few practice inspections to demonstrate the possibility of a virtual approach, to optimize necessary procedures and to ensure DCRA and NTA approval. By the summer of 2020, NTA put in place its first official all-virtual inspection of modular systems.
The modular systems
The new hotel in Washington, D.C. — citizenM's second property in DC following the recent opening of citizenM Washington DC Capitol — will incorporate more than 200 steel-framed hotel rooms. Each room is about 150 square feet, which includes a fully furnished bedroom, hallway, and bathroom with beds, fixtures, doors and windows. The modules are manufactured by Polish company Polcom Group for citizenM. Once completed, the modules are wrapped, pressurized and shipped to the site.
During construction, NTA is responsible for inspecting all aspects of the modules from the structural subfloor and penetration of fire-rated assemblies to the mechanical, electrical and plumbing systems. They also evaluate material certifications and installation procedures. During the first inspection phase, about 50 modules were under construction on the manufacturing facility floor in Poland.
"There were some early concerns about having enough inspection manpower and secure interactive video and audio capabilities to address the necessary code-related evaluations, especially as we ramped up production," Barnum continued. "But thus far, all is going well. I attribute that to the professional inspection and quality assurance teamwork."
Specialized expertise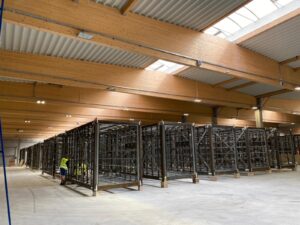 Erik Nicewarner and Pete Gingrich, two of NTA's most experienced inspectors, are performing the code compliance inspections on the modular systems. Nicewarner is a Code Council certified combination inspector who's been with NTA since 2018. Gingrich is a Code Council certified Master Code Professional, the highest level of certification in the Code Council's program.
With years of experience, the two worked closely to develop remote/virtual inspection procedures that mirrored NTA in-plant inspection procedures and the DCRA Third-Party Program Procedure Manual requirements.
Beyond the necessary high-resolution video and audio capabilities, the manufacturer assigned plant quality assurance personnel to assist in the inspection. The plant personnel also have a copy of the quality assurance manual, checklist and the necessary inspection tools such as tape measures, torque wrenches, levels, test equipment and any other tools required to conduct the inspections.
Prior to every inspection, the manufacturer provides a copy of all material listings for a module, including documentation of compliance with the approved plans or codes. These material items include drywall, floor, wall, roof sheathing, fasteners, plumbing piping and electrical systems.
The beginning of every virtual module inspection begins with the plant quality assurance person showing the serial number of each unit, including room numbers. The video operator also has an inspection checklist for the type of inspection that will be performed at that time. The product inspection typically begins with a general overview of the item being inspected, followed by close-up views of all of the materials used. Throughout the inspection, the NTA inspector directs the camera operator to specific areas of interest or concern. A formal DCRA inspection report is completed for each trade.
Digital testing
Some of the activities conducted so far include water testing window installations to check for leaks, pressurizing supply piping and verifying electrical cabling intervals relative to outlet boxes.
"We've been very fortunate thus far as one of the quality assurance individuals from the manufacturer has an extensive background in modular manufacturing and erection," Nicewarner noted. "He's very familiar with what we want to see and greatly helps facilitate the inspection process. Overall, we've had a great rapport with the manufacturer's people — fortunately, their English is very good."
Nicewarner and Gingrich each spend five to six hours a day viewing video, something both confirm took a little adjustment. "We're so used to physical access to a manufacturing facility, which lets us touch and see systems in 3D," Nicewarner said. "The transition to the 2D screen was the biggest adjustment. You don't realize how much you take for granted when you're in a space."
Gingrich agreed and added, "At first, the concept was a little daunting and we weren't entirely sure if it was going to be doable. But it's working. Staff on their end is readily available to operate cameras and move around as we request. We've made it this far with a reasonable sense of accomplishment."
The NTA team provides monthly updates on inspections to DCRA and will continue to perform the virtual inspections through the end of 2020.
Beyond the current advantages to the manufacturer, owner and DCRA, the all-virtual inspection lessons learned are likely to become another tool in the ICC NTA toolbox. "Thus far, we're very pleased with the way the protocols and processes are moving forward," confirmed ICC NTA President David Tompos. "While I don't see all-virtual inspection taking over in-person inspection, the methods certainly add another powerful component to our standard practices."
For citizenM, the new hotel location in Washington, D.C., remains on track for completion in 2021, becoming another acclaimed, modular-built hotel in the U.S. along with others in Seattle, Los Angeles and New York City.