Allegheny County Plumbing Code available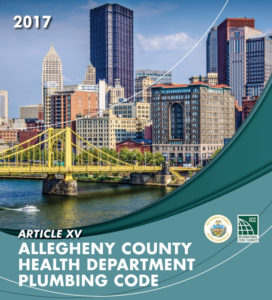 Allegheny County in southwest Pennsylvania updated its 2017 Allegheny Plumbing Code (APC) based on the 2009 International Plumbing Code (IPC) published by the International Code Council. The updated code — the 2017 Article XV Allegheny County Health Department Plumbing Code — is now available online for purchase through the Code Council, and is now easily accessible electronically to constituents and other interested parties free of charge through the Code Council's online codes portal, publicACCESS. Click here to view the 2017 Allegheny Plumbing Code.
The updated code includes chapters and appendices on fixtures, faucets and fixture settings; water heaters; water supply and distribution; sanitary drainage; indirect and special waste; vents; traps, interceptors and separators; storm drainage; special piping and storage systems; and gray water recycling systems.
In particular, the information on utilizing in-home gray water systems has been especially relevant to Allegheny County residents looking to recycle 20 to 30 percent of home water consumption, which could lower water and sewage bills, reduce overall water consumption, and help the region deal with its combined sewer overflow issues.
"The ever-increasing number of U.S. communities adopting the International Plumbing Code recognizes the code's water-efficiency provisions as well as its public health advantages," said International Code Council Senior Director of Plumbing, Mechanical and Fuel Gas Resources Lee Clifton. "Allegheny County's update based on the International Plumbing Code validates the code's benefits to code officials, plumbing inspectors, design professionals, engineers and others in the plumbing industry and business community as well as the advantages of up-to-date provisions covering new and innovative products, materials and systems."
The International Plumbing Code (IPC) establishes minimum requirements for plumbing systems using prescriptive and performance-related provisions. Used by communities nationwide to protect health, safety and welfare within buildings, it is founded on broad-based principles that make possible the use of new materials and new plumbing designs. The IPC benefits the plumbing industry by providing performance and prescriptive objectives for plumbing facilities; acceptance of new and innovative products, materials and systems; and coordination with the ICC family of codes and standards. The first code published by the International Code Council 1997, the IPC marked its 20th anniversary last year.