Code Council update: Hurricane Dorian aftermath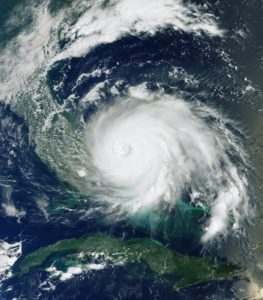 As we enter the peak of the Atlantic hurricane season — from mid-August to late October — the International Code Council continues to maintain a watchful eye on the current and forecasted hurricanes and tropical storms. Code Council staff monitored Hurricane Dorian since its formation as a tropical storm in the eastern Atlantic on Saturday, Aug. 24, 2019, keeping a close watch on developments, working collaboratively to communicate with all members and stakeholders, and providing resources to affected members and stakeholders in Puerto Rico, the U.S. Virgin Islands and Southeastern coastal communities.
Our thoughts are with all those who have been affected in the Caribbean territories of Puerto Rico and the U.S. Virgin Islands, the northwestern Bahamas, coastal communities from Florida to Virginia, and even the Canadian Maritimes. As damage assessments from the storm are just getting underway, much of what we will learn about impacts from the storm will come in the days to follow. As more information about the hurricane unfolds, we are here to help provide the support and resources you need to recover as quickly as possible.
Restoring safe and healthy homes and buildings as the foundation of community recovery is one of the most important jobs of the code official. Code officials play an integral role in preparing communities for natural disasters and in helping communities get back on their feet after a devastating event. For those in the path of Dorian, the Code Council and our members from around the country stand ready to support you and your communities when needed.
Visit our hurricane safety and information webpage for resources that help people prepare for, and deal with, these devastating storms. Please share with your networks.
The Code Council's Natural Disaster Preparedness Guide provides a number of general safety tips and precautions that you can take to ensure that your family, home and community are prepared for when natural disaster strikes.
The Code Council's Disaster Response Alliance volunteer system also stands ready to mobilize skilled, trained and certified building building safety professionals to assist communities in need. Federal, state, local, tribal and territorial entities may request assistance online through a national database of skilled code officials, engineers and others from across the country who are willing to assist with post-disaster safety assessments, building damage assessments, and inspections, and offer surge support for other code-related functions.
The Disaster Response Alliance is always looking for volunteers. If you or someone you know is interested in becoming a second responder resource, please visit the Volunteer Now link. Architects, engineers, code officials and other building safety professionals willing to make a difference during times of disaster are encouraged to apply. The Disaster Response Alliance is also looking for individuals with specialized skills, knowledge or abilities such as plans examiners, permit technicians and building inspectors.
Volunteers must have certification from the International Code Council When Disaster Strikes Institute, the California Governor's Office of Emergency Services (Cal OES) Safety Assessment Program, or training on the ATC-20 and ATC-45 standards from the Applied Technology Council.
Upcoming training
Code Council When Disaster Strikes Institute | Oct. 28–29, 2019 | Tampa, Florida
Code Council When Disaster Strikes Institute | Dec. 5–6, 2019 | Brea, California
Cal OES Safety Assessment Program—Evaluator & Coordinator Training | Sept. 19, 2019 | Mira Loma, California
Cal OES Safety Assessment Program—Evaluator Training | Oct. 11, 2019 | Elgin, Illinois
Cal OES Safety Assessment Program—Evaluator Training | Oct. 13, 2019 | Boulder, Colorado
Cal OES Safety Assessment Program—Evaluator Training | Oct. 23, 2019 | NCSEA webinar
Cal OES Safety Assessment Program—Evaluator Training | Oct. 24, 2019 | San Jose, California