Codes & Saudi Vision 2030: Green building & sustainability standards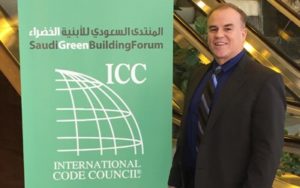 The International Code Council — in partnership and cooperation with the Saudi Green Building Forum — held a one-day workshop at the Riyadh Chamber of Commerce. Topics included an overview of the International Green Construction Code, areas related to green code development, and implementation and enforcement efforts.
This exciting event was organized by the Saudi Green Building Forum with presentations by International Code Council Executive Vice President and Director of Business Development Mark Johnson, Code Council Executive Director of Sustainability Programs Dave Walls, and Los Angeles City's Executive Officer of the Los Angeles Department of Building and Safety Osama Younan.
There is a general consensus in Saudi Arabia and the Gulf region about green buildings being an important component of a 2030 national development future plan, in particular the sustainable/environmental strategic building code capacity. Saudi Green Building Forum Secretary General Faisal Alfadl commented, "This topic becomes increasingly important as economies begin to look at how to handle claims of green attributes and incorporates new technology that allows for use of innovative materials, components and methods of construction."
The workshop format provided an atmosphere of information exchange on existing trends in green building policies, application tools in the region, steps to move forward on initiatives that include the Arabic version of the International Green Construction Code, and Code Council and SAAF certifications. Presentations at the event included code and standards development processes, an overview of the International Green Construction Code, and implementation and enforcement procedures by local agencies.
The Saudi Green Building Forum initiatives, including local champions of sustainability and the international affiliation with the International Code Council, has encouraged face-to-face cooperation in the industry. The Code Council developed the International Green Construction Code, including translated Arabic version by the Saudi Green Building Forum; together with cooperating sponsors, including ASTM International that develops standards of global application. Today, codes and standards are mutually collaborative tools critical for recognizing environmental characteristics developed through a technically robust process for use in a global marketplace. With proper enforcement and policy by local authorities, building codes and standards ensure safety and sustainability of the built environment.