Construction Technology Trends to Watch in 2018
The construction industry is turning to technology in a big way to enhance building processes and help build the future.
The construction industry has been growing at a steady pace since 2011 and after a robust 2017, construction builders and contractors want to keep up with the latest construction industry trends so that they can stay ahead of the competition. Advancements in construction technology are helping to transform the construction industry—adding efficiency to construction projects as well as reducing injuries to human workers. Here are a few technology trends that could affect how you conduct business in 2018.
DRONES: THE SKY IS THE LIMIT
Just a few years ago Unmanned Aerial Vehicles (generally referred to as "drones") were considered little more than toys designed to distract, deliver and do battle. Now, they're being used for safely surveying remote areas and construction projects, maintaining constant contact at worksites, and protecting the safety of employees or the job site from theft or vandalism. The use of drones in job site inspection also means a drastic increase in worksite safety by eliminating numerous dangers and safety hazards. Drones allow construction managers to more effectively and efficiently survey sites that are difficult to examine on foot either due to their size or accessibility.
The presence of drones in construction herald significant changes within the industry. Drones have already begun changing the way the construction industry operates, and those changes will have continued and lasting effects. According to a Construction Technology Trends report by Software Connect, 26 percent of small-to-midsize construction professionals in North America are already using drones or plan to use them by 2020. Nearly one in five (18 percent) of construction professionals are currently using drones for photogrammetry and mapping. Goldman Sachs estimates that the construction industry will adopt drone usage more rapidly than any other commercial industry. According to Jdsupra, the worldwide market value of the drone industry will rise from $2 billion to $10 billion in 10 years.
Drone technology has contributed to evolving the instant connectivity and communication that is sought on job sites, in building departments, and for construction companies and manufacturers. They are considered invaluable tools offering a wide range of hardware, software, analytics and end-to-end drone-as-a-service (DaaS) solutions to contractors, architects, engineers, building officials and inspectors, and property asset managers.
Several startups have emerged offering drone technology's unique perspective to the construction industry. Skycatch, Kespry, 3D Robotics, Hangar and PrecisionHawk are just a few of the main players offering a treasure trove of constantly updated data. These companies provide sophisticated and powerful access to a huge wealth of data about a construction project that was not previously available. Even though the Federal Aviation Administration exacts strict standards on the use of drones—most models used by construction companies come in under the 4.4-pound weight threshold and 400-foot travel radius required to be considered "hobby class" and are not subject to stringent regulations—these companies are a reassuring alternative for those construction professionals eager to use the technology but leery of running afoul of the numerous standards.
Drones eliminate much human error and have the ability to capture necessary data in much less time than traditional methods would take. The sky really is the limit with this budding technology.
AUTONOMOUS EQUIPMENT: THE ROBOTICS REVOLUTION
Imagine walking onto a construction site to find a fleet of equipment doing site prep without any operators behind the controls. In the past few years, there have been numerous attempts to automate construction work, such as a painting robot, a brick-laying robot, semi-autonomous excavators and advanced exoskeletons. With 24 percent of construction industry professionals stating they will implement autonomous equipment by 2020, robots will soon be on construction sites doing jobs that humans do, but faster. While some worry that this technology will lead to the extinction of construction workers or equipment operators, in reality, the opposite is probably true. Skilled equipment operators will be in high demand as more autonomous and semi-autonomous equipment starts popping up on jobsites, both to monitor the work being done and to step in take the controls for more advanced tasks.
Contractors are responding well to the automated equipment because of safety issues—accidents are too common around heavy equipment, so it's much safer if an operator can manage the project from a distance. In addition, autonomous and semiautonomous equipment would open up the labor pool to address the growing worker shortage the construction industry is currently facing.
Top on the list of autonomous equipment to watch is Built Robotics' self-driving construction excavator that digs and moves earth. It uses special heavy-duty, vibration-proof sensors and GPS to help it navigate construction yards and dig up a site according to a set of coordinates from building plans. They are ideal for excavating something large and precise, such as a perfectly smooth foundation for a big building. Launched out of stealth in October 2017 by an ex-Google engineer, Built Robotics has a chance to gradually enter the market because it retrofits existing off-the-shelf excavators.
Built Robotics is not alone in blending autonomy and heavy equipment. Cyngn—the company formerly known as Cyanogen, which used to make alternative Android operating systems for smartphones—is also rumored to be trying its hand at developing self-driving construction equipment.
Two brick-laying robots—Hadrian and SAM—made headlines last year for their ability to quickly accomplish brick laying. Hadrian 105 is capable of laying up to 1,000 bricks an hour—about the output of two human bricklayers for a day. The Semi-Automated Mason (or SAM for short) can lay 3,000 bricks a day in comparison with a construction worker's average of 500 and has already replaced humans on a handful of sites across America.
Rounding out the list of amazing robots rolled out for the construction industry are PictoBot and the Guardian GT. Nanyang Technological University's spray painting PictoBot can run for four hours on one battery charge, requires only one human supervisor and can even operate in the dark. Sarcos Robotics' Guardian GT advanced exoskeleton makes yesterday's science fiction a reality. The Guardian GT is a human-controlled, dual-armed robot that can safely lift up to 1,000 pounds with precisely controlled and natural, realtime arm movements. It can be used to dismantle and clear debris on construction sites and repair damaged structures in disaster recovery.
With a drive to improve efficiency and safety on construction sites, autonomous vehicles and equipment are gaining traction and could be seen on some projects in 2018.
3D Printing: Creating Objects from Thin Air…Almost
Just a few years ago, three-dimensional (3D) printing—also called additive manufacturing—was a nascent technology used to create basic plastic models. Nobody could have envisaged that one day we could really print a house. Today, its applications include building concrete houses in China, Russia, the Netherlands and the United Arab Emirates. It's only natural for the construction industry to increasingly explore this option, as fierce competition and shrinking profit margins force innovation in building methods.
Never heard of it? In essence, the 3D printing process turns a whole object into thousands of tiny little slices via computer mapping, then creates it from the bottom-up, slice by slice. Those tiny layers stick together to form a solid object. Each layer can be as complex or simple as you program it to be. It can "print" in plastic, metal, nylon, and over a hundred other materials. A hot technology, it is being used to fabricate buildings and construction components and has the the capacity to provide basic housing for the poor, extravagant mansions for the rich and just about everything in between and beyond.
Many of the full-size structures outside the United States were printed on a steel frame with walls that measure roughly 9 inches in thickness, and that can withstand an earthquake measuring 8.0 on the Richter scale. Most of the structures take less than 45 days to complete, saving time, labor and material costs.
The world's first 3D-printed office building was unveiled in Dubai two years ago. Constructed in 17 days from fiber-reinforced concrete, the approximately 2,600-squarefoot, single-story, multi-building campus was designed for the United Arab Emirates National Committee as the headquarters for the Dubai Future Foundation. Each building is made up of multiple concrete components, which were fabricated using a 20-foot-tall by 120-foot-long by 20-foot-wide 3D printer in Shanghai, and then shipped to Dubai and assembled. The use of 3D-printing fabrication technology, plus the subsequent assembly process, cut labor costs by 50-80 percent and overall construction waste by 30-60 percent.
Concrete is one of the biggest materials currently being developed in the 3D printing world. It can be fabricated into nearly any shape, creates zero waste, and it can be locally sourced in areas where building materials are scarce. In Oakland, Calif., Emerging Objects is blending 3D printing with ceramic to create the Cool Brick, an additively manufactured brick that acts as an air-cooling system for those living in hot, arid climates.
The Technical University of Munich has been studying the advantages of 3D-printed concrete, and using it to create thin, extremely lightweight but strong pipes, which are supported inside by an intricate bracing structure 3D printed with a selective binding method—the structure would have been impossible to create through conventional methods of manufacturing.
LifeTec Construction Group out of Vancouver is working to 3D print studs out of structural steel for home construction. The company uses the advanced end-to-end design to rapidly construct buildings without lasers to shape the material, and steel is an ideal construction material, because it's durable and more resistant to mold and warping.
The technology is even being considered as part of serious and steadily advancing proposals by scientists to build a human habitation on Mars in the next 100 years.
3D printing brings some distinct advantages to construction. It could reduce the supply costs of building a house by up to 50 percent and is a great advancement for green construction. 3D printing is also an affordable way to create housing for the impoverished in need of adequate shelter. It will help in project planning as companies will be able to quickly and inexpensively create models to have a visual representation of the project as well as help pinpoint problem areas and avoid delays.
Although 3D printing is not going to solve the construction industry's skilled worker shortage, recruit up and coming talent, or remove human error in planning construction projects. It seems clear that 3D printing presents promising opportunities for the construction industry to become both greener and more cost-effective. As 3D printing research continues to ramp up, it will be exciting to see what comes next for 3D printing in construction.
VR/AR: CONSTRUCTING THE VIRTUAL WORLD
Compared to augmented reality (AR), virtual reality (VR) is a much more common tool in construction. Often used in Building Information Modeling (BIM), VR will go from a gaming industry novelty to a necessity in construction this year as the technology gets incorporated into established software platforms. Design efficiency is a clear benefit of VR technology in the construction sector. Considered a "physical business," construction needs teams to plan, bid and construct that are familiar with the site. Typically in construction, clients are given project updates through photographs and on-site tours. Making changes once a building is under construction is extremely expensive and time-consuming. VR lends the opportunity to reduce costs by making decisions earlier in the project life, to refine the design and test factors and features without having to build first, and to eliminate errors and identify any problems early in the design process.
VR can also be used to assist planning applications, making it easier to demonstrate the impact new developments will have on the surrounding community to planners. VR is also helpful at showcasing and selling designs to clients as the technology aids visualization, it can help to ensure that expectations are met and it results in a much better and more efficient customer experience. Not limited to to design and architecture, the technology can also be used to provide safety training to workers to operate the necessary machinery through simulation, and enables easy communication and collaboration on site.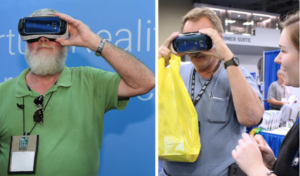 A great example of virtual reality tech is the Daqri Smart Helmet, which has benefited various industries, including construction. It doubles as a hard hat and safety goggles making it ideal for working with heavy machinery or in technical fields. And several companies such as Chetu now offer construction virtual reality development services.
Applications for the use of AR in construction are still being developed and while mainstream adoption is still in the early stages, it has already proven to be a useful tool. Vision-based AR using markers—such as quick response codes, architectural drawings and images, or global positioning systems—are dominating the early application in construction.
Imagine an architect, contractor or owner walking onto a project site, holding up a smartphone or tablet with the camera facing the location of the proposed building and seeing a full-scale model of the building on the display well before any work begins. This real-time visualization will allow architects to provide owners and contractors huge insight into the details and design of a project than is currently available with 2D drawings, scale models and BIM. Project managers and contractors will be able to walk through a construction site and easily view an overlay of a BIM model on top of as-built construction and compare the two—all the while accessing checklists or completing daily reports using a heads-up display.
Expect a growing number of young workers entering tradescrafts to change the attitude towards construction VR and AR. Millennials are far more welcoming to innovations, and many are eager to use virtual reality in construction. With better hardware and software still on the way, the acceptance of VR and AR will only continue to grow, and will extensively impact the construction scene of the future.
BIM: A VIRTUAL BLUEPRINT FOR SUCCESS
Building Information Modeling (BIM) is the current star of the construction industry. Although it has been around for about a decade, it's seen renewed interest in the past couple of years.
Essentially, BIM is a process spanning the generation and management of digital representations of the physical and functional characteristics and information of a building project. The output of the process are building information models, which are digital files that describe every aspect of the project and support decision-making throughout a project life-cycle—from earliest conception to demolition. BIM systems and similar technologies are so much more than mere 3D (width, height, and depth) modeling; they can include further dimensions such as 4D (time), 5D (cost), and even 6D (as-built operation).
If there is one single tool that can increase effectiveness and collaboration, it's BIM. It not only increases collaboration, it reduces construction costs, and promotes a safer building process that will result in faster construction and minimize safety incidents. It can also play a great part in the optimization of the construction process. The larger amount of data in conjunction with the ability to manage it with higher precision will lead to an improvement in the quality of our buildings—in essence, more complex buildings that have much more to offer to residents will be designed and built. Parameters such as the environment and the modernization of the designed structures will be easier to take into consideration during the building procedure.
BIM is now part of the regular scope of work for many requests for proposals and government agencies that like to know in advance the issues and construction projects that they will face. For the professionals (architects, surveyors, engineers) involved in an infrastructure project, BIM allows for a virtual information model to be communicated from the design team to the main contractor and subcontractors and then to the owner/operator with each specific professional adding specific data to the single-shared model. The whole system is designed to reduce information losses that traditionally occur especially when a new team takes over a project.
There are numerous options when selecting BIM coordination software. For instance, Trimble offers Tekla BIMsight for combining construction models, clash detection and data exchange, as well as Trimble Connect for sharing all details of a project, from design to construction, with everyone involved. Other options include Revitzo, which connects with popular modeling software to allow team members to check models from a single source, and BIMReview, another option for sharing models and performing clash detection.
Once used exclusively by design firms, BIM is being adopted by a growing number of contractors and the construction management divisions of architecture, engineering and construction (AEC) firms to raise the quality and enhance building safety to a much higher level. In fact, 32 percent of contractors expected to increase their use of BIM, according to a 2016 survey conducted by the AGC of America.
In a June 2016 McKinsey report, Imagining Construction's Digital Future, 75 percent of companies that have adopted BIM and automated technologies reported positive returns on their investment with shorter project life cycles and savings on paperwork and material costs. Because of these benefits, the European Union and various governments like Britain, Finland, Denmark, the Netherlands and Singapore, have taken steps to support the growth of BIM adoption rates within the construction sector and mandate the use of BIM for publicly funded construction building projects.
In small specialty studies, BIM also appears to be increasing productivity in labor. In a study involving a small contracting enterprise, the impact of BIM on labor productivity was quantified and findings demonstrated a 75- to 240-percent increase in labor productivity for modeled and prefabricated areas.
While BIM seems to be here to stay, it also continues to grow and evolve. In the future, BIM could be a part of construction and building codes as it is being used for almost all type of construction projects. If you are not BIM-ready, try to get a sub-contractor that can become your BIM expert.
NEXT TREND?
You're the one in the trenches, constructing homes, facilities and office buildings on a daily basis. We want to hear from you! What trends have you noticed over the past year, and what are you expecting in 2018?