FEMA releases updated safe room resources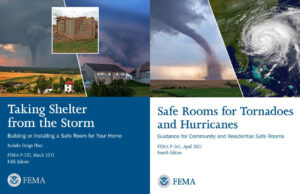 Every year, tornadoes, hurricanes and other extreme windstorms cause numerous injuries and deaths in the United States. While we cannot stop these storms from occurring, we can respond by understanding the hazards and carefully planning to protect ourselves from their effects. When properly designed and constructed or installed per Federal Emergency Management Agency (FEMA) criteria, safe rooms provide the highest level of protection from tornadoes, hurricanes and other extreme windstorms.
FEMA is pleased to announce the release of its updated fifth edition of FEMA P-320 (2021) Taking Shelter from the Storm: Building or Installing a Safe Room for Your Home and its updated fourth edition of FEMA P-361 (2021) Safe Rooms for Tornadoes and Hurricanes: Guidance for Community and Residential Safe Rooms. The 2021 edition of FEMA P-361 updates and refines planning guidance, best practices and funding criteria for safe rooms that provide occupants with near-absolute protection from wind and wind-borne debris. The 2021 edition of FEMA P-320 features updated residential safe room guidance and prescriptive safe room designs that meet FEMA criteria for one- and two-family dwellings. Both FEMA publications reference the latest edition of the International Code Council's and the National Storm Shelter Association's ICC 500-2020 Standard for the Design and Construction of Storm Shelters. This American National Standards Institute approved standard provides minimum design and construction requirements for storm shelters that provide safe refuge from storms producing high winds, such as tornadoes and hurricanes.
In addition to its two flagship safe room publications, FEMA has also updated other safe room resources to incorporate the guidance in FEMA P-361 and the referenced requirements in ICC 500-2020:
Additional resources regarding safe rooms and storm shelters, as well as FEMA's safe room activities, can be found on FEMA's webpage.
Please contact the FEMA safe room helpline at saferoom@fema.dhs.gov or 866-927-2104 for questions on FEMA safe room resources.
To learn more about FEMA's building science work, visit its website.