Finnegan honored for excellence in fire and life safety
Recently the International Code Council, in partnership with the International Association of Fire Chiefs (IAFC) Fire & Life Safety Section (FLSS), presented the 2019 Excellence in Fire & Life Safety Award to Daniel Finnegan, manager of Industry Affairs–North America for Siemens Building Technologies. The Excellence in Fire & Life Safety Award honors individuals who have dedicated themselves to saving lives and property through their work on code development, fire-prevention practices and fire service leadership. Finnegan received the award on August 9, 2019, during the Fire & Life Safety Section annual business meeting at the Fire-Rescue International Conference and Expo in Atlanta, Ga.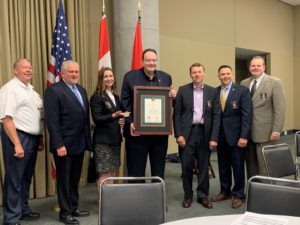 Finnegan has served in the fire protection and life safety profession for more than 40 years. Beginning his fire service career in the Chicago suburbs with the Tri-State Fire Protection District he focused on fire prevention and fire code enforcement activities, including site inspections, plan review, code enforcement and arson investigation ultimately rising to director of the Fire Prevention Bureau.
Following a successful 10-year career with the Tri-State Fire Protection District, Finnegan accepted his first private-sector position selling fire alarm, security and intercom systems and never looked back. In 1985 he joined Faraday (later Cerberus Pyrotronics and now Siemens Building Technologies) and has been with the company ever since. His career positions within the Siemens organization include rising through the ranks from area branch manager to director–Central Region, district manager–Fire Safety, general manager–Fire Safety Solutions, national account executive, and manager of industry affairs where he currently represents Siemens to all codes and standards organizations, including the International Code Council, the National Fire Protection Association (NFPA), the National Electrical Manufacturers Association (NEMA), the Society of Fire Protection Engineers (SFPE) and the Automatic Fire Alarm Association (AFAA).
Finnegan's resume is filled with contributions to countless committees all aimed at improving our built environment and helping to make our communities safe. This includes serving as a member of the Code Council's Fire Code Action Committee; serving as a board member of the IAFC FLSS; the AFAA; NFPA and Technical Committees for NFPA 72, 76, 99, 101 and 130; as well as other positions with NEMA, SFPE and Underwriters Laboratories.
IAFC FLSS Chairman Andy King stated, "Dan Finnegan is a true gentleman with a servant's heart, he goes above and beyond to help wherever he can." Finnegan's work ethic and technical expertise make him one of the industry's most recognized experts on fire and life safety systems. Click here to see past recipients of the Excellence in Fire & Life Safety Award.