Fire Prevention Week: Every Second Counts, Know Two Ways Out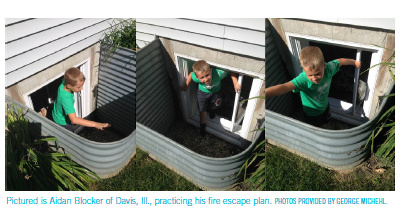 President Woodrow Wilson designated the first Fire Prevention Week in 1920, making it the longest-running public health and safety observance in the United States. Fire Prevention Week provides an opportunity to emphasize and educate the public about the importance of fire prevention.
Fire departments across America have designated the second week of October as Fire Prevention Week in commemoration of the Great Chicago Fire of 1871 that killed more than 250 people.
The theme of this year's Fire Prevention Week is "Every Second Counts, Know Two Ways Out!" Planning two ways out of a sleeping room or finished basement area is especially important and may save your life, because in a fire, every second really does count.
The 1976 National Building Code incorporated provisions for a second way out, and other nationally recognized model codes provided similar provisions. Many lives have been saved because building officials reviewed plans for compliance with the provisions for a secondary means of escape.
A window is the most common second way out of a sleeping room or normally occupied space. The plan review process provides the building official the first opportunity to assure each room has at least one window meeting rescue and ventilation requirements (5.7 square feet), and the window is accessible to fire department personnel.
There are minimum dimensions (24″ high by 20″ wide = 480 sq. in. = 3.33 ft2) falling short of the overall 5.7 square foot minimum requirement. Therefore, width and height must be adjusted accordingly to allow for a code complying window installation, which would be 24″ high by 35″ wide = 840 sq. in. = 5.8 sq. ft. A window for rescue and ventilation is critical to the fire service and offers ventilation for occupants.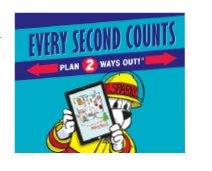 Finding windowless rooms in existing buildings are common. Basements and attics are routinely renovated into occupied spaces without permits. Thus, it's critical to identify these deficiencies when conducting fire prevention inspections. Exiting a basement or attic area requires traversing a set of stairs to the first floor, exhausting valuable time when every second counts.
If the fire started on the first floor it may be nearly impossible to exit the first floor, making a second way out critically important. Firefighters will take more time performing rescue operations in basement and attic areas, again exhausting valuable time when seconds count.
Children and the elderly are the most vulnerable, and drills involving them must be practiced regularly. Planning in advance of a fire and knowing your second way out is essential to reducing the risk of dying in a fire. This year's Fire Prevention Month theme, dedicated to the importance of knowing two ways out, continues more than 90 years of fire prevention initiatives.