Gulf Coast braces for back-to-back storm threat from Laura and Marco

The Gulf Coast is bracing for a rare one-two strike as tropical storms Laura and Marco set their sights between Louisiana and Alabama. As Tropical Storm Marco loses steam — downgraded from a Category 1 hurricane after less than 24 hours of being the third hurricane of 2020 — the more formidable Tropical Storm Laura is forecast to become a Category 2 hurricane by early Tuesday and poised to make landfall on late Wednesday or early Thursday, becoming the fourth hurricane of 2020.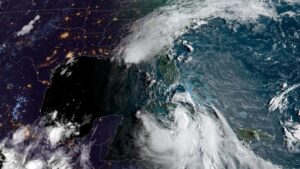 While it now appears that Laura and Marco will not be occupying the Gulf of Mexico at the same time, they do promise to bring a perilous amount of water to low-lying towns and communities along the Gulf Coast. Laura's forecast path calls for the storm to make landfall as a hurricane near the Texas-Louisiana border, drenching some of the same parts of Louisiana that Marco will douse in the early part of the week. Laura is expected to produce rainfall of five to 10 inches, with isolated maximum amounts of 15 inches across portions of the west-central U.S. Gulf Coast near the Texas and Louisiana border and inland areas, according to the National Hurricane Center. Laura's maximum sustained winds are expected to top 105 mph within the next 72 hours, but it could strengthen even further if the storm takes a longer and more westward path to the coast than is currently predicted. In any case, federal forecasters say its intense rainfall could spark widespread flash and urban flooding and possibly cause some streams and rivers to flood.
Far smaller than Laura, Marco is still bringing heavy rain and gusty winds to a large area of the Florida Panhandle and southern Alabama and Georgia, dropping eight to nine inches of rain far from its center and saturating the ground in some of the same areas Laura will hit later this week. Marco is bringing dangerous storm surge to the Gulf Coast and warnings are in effect from Morgan City, La., to Ocean Springs, Miss., and Lake Borgne, east of New Orleans. In some areas, the surge and/or coastal flooding could range from two to four feet
Because one storm will follow closely on the other's heels, this is a life-threatening situation. Louisiana is already coping with a COVID-19 outbreak, reducing the capacity for shelters and evacuation efforts. Residents in the warning areas should take all necessary actions to prepare to ride out the severe weather and protect life and property from rising water and the potential for other dangerous conditions.
As we enter the peak of hurricane season, the International Code Council continues to maintain a watchful eye on the current and forecasted hurricanes and tropical storms. As more information about the hurricane unfolds, we are here to help provide the support and resources you need to recover as quickly as possible. Our Hurricane Resources and Information webpage offers many resources that help people prepare for, and deal with, devastating tropical storms and hurricanes. The Code Council's Hurricane Preparedness Guide also offers general safety tips and precautions that you can take to ensure that your family, home and community are prepared for when a natural disaster strikes.
Once the wind, rain and flooding have passed, communities are left devastated and the workforce needed to rapidly assess the safety of structures are often in short supply. The U.S. has skilled code officials, engineers, inspectors and others across the country willing to step in to help local, state and federal entities with post-disaster safety assessments, building damage assessments, inspections and other code-related functions. The Disaster Response Alliance — a national volunteer system created by the Code Council and the National Council of Structural Engineers Associations — is also available to bring together these skilled, trained and certified building safety professionals for easy access and quick mobilization in the aftermath of a disaster. The increasing frequency and severity of storms, including Hurricanes Hanna, Isaias and the upcoming Laura, and the recent destructive wildfires in California, Oregon, Colorado and Arizona illustrate the need for this vital digital database.
Visit the website to request assistance with post-disaster assessments if needed. Please consider registering today to assist a jurisdiction in need when a crisis strikes. For any questions, please contact Code Council Vice President of Fire and Disaster Mitigation Activities Karl Fippinger, at 888-422-7233, ext. 6258.
Restoring safe and healthy homes and buildings as the foundation of community recovery is one of the most important jobs of the code official. You play an integral role in preparing communities for natural disasters and in helping your communities get back on their feet after a devastating event. For those in the path of Laura, the Code Council and your fellow members from around the country stand ready to support you and your communities when needed.