ICC, ASTM partnership continues to support sustainable building codes in the Gulf
The International Code Council and ASTM International continue to partner to support the use of codes and standards in sustainable construction in the Middle East. The work is part of The Standards and Codes for Sustainable Construction project and is funded in part through the Market Development Cooperator Program at the U.S. Department of Commerce's International Trade Administration. The goal is to enhance the Gulf region's efforts in areas such as energy efficiency, water conservation, materials management, building safety and overall economic growth.
Through 2017, ICC and ASTM will conduct technical seminars and training programs about sustainable codes and standards, disseminate information at exhibits and trade shows, and accompany industry officials to standards development and green construction code meetings.
In May 2015, ICC and ASTM held a workshop in Doha, Qatar — in conjunction with the International Construction Technology and Building Materials Exhibition — to provide information about codes and standards, build support for sustainable construction, and show the relationship between manufactured products and codes and standards. In November, ICC and ASTM hosted a delegation from the Gulf Cooperation Council Standardization Organization attending GreenBuild 2015 in Washington, D.C., which included outreach sessions and an exhibition visit, as well as meetings with code officials from the area.
Recently, ICC and ASTM hosted the delegation during a U.S. tour, which included visits to Pennsylvania, New York, Illinois and Texas. Delegates visited ASTM headquarters in West Conshohocken, Pa.; the New York City Building Department; Underwriters Laboratories headquarters in Northbrook, Ill.; ICC's Central Regional Office in Country Club Hills, Ill.; and finished up in San Antonio, Texas, for ASTM Technical Committee meetings, and a visit to the Southwest Research Institute and San Antonio Building Department.
While visiting the ICC Central Regional Office, delegates received an overview of ICC's code development process by ICC Technical Services Senior Vice President Mike Pfeiffer, training related to the International Green Construction Code by ICC Senior Staff Architect Allan Bilka, and an overview of ICC's Global Services by International Accreditation Service President Chuck Ramani.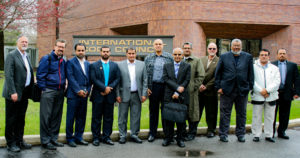 ICC has provided technical support for Gulf nations that have chosen to reference or adopt the International Codes, including the green code, energy code, solar provisions, and related support documents and resources, which provide governments with a set of enforceable sustainability regulations. ICC also has established the Sustainability Membership Council for ICC members interested in getting more involved in green and energy code enforcement.
ASTM already has signed memoranda of understanding with all Gulf nations and the GCC Standardization Organization, engaged 150 experts from Gulf Cooperation Council countries, and been cited more than 4,000 times in Gulf-region standards and regulations, including many citations related to construction.
As construction activities continue to expand in the Gulf region, ICC and ASTM will provide support under the Standards and Codes for Sustainable Construction project to help construct both safe and sustainable buildings.