ICC completes Jamaica training needs assessment project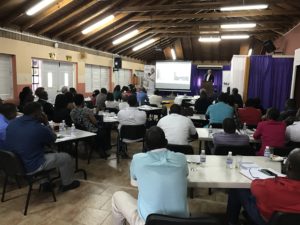 In the last 15 years, hurricanes, tropical storms, flooding and other natural disasters have cost the government and people of Jamaica more than $4 billion U.S. dollars, according to the Sept. 24, 2018, issue of the Jamaica Observer. The International Code Council and the Building Standards Jamaica (BSJ) signed a memorandum of understanding in 2017 for the development and publication of Jamaica building codes to create the basis for an up-to-date, modern, model building code for improved resiliency of Jamaica buildings and communities.
Mitigating human and resources devastation associated with natural disasters is among the aims of a new building act passed by the Jamaica Parliament in February 2018. Because additional training and resources are necessary for effective implementation of the building act, the Code Council, BSJ and Jamaica's Ministry of Local Government and Community Development (MLGCD) coordinated to study those issues. A final report and recommendations for a strategic training plan were prepared in September 2018.
Funded by the Japan World Bank Program for Mainstreaming Disaster Risk Management in Developing Countries, administered by the Global Facility for Disaster Reduction and Recovery, the Training Needs Assessment study began in May 2018. It included jurisdictional and individual employee surveys, research, and visits and interviews with BSJ; MLGCD; the University of Technology, Jamaica (UTech); HEART College of Innovation and Technology; the Jamaica Training Consortium, the jurisdictions of Kingston/St. Andrews, Portmore and St. Thomas; and several other entities. The findings of the study were presented in Kingston on Oct. 1–2, 2018, by Code Council representatives, ICC Board Past President Ron Lynn and ICC Senior Vice President of Product Development Hamid Naderi. The World Bank team — Thomas Moullier, Fred Krimgold, Louisa Helen Barker and Cecilia De Santis — presented the background and the goals of the program.
The Training Needs Assessment study produced recommendations for a strategic training plan aimed at developing an effective regulatory system for building compliance. The plan includes the Code Council's continued support of the code implementation process through publication of the Jamaica Building Code and additional training and support services.
The building act has been gazetted and is awaiting assignment of an effective date. The building codes of Jamaica will be based on 10 of the International Code Council's model codes — the International Building Code, International Residential Code, International Plumbing Code, International Mechanical Code, International Fuel Gas Code, International Fire Code, International Private Sewage Disposal Code, International Existing Building Code, International Energy Conservation Code and International Property Maintenance Code.