ICC supports disaster safety and resilience
The International Code Council is dedicated to building resilience and developing disaster mitigation for a more equitable and sustainable future. As a Legacy Partner of the Federal Alliance for Safe Homes (FLASH), the Code Council shares a vision of making America a more disaster-resilient nation and has signed on to serve as the Titanium Sponsor for the 2018 National Disaster Resilience Conference (NDRC18) to be held Nov. 7–9, 2018, in Clearwater Beach, Fla.
Each year, the NDRC18 — an innovation incubator for the disaster resilience movement — brings together the nation's foremost voices in the disaster safety and resilience movement, drawing a diverse crowd of the nation's foremost experts and organizations. Presentations, discussion panels and spotlight topics will focus on the latest in science, policy and practice to create more resilient buildings and disaster-resilient communities in the face of natural and human-caused disasters.
This year's NDRC18 attendees will hear from presenters representing FLASH, the Federal Emergency Management Agency, the National Oceanic and Atmospheric Administration, the National Hurricane Center, the Insurance Institute for Business & Home Safety, the Massachusetts Institute of Technology, BASF Corporation, the Southern California Earthquake Center, and more.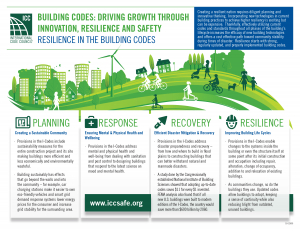 With more than 350 membership chapters and 64,000 members, the Code Council is dedicated to developing model codes and standards used in the design, build and compliance process to construct safe, sustainable, affordable and resilient structures. The Alliance for National & Community Resilience (ANCR) — a part of the ICC Family of Companies — is a national coalition aimed at improving resilience and implementing good community practices in towns and cities across the United States and helping cities prevent infrastructure failure caused by natural and other disasters, thereby avoiding negative social, economic and welfare repercussions caused by such damages. ANCR's primary objective is the development of a system of community benchmarks — the first system of its kind in the United States — that will allow local leaders to easily assess and improve their resilience across all functions of a community. When adverse events occur, all gears in the local system must continue to function. ANCR intends to give communities a voluntary, transparent, usable, and easily understandable accredited self-assessment that helps to showcase their whole-community resilience and provides a simple gauge of how their resilience continues to strengthen.
The Code Council believes in a "whole community" approach toward building resiliency in the built environment, which begins with strong, regularly adopted and properly administered building codes and ends with communities look across all of its interconnected functions to truly be a resilient community. Click here to view the many resources ICC offers to assist jurisdictions, manufacturers and the public with resilient building practices.
The Code Council and the National Council of Structural Engineers Associations — which have a long-standing partnership in support of the design, construction and administration of safe and resilient buildings — joined forces to create the Disaster Response Alliance (DRA). The goal of the DRA is to maintain a single, national database of skilled volunteers willing to assist jurisdictions with response as well as recovery activities, including building damage assessments, inspections and other code-related functions in the aftermath of a disaster.
Click here to view ICC's Building Safety Month resources and weather toolkits.