ICC went with the flow at Science & Engineering Festival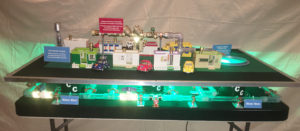 More than 350,000 attendees had the opportunity to view an ICC-sponsored display focused on the importance of safe drinking water during the USA Science & Engineering Festival, April 16-17, at the Walter E. Washington Convention Center in Washington, D.C.
Designed by ICC Member Carroll "Chip" Matthews, founder of Integrated Cross Connection Partners, LLC, the system visually detailed how backflow and back-siphonage occurs.
Representing ICC's High School Technical Training Program (HSTTP) were Government Relations Vice President of Planning & Operations Justin Wiley, Government Relations Programs liason Robert Sale, and HSTTP liaison Jim Ellwood.
ICC's HSTTP is a flexible educational program divided into four parts: building, plumbing, HVAC (mechanical) and electrical. This four-part structure enables a technical school to integrate one or more parts of the program into its current construction trade curricula to better provide students with a comprehensive knowledge of construction trades.
"Safe drinking water is fundamental to healthy lives and prosperous communities," said Lee Clifton, director of PMG Resources for the Code Council. "Educating and assisting the public on the importance of keeping our drinking water safe by learning more about cross connections and backflow, is key to the success of maintaining a clean water supply."