Inclusive and diligent, Phil Hoffman works hard alongside ICC Members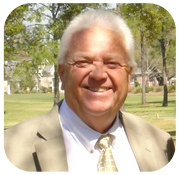 Before Hurricane Katrina, Phil Hoffman had been a homebuilder with a typical familiarity with the codes and an appreciation for their importance, having shadowed his father, who was an electrical contractor, homebuilder and eventually the chief electrical inspector for the largest parish in the state. But like many Louisiana residents, Hoffman's life changed when Hurricane Katrina hit.
In the wake of the devastation wrought by the winds and flooding, insurance companies started leaving the state and refusing to issue homeowner policies — and for homebuilders, that's a dire situation. So it fell to the Louisiana Homebuilders Association (LHBA) to come up with a plan to keep insurance companies there, and in doing so, bring their residents back to new homes. In order to do that, Randy Noel, the chair of the LHBA at the time, put together a plan to adopt the International Codes statewide, which involved the creation of the Louisiana State Uniform Code Council (UCC).
Hoffman was appointed to Louisiana UCC five years ago, and his work with the Council was enough to get him noticed by National Association of Home Builders (NAHB) Chairman Ed Brady, who liked the way he worked: inclusive, diligent and always giving folks their fair say when issues arose. Brady saw those qualities as a solid foundation to serve in a leadership position, and officially appointed Hoffman to be the 2016 NAHB Chairman of the Construction, Codes and Standards committee.
Since then, he says, it's become a lot of work. He's met with senior ICC staff and board members, and he's grown to appreciate the work they put in. A self-confessed "non-code geek", he admits the code process can be daunting — he and his staff spent 13 days in Louisville poring over every detail in the code changes — but he understands how to find the key in a code change and can easily grasp the essence behind a code change. Still, though, he counts himself fortunate to have the wealth of knowledge on his codes and standards committee at his side. "I couldn't have gotten the education I've gotten with them in four years of college," Hoffman acknowledges.
And the education has paid off: when he's not chairing NAHB committees, he's serving on the NAHB Budget and Finance committee, the IRC plumbing committee, the 2015 IRC review committee for the Louisiana UCC, and serving as past president of both the New Orleans Homebuilders Association and the Louisiana Homebuilders Association. And, in what surely is a minuscule amount of free time, he serves as a doting grandfather to 11 wonderful grandchildren and loves to sing. "I've got a pretty big range, from the Eagles, to Ray Charles, to Barry White." Hoffman muses. "People might not expect that because they say I remind them more of Dusty Rhodes, or Rodney Dangerfield."
Unlike Dangerfield, however, it's clear that Hoffman has earned respect in Louisiana and nationally. In working with ICC, he is optimistic that ICC and NAHB can continue to be good partners to each other in moving forward. And for a man with years of leadership experience, it's fitting that one of his favorites to sing is the Chairman of the Board himself, Frank Sinatra.