Peter Feldman confirmed to CPSC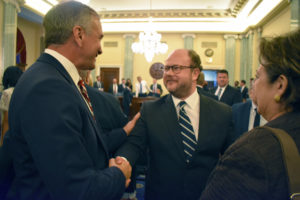 On Sept. 25, the U.S. Senate confirmed the nomination of Peter A. Feldman to serve as commissioner of the U.S. Consumer Product Safety Commission (CPSC). Feldman is a long-time advocate of building safety and has dedicated his career to protecting the health and safety of the public. The International Code Council's Chief Executive Officer Dominic Sims, CBO, and Senior Vice President of Government Relations Sara Yerkes attended Feldman's nomination hearing in support of his candidacy.
Feldman will serve the remainder of former Commissioner Joseph Mohorvic's term, which expires in October 2019. He has also been nominated for a reappointment to the commission for an additional seven years. The CPSC's primary responsibility is to protect the public from unreasonable risks of injury or death that could occur during the use of consumer products. As commissioner, Feldman will be accountable for the regulation and proper administration of consumer safety products.
Click here to read the Code Council's full letter of support for Feldman.