Peter Gaynor nominated for FEMA post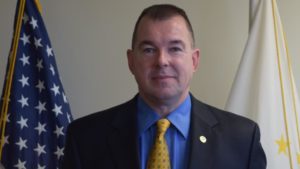 The director of Rhode Island's Emergency Management Agency may be joining the Federal Emergency Management Agency (FEMA). The President has nominated Peter Gaynor to the post of deputy director of FEMA — the position is second in command, under current Administrator Brock Long.
Gaynor was appointed director of Rhode Island's Emergency Management Agency by Governor Gina Raimondo in January 2015 where he advises the governor on emergency management policy and serves as the principal liaison between FEMA and local emergency management offices throughout Rhode Island. With extensive experience in coordinating response and recovery efforts for evacuations, he oversaw blizzards, floods, tropical storms, public health emergencies, mass care, special events and school safety. During his tenure, the agency responded to numerous small and large disasters, including one presidentially declared disaster and the management of at least seven pre-existing active federal disasters.
No stranger to Washington, Gaynor spent 26 years in the U.S. Marine Corps as an enlisted Marine and infantry officer where he served as the head of Plans, Policy, & Operations at the Marine Corps headquarters in the Pentagon. He had been on the job for approximately 30 days when he witnessed, first-hand, the attack on the Pentagon and the U.S. on Sept. 11, 2001. After retiring from the Marine Corps in 2007, Gaynor transitioned to his current profession of emergency management as head of Providence's Emergency Management Agency, taking on the role at the state level in 2015.
In Gaynor's confirmation hearing before the United States Senate Committee on Homeland Security and Governmental Affairs, which was held on Aug. 22, 2018, he stressed pre-disaster mitigation and training — efforts that are foremost in the work of the International Code Council — and stated that the nation's fundamental challenge is to create a robust, interconnected and enduring emergency management framework where stronger, better-prepared communities and citizens are developed to help diminish the impact of natural disasters.
"I believe we have all seen, from recent experiences, that we cannot work alone in our efforts," Gaynor testified. "Without prepared residents, no neighborhood can be truly prepared; without strong neighborhoods, no municipality can be prepared and there can be no strong state response; and without prepared states, there cannot be a truly robust, effective federal response and recovery effort."
"If confirmed, it will be my honor to serve in what I consider to be the most challenging job of government — helping communities reduce the risks associated with future disasters, while assisting disaster survivors all across the country," Gaynor continued. "I will also work relentlessly and with purpose to better strengthen national preparedness and resilience to weather the next hazard or threat."
The U.S. Senate Committee on Homeland Security and Governmental Affairs as well as the full U.S. Senate must approve his nomination before his appointment can take effect. Click here to view the full testimony, or here to read Gaynor's full statement before the U.S. Senate Committee on Homeland Security and Governmental Affairs.