Reaching the Caribbean Islands
The Southern Pine Council recently conducted technical seminars in Port of Spain, Trinidad, and Bridgetown, Barbados, aimed at training wood specifiers (builders, architects, engineers and lumber traders) on proper selection and use of softwood lumber from the United States. Expert speakers addressed size and grade considerations, correctly specifying preservative-treated lumber and the importance of building codes that address proper material usage, particularly in areas prone to high winds.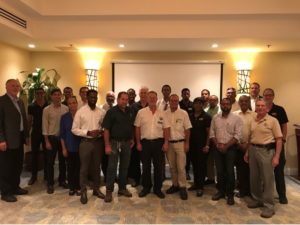 The perception that southern pine from the U.S. is of low quality is likely due to use of pressure-treated lumber in incorrect applications, (e.g. wood treated for above-ground use being applied in in-ground applications). Lumber is often stored uncovered and unwrapped, causing stain and other defects, perhaps another reason why the perception of lumber quality is low. Towards this, training and support material would be useful — essential, in fact — in this area. Additionally, contacts in both markets need to learn more about grading, knots and defects, different products available, and the consequences of ripping lumber.
Dave Walls, representing the International Code Council, provided a presentation on May 7 in Port of Spain, Trinidad, and on May 9 in Bridgetown, Barbados, on Building Resilient Communities through Modern Building Codes & Standards. Walls' presentation on the importance of building codes included examples of code provisions related to the use of wood. Although wood is not heavily used for structural members in Trinidad or Barbados, the examples included examples in tables from the International Building Code specifically related to the use of southern pine.
Lon Sibert, president of Renewable Resources Associates, Inc., discussed grades and also delivered a presentation from APA – The Engineered Wood Association on panel and engineered wood products. Attendees included retailers, builders, architects, engineers, and a representative of the Trinidad and Tobago Bureau of Standards. Also in attendance were members of the Trinidad and Tobago Chapter of ICC.
Attendees expressed their lack of knowledge of different species and products and their uses and expressed concerns over the quality of southern pine from the U.S. Many requested additional technical support and more training on grading, knots, ripping and quality.
Barbados is the home office for CARICOM Regional Organisation for Standards and Quality (CROSQ), which is the lead organization reviewing building codes for Caribbean countries. The CROSQ recently developed and published, in collaboration with the Code Council, the 2018 CARICOM Regional Energy Efficiency Building Code, based on the International Energy Conservation Code.