Severe weather and tornadoes rip through Nashville and central Tennessee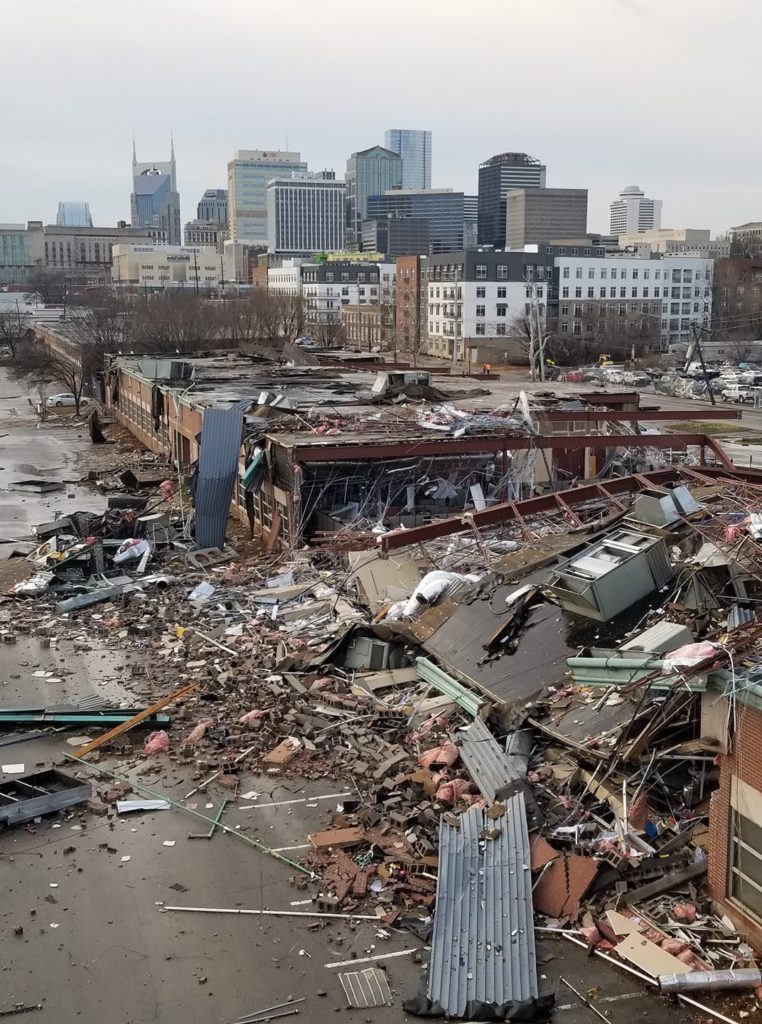 As violent storms roared through the state of Tennessee during the late night of March 2 and the early morning hours of March 3, 2020 — part of a sprawling system that threatened severe weather all the way from Texas to North Carolina — a tornado touched down in Nashville cutting a swath of destruction that stretched through the city for miles. At this time, 19 people have been killed, more than 150 people in metro Nashville have been taken to hospitals, and 50,000 households and businesses are without power.
Four counties — Davidson (where Nashville is), Putnam, Benton and Wilson — have widespread damage and more than 45 buildings were damaged and have collapsed throughout the Nashville area. Among the hardest-hit areas in Tennessee was Mt. Juliet, a suburb about 20 miles east of Nashville. The storm tore apart several homes and other buildings, obliterated roofs, and scattered debris across yards. An unspecified number of people were injured there and emergency responders are searching for others who might be hurt.
The Tennessee Emergency Management Agency confirmed the number of deaths and has declared a level three state of emergency. The National Weather Service reported that severe storms potentially caused the long-track tornado that began several miles west of Nashville, continued through the city, and then to areas the east along a 145-mile stretch. In fact, the path of the storm traveled almost exactly to a 1998 tornado that hit East Nashville. Strong to severe storms still are possible across parts of the South on March 3, including Texas, North Alabama, Georgia, North Carolina and Virginia.
Nashville is no stranger to strong weather and tornadoes. The tornado was the third to tear through downtown Nashville. Previous twisters had ripped through the city in 1933 and 1998, according to the National Weather Service. While Tennessee does not lie in what is known as the "Tornado Alley" of the Southern Plains, its geographical location still allows for a high frequency of tornado occurrences. Middle Tennessee is part of "Dixie Alley" — an area of the southern U.S. vulnerable to strong or violent tornadoes. Tornado winds are increasingly fast near major cities like Nashville and Memphis and since 1830, more than 500 tornados have been reported and catalogued in the Middle Tennessee region. The months of March, April and May are considered to be peak for tornadoes in Tennessee with records from the National Weather Service indicating that 66 percent of tornadoes occur within the three-month period.
View aerial footage capturing damage in East Nashville from Holly Street and Third Avenue/Jefferson Street.