Spanish university develops 3D-printed beams from recycled plastic to replace reinforced concrete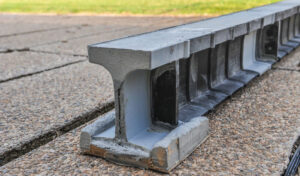 A team from the Polytechnic University of Valencia in Spain have developed an alternative to reinforced concrete beams that are used in the construction sector. By using additive manufacturing, they have designed beams made of recycled plastic, which weigh 80-percent less than current solutions, making them easier to transport and reducing the energy required to assemble them.
Very popular in the construction sector, reinforced concrete is, as its name indicates, composed of concrete and metal, most often steel. It is therefore a composite material that can resist traction and compression and is capable of supporting significant loads. However, it is a material that remains heavy to transport as the presence of steel considerably increases the weight of the beam.
The 3D-printed beams have a better distribution of the material. Alveolar in design and structure, they decrease the amount of plastic used – and therefore its weight – while maintaining structural rigidity. This intelligent natural system results in beams with low structural weight and very high mechanical capabilities. The researchers were inspired by the shape of bone in designing their 3D models. The objective was to reproduce the structure of the epiphysis, the end part of the bones, which is made of several layers that give a significant rigidity while remaining quite light. Using additive manufacturing, the researchers were able to mimic this alveolar structure and put material where it was needed.
The 3D-printed components forming the beam and the 3D-printed blocks can be easily assembled and fit together like LEGO bricks. A layer of concrete is added to form the final beam. Beyond the reduced weight, this method allows for a structure that can be modulated according to the needs and the construction project. The blocks are more easily transportable, with installation done on site, simplifying the associated labor.
Source: 3D Natives