Susan Dowty receives CALBO Industry Achievement Award
Susan M. Dowty, P.E., S.E., regional manager in the Government Relations department of the International Code Council, received the 2018–2019 Industry Achievement Award from the California Building Officials (CALBO) during its 57th Annual Business Meeting on March 20, 2019, in San Diego, Calif.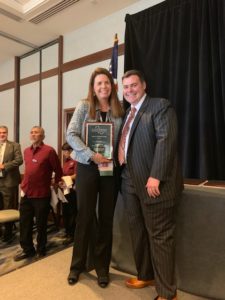 Building industry colleagues are significant players within the CALBO membership. Each year, CALBO honors a standout industry partner with the Industry Achievement Award for working to serve and promote building and code officials by exhibiting at CALBO events, service to CALBO membership, development and facilitation of education, and promoting innovation and technology. Dowty is a significant and trusted partner within the CALBO community — as well as the building safety industry — and has served and promoted the building code and code enforcement professions.
As a Government Relations regional manager for the Code Council, Dowty works in collaboration with Code Council chapters, members, stakeholders and all parties interested in advancing the mission of the Code Council to support the adoption and use of the highest quality codes, standards, products and services for the safety and performance of the built environment.
Prior to her role at the Code Council, Dowty led an accomplished career within the public, private and non-profit sectors as a staff engineer for the Code Council's legacy organization — the International Conference of Building Officials — and as a structural engineer with S.K. Ghosh Associates. Her detailed work and strong experience in the administration, development and interpretation of building code provisions led to an appointment by former California Governor Arnold Schwarzenegger to the California Building Standards Commission.
Click here to view past recipients of the CALBO Industry Achievement Award.