DCRA achieves IAS accreditation
The Department of Consumer and Regulatory Affairs (DCRA) was recognized by the International Accreditation Service (IAS) on May 2, 2018, in Washington, D.C., for becoming an IAS accredited building department, which has met national standards and is competent to provide public safety services for its customers. The DCRA Building Department is the 24th in the nation to receive this accreditation.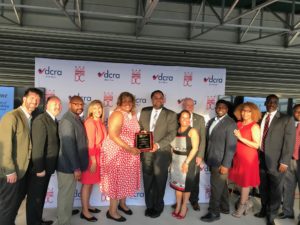 "Upholding standards and customer service is what DCRA is all about," said DCRA Director Melinda Bolling. "Through the accreditation process, we've improved our operational procedures and established a new benchmark for monitoring the quality of our services; and those provided by Third Party Agencies.
"Achieving accreditation required us to establish long-term management systems and service goals that focused on continual improvement," Bolling continued. "Accreditation has undoubtedly helped DCRA to identify and implement processes and procedures that will always push us forward as a high-performance organization that encourages professional growth."
Building department accreditation demonstrates that a department has met the national standard and is competent to provide public safety services for its community. Getting accredited involves an independent audit and rigorous assessment of the department's goals, policies, procedures and organizational structure, as well as permitting, inspections and plan reviews.
IAS offers the only accreditation program in the United States for building departments and the requirements are rigorous. A team of assessors goes onsite to interview stakeholders, including employees inside and outside the department, customers and organizations that interact with the DCRA. The IAS team also reviews records and observes work performed both in the field and office. Accreditation requires departments to proactively establish and assess goals for public safety and customer service. IAS subject matter experts thoroughly examine a department's budget, resources, quantity and quality of staff, as well as its organizational commitment to professional development and quality assurance. The accreditation standard demands a department's dedication to transparency in its operations and imposes a duty to avoid even the perception of engaging in conflicts of interest. And, not least, accreditation calls for a department to embrace honest feedback and innovation, and to foster a culture of continuous improvement.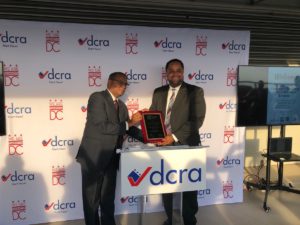 "Achieving building department accreditation is no easy feat," said IAS President Raj Nathan. "The hard work and dedication of DCRA's staff is commendable. Their perseverance has made achieving this accreditation possible. The leaders of this great community should be proud to claim such an organization — one that abounds with dedicated, conscientious staff so personally committed to safeguarding the wellbeing of all residents, employees and visitors in our nation's capital city."
On Jan. 30, 2018, IAS presented its findings and recommendation based on the in-depth assessment of the DCRA to its Accreditation Review Committee, which voted unanimously to approve the accreditation of DCRA for a full three-year term.
"Receiving this national accreditation from the IAS is a testimony to all the hard work of implementing new standards, finding the right people and delivering quality service to our stakeholders," said Rashad Young, city administrator for the District of Columbia. "At the end of every day we want to make sure that every District resident has a safe, code-compliant home in which to live. We want all of these functions to be supported by best-in-class customer service — specifically to make sure we are communicating clearly, effectively and proactively with residents, businesses and homeowners."
The International Accreditation Service is part of the International Code Council (ICC) Family of Companies. IAS supports ICC's mission of constructing safe, sustainable, affordable and resilient structures by accrediting testing and calibration laboratories, special inspection agencies, fabricator inspection programs, building departments, and more. A non-profit, public-benefit corporation, IAS has been in operation since 1975 and is one of the leading accreditation bodies in the United States, currently accrediting almost 1,000 organizations in 40 countries.