Tornado season in overdrive in the Midwest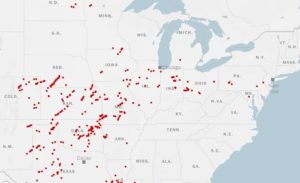 Beginning in the middle of May, a series of deadly storm systems left many communities in the Midwest and Plains regions in ruins as more than 100 tornadoes moved through Idaho, Colorado, Texas, Oklahoma, Kansas, Missouri, Ohio, Indiana and Pennsylvania. While the National Weather Service has yet to confirm the actual number of tornadoes, there have been more than 350 reports of tornadoes across the United States (most in the Midwest or Plains) from May 17–29, according to the National Oceanic and Atmospheric Administration's Storm Prediction Center. The month as a whole had  442 reports of tornadoes from federal government weather forecasters through May 27, and it's likely the final tornado count for May 2019 will be well above the month's 20-year average of 279. For the year so far, the nation is closing in on 1,000 tornado reports across the nation (960 as of May 28). That's more than 200 ahead of normal pace.
Storm reports currently show that eight confirmed tornadoes touched down in Indiana, 19 in Colorado and 17 in Ohio. Seven were reported in Iowa, five in Nebraska, three in Illinois and six in Minnesota, with one in Idaho. Some of the most severe damage was reported just outside Dayton, Ohio, where snowplows were needed to clear debris. A tornado with winds up to 140 mph struck near Trotwood, Ohio, (eight miles from Dayton) that caused catastrophic damage in the community of 24,500.
International Code Council Board Director Mike Boso, chief building and zoning official for Grove City, Ohio, stressed the ongoing importance of preparation. "As we have witnessed, disaster events occur across the world. It could be tornadoes, wildfire, flooding or many other types of events," Boso explained. "The better prepared that the code officials and the public are before the event, the better they're able to respond and ensure the event doesn't turn into a larger disaster."
Resources for rebuilding communities
The Code Council and its 64,000 members stand ready to help building safety professionals and members in devastated communities with post-disaster building plans reviews, inspections and permit operations through the Emergency Management Assistance Compact. The Code Council also offers a variety of safety and recovery resources, including Tornado Safety & Recovery, which include products and resources from the Code Council and its partners in safety to help communities stay safe in their homes, workplaces and neighborhoods.
Last year, the Code Council Board of Directors created the ICC Ad Hoc Committee on Disaster Assessment to develop a new Disaster Response Alliance in partnership with the National Council of Structural Engineers Associations. Armed with a state-of-the-art database and the latest training resources, this alliance connects skilled volunteers with local, state or federal entities who need skilled, trained and certified building safety professionals to conduct building damage assessments, inspections and other code-related functions in the aftermath of disasters. The Ad-Hoc Committee on Disaster Assessment is also working to educate code officials so they are prepared for a natural disaster, including disaster assessment training, field operation guides and information to deliver to the public. To serve as a disaster response volunteer in the future or to be included in the database, please contact ICC Government Relations Regional Manager Kelly Sadler.
The Code Council's When Disaster Strikes Institute provides hands-on instruction on assessing damage in the form of activities, case studies and interactive simulations that walk participants through the disaster scenarios; encourages discussion and describes how to complete paperwork. All too often after a disaster, an affected community is left on its own to struggle with assessing its damage and determining whether structures can be re-inhabited. Participants learn techniques on how to become a properly trained second responder and, on completion, can be relied on to assist with performing post-disaster building assessments.