Code Council chapters and members get a virtual boost from Government Relations staff

For many International Code Council chapters, adjusting to virtual meetings to conduct business while coping with the COVID-19 pandemic started out as a challenge. That was the case for Helen Kessler DiFate, AIA, president of the St. Louis Professional Chapter of ICC, for the chapter's November meeting. "We had been using Zoom's free option when Karla Higgs [vice president of Member Services for the Code Council] offered the Code Council's Zoom account last April. Then in November, we found out in an email from Zoom at 9:30 the night before the meeting that the account had been downgraded — and we meet at 7:30 in the morning. It meant that we could meet only for 45 minutes and then it shuts off," DiFate said.
Fortunately, the Code Council's Government Relations regional managers have been standing by with solutions.
DiFate immediately emailed the chapter list, which includes Tim Schmitz in Batavia, Ill., with an alert. Schmitz, lead senior regional manager for the Code Council's Government Relations, covers Wisconsin, Illinois, Missouri and Kansas. Finding a solution was a piece of cake for him. "Karla Higgs manages the Code Council's Zoom account, so all I had to do was set it up to host the meeting. Problem solved," Schmitz said.
DiFate said that in the middle of what was to be a 45-minute meeting, Zoom interrupted to announce that their time was now unlimited. Schmitz's rescue allowed the meeting to proceed as scheduled and buy a little time for the chapter to purchase its own Zoom account. "It was a godsend to have ICC use its Zoom account because it really kept our chapter going until we could figure everything out," she said. "I am incredibly grateful to ICC for making that possible."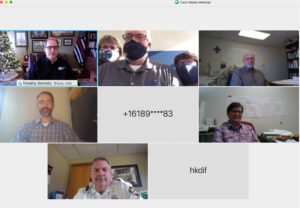 Schmitz said he has performed the service for state and regional chapters in his states since the shutdown last spring. "Back when it was clear things were getting difficult with the pandemic, I sent out numerous offers to all of my chapters. I touted the importance of meeting — even if not in person — and I offered the platforms for both meetings and training," Schmitz said. "Once there were a few takers, I started receiving emails… and the numbers quickly grew."
Steve Jones covers New Jersey, North and South Carolina, and Tennessee as a senior regional manager for the Code Council's Government Relations. Jones came to the rescue of several chapters in need of holding virtual meetings. "Steve facilitated a Region VII meeting, and it went pretty well," said Robert La Costa, past president of the New Jersey Building Officials Association. "I got elected in January [2020]; then we went into COVID and didn't get much done."
While business meetings have adjusted to using the Zoom account, La Costa said it's nothing like the real thing. Chapter and region meetings are more than occasions for business and instruction opportunities. The friendships and deep bonds between colleagues also get refreshed at in-person events throughout the Code Council family. "We've been using it for seminars, which is good, but it's nothing like in-person. When you're in-person in the same room, people are a lot more likely to give personal experiences," he said. "But it is better than phone conferences as long as you have sufficient bandwidth. Let me just say that it's been as good as it can be."
Mark Matheny of Asheville, N.C., is a member of the North Carolina Building Inspectors Association and serves as president of Region VIII. He said he and Jones have been collaborating to get chapters in Region VIII to take advantage of the Code Council's Zoom account. He said large associations within large states, like the Tennessee Building Officials Association, have found that virtual meetings may play a lasting role, and that they may be handy for smaller subchapters that have had difficulties gaining attendance at meetings because of distance and work commitments in smaller communities. "Virtual meetings have great potential to reach out to chapters to become involved. Young members who want code development experience and whose jurisdictions won't allow that much travel and time away from the office have a new option," Matheny said. "Now we can involve more people not only in state and region meetings but also in subcommittee meetings."
Jones said the virtual meeting experience may be a permanent tool for developing activism in Code Council chapters and wider interest and participation in code development. "We recently had a virtual Region VIII meeting and we had a better turnout than live meetings," Jones said, noting Region VIII holds rotating quarterly meetings in Asheville, N.C.; Greenville, S.C.; Pigeon Forge, Tenn.; and Helen, Ga. to move meetings where the members are located.
Jones and Matheny hope to develop a lasting strategy for using live and virtual meetings that will be a model for chapters. Jones, nearly 20 years ago, had served on the Code Council's Code Technology Committee after the Sept. 11 attack on the World Trade Center, which helped produce new code changes and protocols dealing with similar large-scale public emergencies. "Once the pandemic task force takes off, you will see virtual meetings being used much more commonly," Jones said. "And with the amount of interest we've seen, I expect there will be a whole line of work-products coming out of it."
Kelly Sadler, senior regional manager in Arkansas, Arizona, Texas, New Mexico and Oklahoma, got an assist from Liz Chagolla, director of training and education for the Code Council, to acquire a Zoom account and host the October meeting of the Four Corners Region XI Chapter. "We've seen a lot of changes this year, but it's been pretty smooth in the transitions. The staff has been wonderful in all of that and it's making things much easier for us," said Stephen Rinaldi, senior fire and life safety coordinator for the Los Alamos Fire Department in New Mexico. "Kelly hosted the October 19 meeting for about two hours and it went extremely well. Liz also set it up for us to conduct a six-hour training class on November 2 that was attended by about 75 members throughout the region."
Rinaldi, who is chair of Region IX and president of the Northern New Mexico Association of Public Safety Officials, said he attempted to hold a chapter meeting using a free Zoom account. Unfortunately, the Zoom event stopped after 50 minutes. Sadler stepped up and made arrangements to hold the meeting on the Code Council's meeting platform account. "It is very helpful to chapters," Rinaldi said. "We don't have to pay for an account. It's worked out extremely well and they've been wonderful helping us set everything up."
Rinaldi's hope is to host a gathering at the Four Corners National Monument and have a group photo taken of the leadership from all chapters that are members of Region IX. He said the monument is located on the Ute Mountain Ute Tribe reservation, which has been closed because of COVID-19. For now, the tribe, along with the rest of the nation, are waiting for the vaccines to do their job. "That would be really cool, but it will be a while before we can get that arranged," Rinaldi said.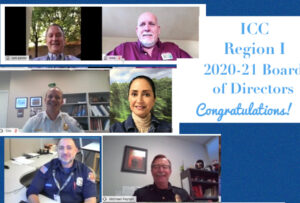 In the Northwest, Senior Regional Manager Kraig Stevenson said that while the pandemic has incentivized the use of virtual meetings on Zoom, WebEx and Microsoft Teams in the last several months, Code Council members in Montana discovered the use of virtual meetings was necessary years ago. "I think it started in 2018 after the Montana chapter's March ABM and Educational Institute where it was noted that attendance was good for education seminars in the day but low attendance at the evening's annual business meeting," Stevenson said. "So we changed the night for the business meeting from a Wednesday to a Monday evening but attendance was still low. So I offered to host all of their meetings [via WebEx], which were about every other month. So far, it's been working pretty well."
Bill Nash is senior regional manager for New Hampshire, Maine, Rhode Island, Connecticut and Vermont. He's been assisting his chapters until they can find their own virtual meeting platform. Nash hasn't used the Code Council's Zoom account but has used his own as well as his Code Council WebEx and Microsoft Teams platforms to host chapter meetings. "More and more of the jurisdictions in my states are using Teams and we are finding that Teams is easier to use for training and meetings," Nash said. "[Out of the] 20 chapters I work with, eight of them are using it for training."
Over the last nine months, Code Council members and chapter leaders are probably feeling "Zoom fatigue" and miss the personal meetings and group events. The Government Relations staff also lament the loss of personal contacts with chapters and Code Council members — an integral part of the job.
But where would anyone in the far reaches of the Code Council be without these virtual meeting platforms? The virtual world is here, Nash said, and it's not totally going away. "My wife, who is also working from home, said to me the other day, 'I want my job back'" Nash said. "I thought that was perfect. We have not lost our jobs but they are not the same jobs and likely will not be the same going forward."
Nash paused and smiled. "Nevertheless, I want my job back."